November 11, 2017
Oslo Digital Cinema Conference 2017
John Daly BSC reports on new digital cameras, HDR cinema, next generation imaging, archiving, author's rights and seminar presentations which were showcased at this highly informative conference.
Feature Image: L to R: David Katznelson BSC & John Daly BSC
I recently attended the Oslo Digital Cinema Conference.
Sponsored by IMAGO, this is a bi annual gathering of some 200 Cinematographers who come together for three days of seminars, movie screenings and master classes.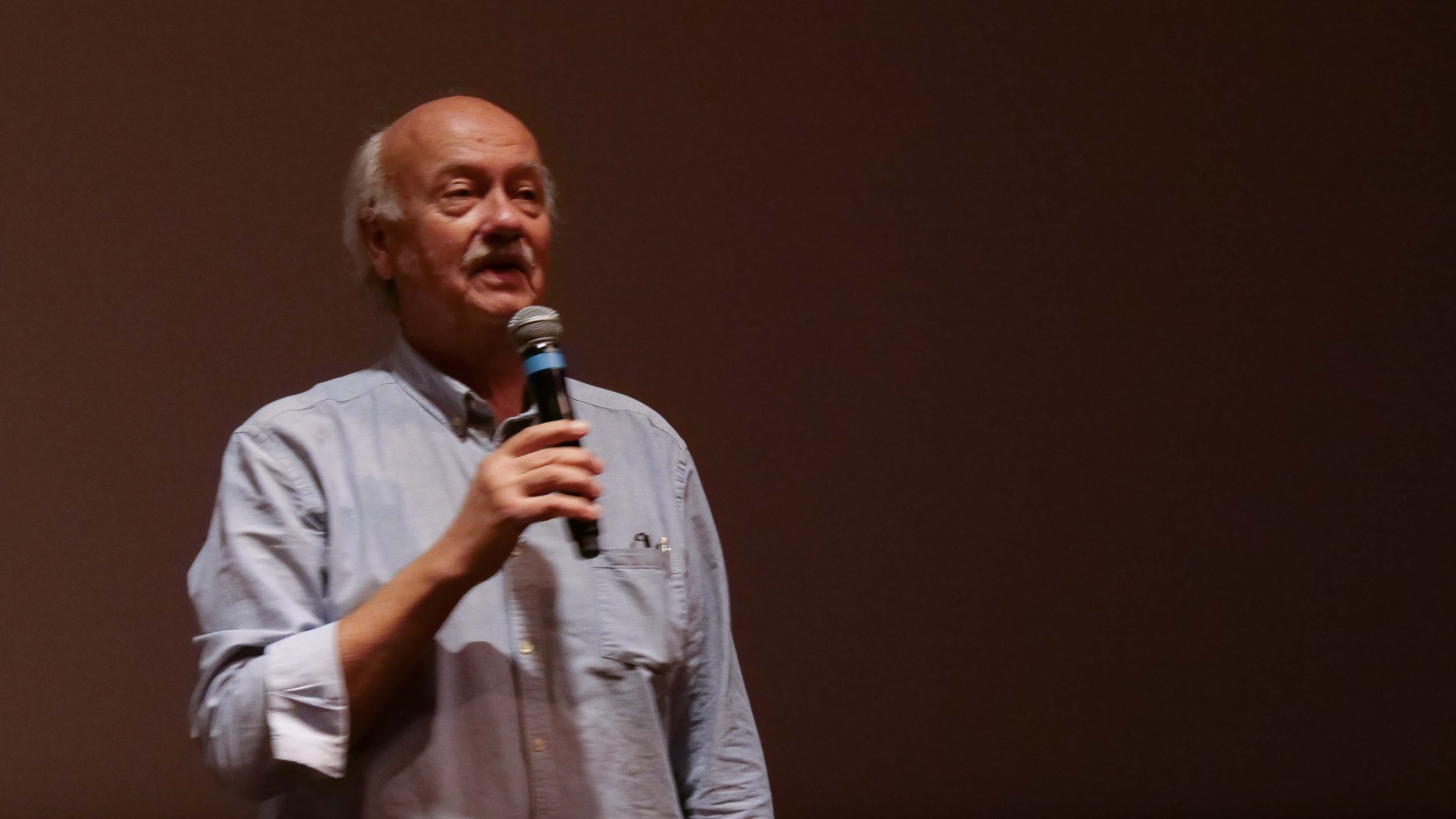 After a welcome by Paul René Roestad FNF, the President of Imago (pictured above), DP/Director Brett Danton (picture below), introduced the Canon 700, the first of two new cameras showcased this year at the conference.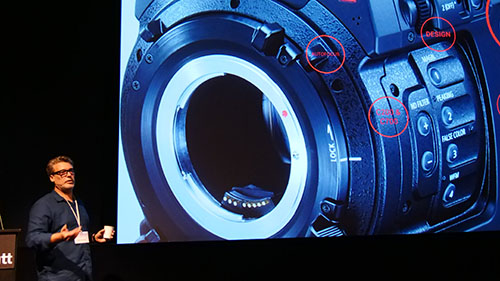 Brett, spoke of his experiences shooting commercials with the camera alongside the relatively new C200, the latter, employed as B camera. Both cameras share the same sensor and optional OLED viewfinder and match very well.
The C700 is a full size cinema production camera 4.5K CMOS sensor, with 15 stops of dynamic range. It records internally to a number of codecs on board including Canon XF-AVC, ProRes and with the addition on of a small codex recorder, 4KRaw.
The camera comes in a choice of two mounts, PL and EF. The EF version features Dual Pixel CMOS sensor and auto focus technology which Brett Danton says works remarkably well.
The pictures we saw were very good and the specs and ergonomics certainly seem to sit the C700 along side the ARRI AMIRA and the Sony F5/55 as a Drama production camera.
Sony's new flagship camera "VENICE" Sebastian Leske informed us, was only announced 24 hours before the start of the conference and after persuading the Japanese to release a prototype, they were able to have one on display, along with some nice footage from two promotional short films photographed by Claudio Miranda and Ed Wild BSC.
"Venice" is Sony's first Venture into Full Frame Cinematography and is equipped with a 6K 4x3 (36x24mm) full frame image sensor specifically aimed at high end cinematography.
It has been developed from the ground up with a new 6K sensor, which has the option of shooting 4:3 or 6:6 Anamorphic or Super 35. The camera is modular and the sensor, interchangeable, allowing the camera to upgraded at a future date. It has 15 stops of Dynamic range and the same colour science as the F65 and F55, which exceed Rec 2020.
The native ISO is 500 ASA which Sony have decided is the sweet spot which gives you 6 stops above 18% and 9 stops below.
The camera comes with PL and E mounts and 8 steps of internal ND filters (ND.3 -ND 2.4) and a newly designed OLED viewfinder.
The Venice is due to be released next year.
Another camera featured was the Panasonic's dual native 800-5000 ISO Varicam LT
Matthias Bolliger told us how on a gritty German TV Police drama, by using the cameras 5,000 ISO, he was able to work at low light levels using mainly practicals.
EclairColour HDR
With HDR ready Televisions common now and Netflix and Amazon Prime offering a number of their shows and movies in HDR, Cinema has been slow to take up this new technology.
With currently no HDR standard for cinema projection, Éclair has developed its version of HDR.
EclairColour is a new digital colour solution that combines post production processes such as the Aces workflow and certain projection systems, already available on the market .
Cédric Lejune VP of Technology at Eclair informed us that a typical DLP projector with a Xenon lamp in a perfectly maintained theatre today will be capable of a 2000:1 contrast ratio but generally you will only expect to get between 1200:1 and 1500:1
The Sony SRX Mercury projector is capable of projecting HDR content at a contrast ratio of 8000:1 providing it is a dark theatre with no ambient light hitting the screen. Their goal is to achieve 30 foot lamberts on screen, to meet Éclair's technical specifications.
The EclairColour requires a controlled mastering process to create two DCP's one for EclairColour HDR and one for standard SDR screenings.
Cedric explained that the advantage of EclairColour is better colour fidelity and greater contrast with brighter highlights and deeper blacks.
The aim is not brighter images but the ability to use the extra highlight headroom to improve the colours and the skin tones, only raising the white point where it's desirable.
The test footage they showed was very impressive, with good contrast and colour depth.
The split screen footage which wiped between the vibrant EclairColour and SDR footage did make the SDR footage look overly flat in comparison but this was partly due to the SDR footage being an emulation, as it wasn't possible to use two projectors.
To date 45 movies released have been mastered in Éclair colour and there are 85 certified screens around the world.
Next Generation Imaging and the Future Impact of HDR.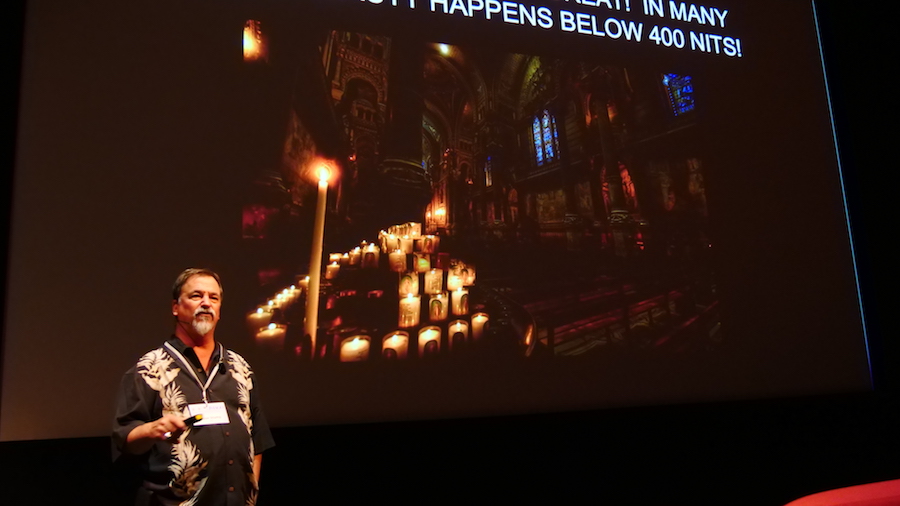 David Stump ASC (pictured above), a regular contributor to the Oslo Conference gave an interesting talk on this topic.
David started by saying that although for years cinematographers have been able to capture their images in high dynamic range. A well exposed negative and current Digital cameras are capable yielding around 14-15 stops, but up until recently, we have always been constrained by the display mediums.
HDR display is a completely new technology that opens up new opportunities but demands new workflows and a certain new kind of thinking for acquisition.
He emphasized how important it is with all cameras, to shoot with a Log encoding to be able to capture mid tones and dark tones whilst preserving the brightest highlights.
Dolby Vision monitors are capable of displaying up to 4000 nits and many domestic HDR TVs up to I,000 nits. However, David cautions that over using this highlight headroom becomes tiring to watch for any length of time. In his opinion the sweet spot being around 400 nits with some highlights now and then in the 600-800 range
He also warns that there are certain things to watch out for, when shooting HDR.
Backings, painted and photographic can easily look fake, due to the increased highlight latitude and colour depth.
Watch what is lurking in the shadows such as cables and legs of stands etc.
Make up is becoming very critical in 4k HDR with different blends showing up a different brightness, so testing make up is very important.
Lens MTF is also relevant, as it has a big effect on overall scene contrast.
There are some other ramifications of shooting in HDR.
HDR display causes an increase in 24 and 25p judder and strobing. Panning speeds have to be decreased especially in high contrast situations with bright subjects, Having had some problems with a QC company rejecting some shots due to this problem, Dave frequently opens the shutter a little in these circumstances in order to mitigate this issue, in order to pass QC.
On Set HDR monitoring is extremely important, so an HDR waveform and vector scope are highly recommended.
It is also important to white balance every scene as white balance cannot be completely corrected in post if it is wrong and this is especially true in HDR.
HDR demands Rec 2020 colour space, a 16 Bit Aces workflow and the broadest Log available such as Log C, Slog2 or Slog3. While it is imperative you record uncompressed or the least compressed signal possible, such as ProRes 4444 XQ, Raw is best.
Aces
Alex Forsythe, Aces Image Engineering Manager at AMPAS in Los Angeles, talked about new developments and the future of Aces
Aces (the Academy Encoding System) is a free, open source, device independent color management system that can be applied to any workflow.
It is a system designed to ensure end to end color consistency.
With a common methodology, Aces simplifies communication by promoting a common understanding throughout the whole post process culminating in a standardized archival master.
Aces supports Dolby Vision EclairColor and HDR 1000 as well as HLG which the broadcast companies intend to use in order to deliver live, their version of HDR.
Many large and small budget movies and television shows have now used ACES.
Aces is about protecting the creative vision, allowing the cinematographer to see their image on set with the confidence that it is going to look the same in post.
It is not a piece of software that you can download, but a set of standards and best practices for building imaging pipelines. It ensures a common methodology is used, allowing everyone in the post process to view and encode images in a consistent way.
ACES aim is to ensure that what goes into the archive is the equivalent of a fully timed/graded colour negative uncompressed with the maximum colour gamut and dynamic range preserved up until the last stage before the distribution masters are made.
All six studios in America have signed up to Aces archiving which has enabled them to come up with a new standard using IMF to wrap up Aces files and put those into the archive.
Virtual Reality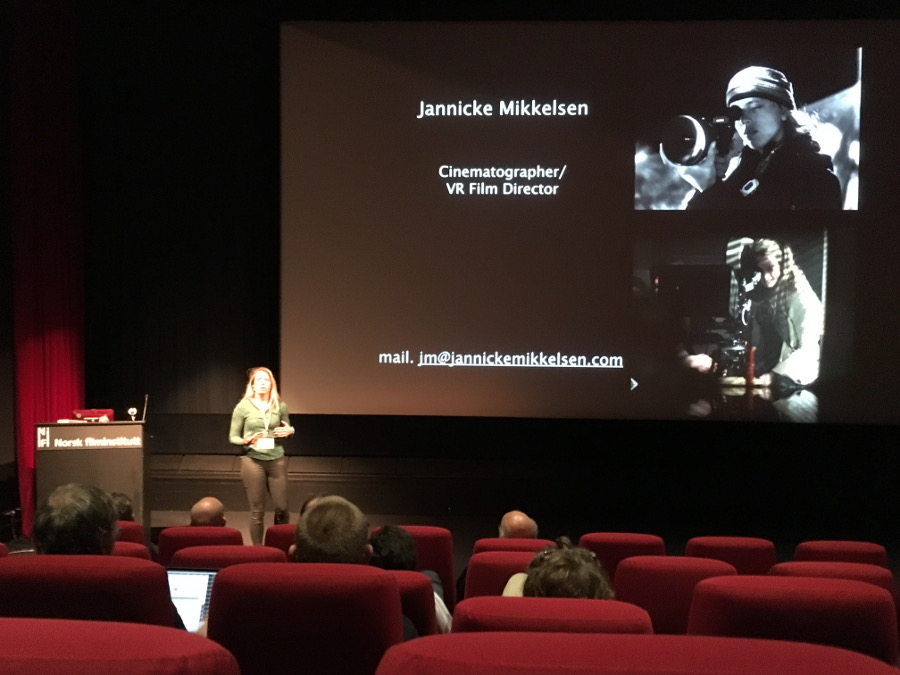 Janice Mikkelson (pictured above), a London based Cinematographer/Director specializing in Virtual Reality and 3D gave an interesting and entertaining presentation on this topic.
Jannicke told us how she was approached by Brian May of Queen, who wanted to make a ground breaking video in Virtual Reality 3D of a few songs from their European tour. Additionally challenging was the fact that they needed to shoot in 2 weeks time!
Jannicke figured that the only way to make this work was with a 3D 360 rig flying above the stage and audience.
In order to achieve this she had to decide what already existed and what she needed to invent to in order to pull it off.
A number of cameras on a stabilised mini Libra mount on a 4 point wire system was used to suspend and move the camera rig around the auditorium.
What she had to invent, was a 3D 360 stereo rig, which had never been done before. In order to keep the rig small and obtrusive, she went with 20 GoPros.
After minimal testing and a few hiccups everything was set, when on the morning of the concert, 30 minutes before the start, the band asked, instead of just filming the last three songs can we film the whole concert?
However with the help of her assistants managing the data and battery life they managed to shoot the entire concert and the band were very pleased with the results.
I did get to see some of the concert on a VR viewer and it is amazing.
Author's Rights
Bjorn Alexander Brem Head of legal for the Norwegian Film Makers Association spoke about Authors Rights for the cinematographers in Norway.
In all the Nordic countries, it has been recognized for some time that the Cinematographer is an original author and thereby has author's rights and a right to remuneration for the exploitation of their original work.
Bjorn explained how a contract between the cinematographer and producer generally stipulates a complete buyout with he or she signing over all exploitation rights to the producer or production company all over the world, in perpetuity.
However due to many legal cases and collective bargaining, NFMA managed to separate the payment for the work and the remuneration for the exploitation of the work
Through negotiation they came to an agreement that the producer would pay the salary for the work and that the remuneration for exploitation of the work, is paid by the end user, ie the broadcaster or television distributor.
The Norwegian Film Makers Association have established collective agreements with all the broadcasters and TV distributors for live transmission and on demand and each year they pay big lump sums to them to distribute to the rights holders. However, so far they do not have do not have any collective agreement for films shown in the cinema. This is still subject to individual negotiation.
The Challenge of Archiving Our Images for the Future
Bendik Bryde of Piql AS, a company that specializes in converting digital files into physical copies that can be safely preserved for the future, opened by saying that it is estimated that 90% of US films from the silent era have been lost along with 50% of everything made in the US prior to 1950. Possibly the studios didn't see any commercial value in keeping these assets or they had challenges with preserving the medium over time.
This of course is an issue from the analogue world but as we move into the digital world these problems are even bigger.
Film has been around for a hundred years and has features that are very suitable for long term archiving. Even today, polyester based film is the industry standard for archiving and in Hollywood, most of the studios are still using YCM separations for their film masters.
While the digital age has a lot of advantages, it comes with it a lot of archival challenges.
The main problem is the lifetime of storage mediums. Hard drives have a practical life of about 3-5 years. LTO tapes have a lifetime of 30 years but the practical use might be 5-7 years. The same is true of the hardware that can read the medium the data is stored on.
The necessary re migration of data every 5 years is costly and risky as you run the risk of data loss as have to continually confirm the integrity of the material. This will be compounded, as data volume grows with 4K, 8K and even 12K.
Vint Cerf,VP of Google highlighted this conundrum two years ago, when he warned of the "Digital Dark Age". A situation where although original data may exist, there will be no way of reading it so it will be rendered useless.
His solution was to take an X Ray snapshot of the content, the application that understands the content and the operating system needed to run the application. This snapshot would then be safely archived for future access.
So seven years ago, Piql were asked by the EU to come up with a solution to this problem and along with its international partners, created a method of making this digital snapshot on photo sensitive film.
With the knowledge they had obtained with their digital film recorder the Cinevator, they managed to put digital information onto 35mm film, which they call 'bits on film'.
There is an analogue portion, a record of each film frame, the visual reference which can be viewed with something as basic as a magnifying glass along with the same file in a digital format written in binary code.
The digital file also includes details of the reader that is required to read the data and details of how to make a reader, if there is not one available. The film is polyester based and under archival conditions can be stored for several hundred years making it migration free.
This archival master can be stored anywhere but an archive exists, deep underground, in a de militarized area of the northern Norway, an Arctic world archive, which is protected by polar bears and perma frost.
Under these conditions, they estimate the base of the film will last for 1,000 years.
IMAGO official request to camera manufacturers.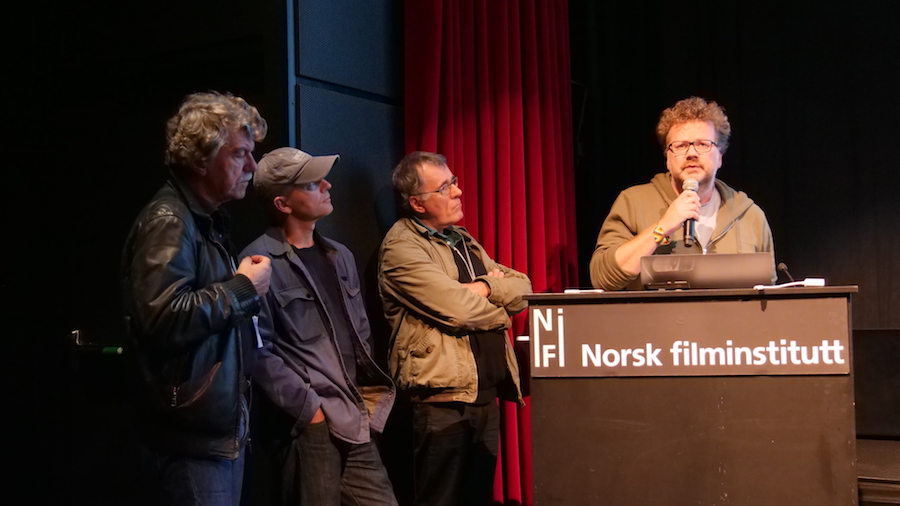 Members of the IMAGO technical committee (above L-R), Rolf Coulanges BVK, John Christian Rosenlund FNF, Phillippe Ros AFC and Mick Van Possum NSC spoke about, their mission to come up with a list of requests for camera manufacturers regarding publishing all information in an open way to enable easy set up of the camera and processing of the image in post. "As Cinematographers we need precise information about the capabilities of the cameras we are working with, as we want to be involved in the evolution of the tools we are using".
A request for input will be going out to all the societies with the aim of presenting the finalised document at Camerimage 2018
John Christian Rosenlund FNF spoke about his idea of awarding an IMAGO star as accreditation to cinemas that can demonstrate that they provide a good standard of projection. Similar to the Michelin Star, it will be a symbol of excellence. This in turn hopefully will force cinemas to take projection quality seriously.
Cinemas will be asked to fill out a checklist, based on honesty and trust.
Correct masking.
Minimum amount of ambient light from exit signs and stair lighting.
Good viewing conditions from all seats.
A calibrated projector based on the SMPTE specification.
No Silver screen for 2D screenings.
Source material based upon DCP requirements for colour space and image resolution.
How will this be monitored? Well if a cinematographer attending a cinema screening feels that any of these points are not being adhered to, then this would be reported to Imago, resulting in the cinema losing their star.
It is a scheme that relies on the integrity of the cinema to be honest when filling out the checklist. However, if they are not truthful they will lose their star.
Although the idea is a good starting point, many felt that cinemas rating themselves wouldn't work and that there would need to be an independent body who would have to asses each cinema and rate them.
It was agreed that Norway, could be the pilot programme for the Imago Star, as a good relationship exists between the FNF and the cinema exhibitors.
Masterclasses
There were two Masterclasses at the conference, the first one was with Luciano Tovoli, ASC AIC the founding father of IMAGO and a great raconteur.
He spoke a little about his time at film school in Rome, where he, along with Néstor Almendros ASC, were seen as rebels as they favoured natural light, rather the traditional studio lighting they were being taught.
Luciano told us how, at 23 he was given his first break in documentaries, by Vittorio De Sica, with whom he became a regular collaborator. He also gave a very amusing account about his relationship with director, Michelangelo Antonioni.
After just shooting a documentary in China with Antonioni, Luciano was surprised when asked to shoot his next big film Professione: Reporter 'The Passenger' Luciano told how, throughout the film, he was never allowed to see a script, so each day everything came as a surprise, He hadn't even recced some of the locations. He said that on Antonioni's films there was always lots of time. In fact the film took five months to shoot and a famous long developing shot at the end of the film, a whole week to execute.
At the end of the shoot, he enquired of Antonioni, why he had asked him to photograph the film? Antonioni replied it was because he, Luciano, was an inexperienced cinematographer who" made lots of mistakes and because on this film he didn't want perfection in the cinematography, he was the perfect choice!
Luca Bigazzi AIC gave the 2nd Masterclass after a screening of "La Grande Bellezza" (The Great Beauty). Luca spoke a lot about his working relationship with the Director Paolo Sorrentino with whom, he has now shot many films. Paolo forbids Luca to have any lights on stands on set. All the light has either to be outside the set coming through the windows or rigged in the ceiling. This has now become Luca's modus operandi for all his films. He spoke about how this can be a problem with some actors. On a recent HBO series "the Young Pope" Diane Keaton, one day came up to him and said "Luca, where is my light?" "Outside that window, he replied along with everyone else's"
All in all it was a very interesting and informative three days in Oslo.
John Daly BSC