November 19, 2021
Take a sneak peek inside the November 2021 issue of British Cinematographer
The November 2021 issue of British Cinematographer is now here! You can find out more about the exclusive interviews and articles you can expect to find inside the action-packed 108th edition now by reading on…
GREIG FRASER ASC ACS ON DUNE
Interpreting Frank Herbert's novel Dune for the screen saw a team with imagination and tenacity unify to present a shared vision of an otherworldly adventure.
In this month's cover story special, cinematographer Greig Fraser ASC ACS shares insight into his experiences helping to bring the sci-fi epic to life.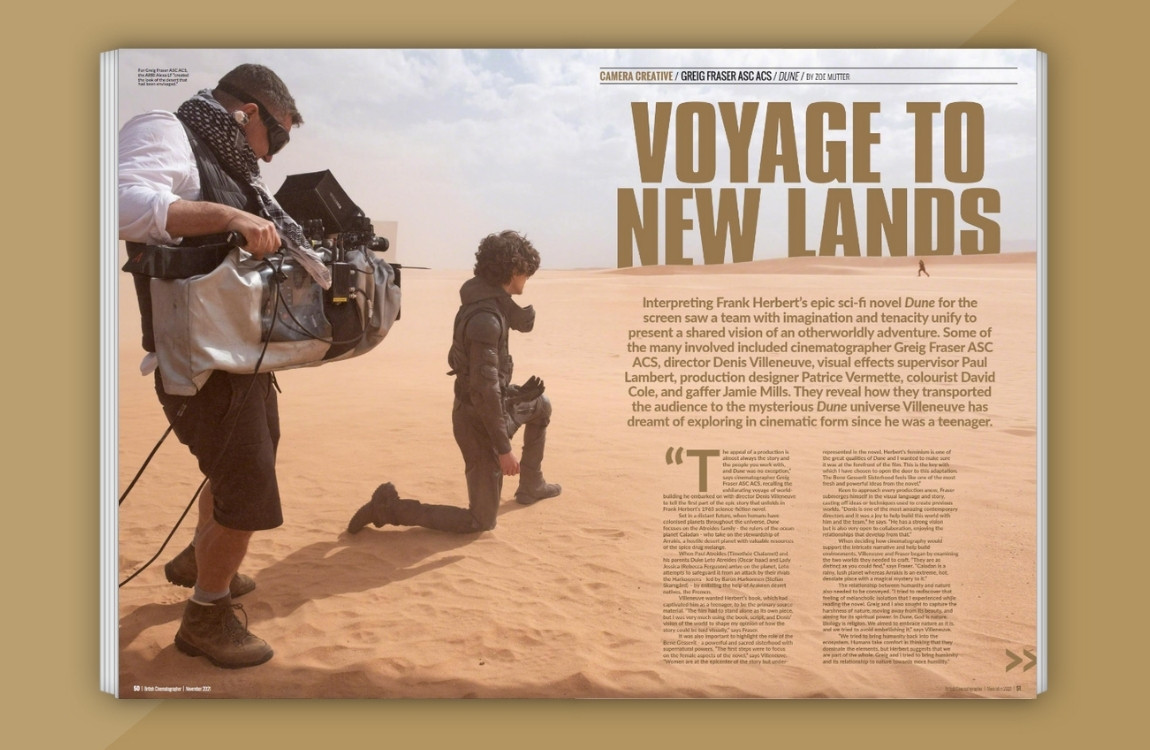 ROBERT YEOMAN ASC ON THE FRENCH DISPATCH
The French Dispatch premiered at this year's Cannes Film Festival in July before being theatrically released in the UK and US last month.
Robert Yeoman ASC and director Wes Anderson – along with other collaborators such as production designer Adam Stockhausen and stop-motion DP Tristan Oliver BSC – reveal how they brought the collection of stories from the final issue of a magazine to life on screen.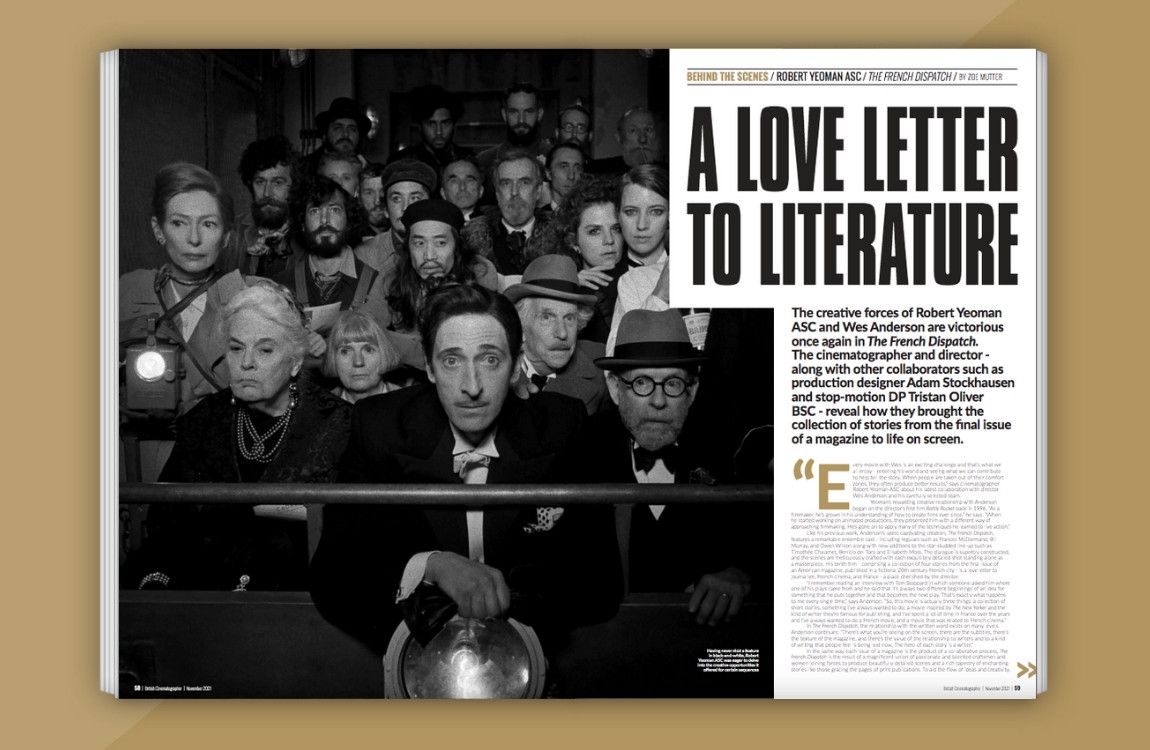 ANGUS HUDSON BSC ON RIDLEY ROAD
"Due to the pandemic protocols, the number of crew on set was reduced which was also in line with my request for a one-camera show. This allowed us to have a lot of developing shots to show as much as possible".
In a fascinating interview, Angus Hudson BSC talks about his time transporting audiences back to 1960s East End London for the four-part BBC drama Ridley Road.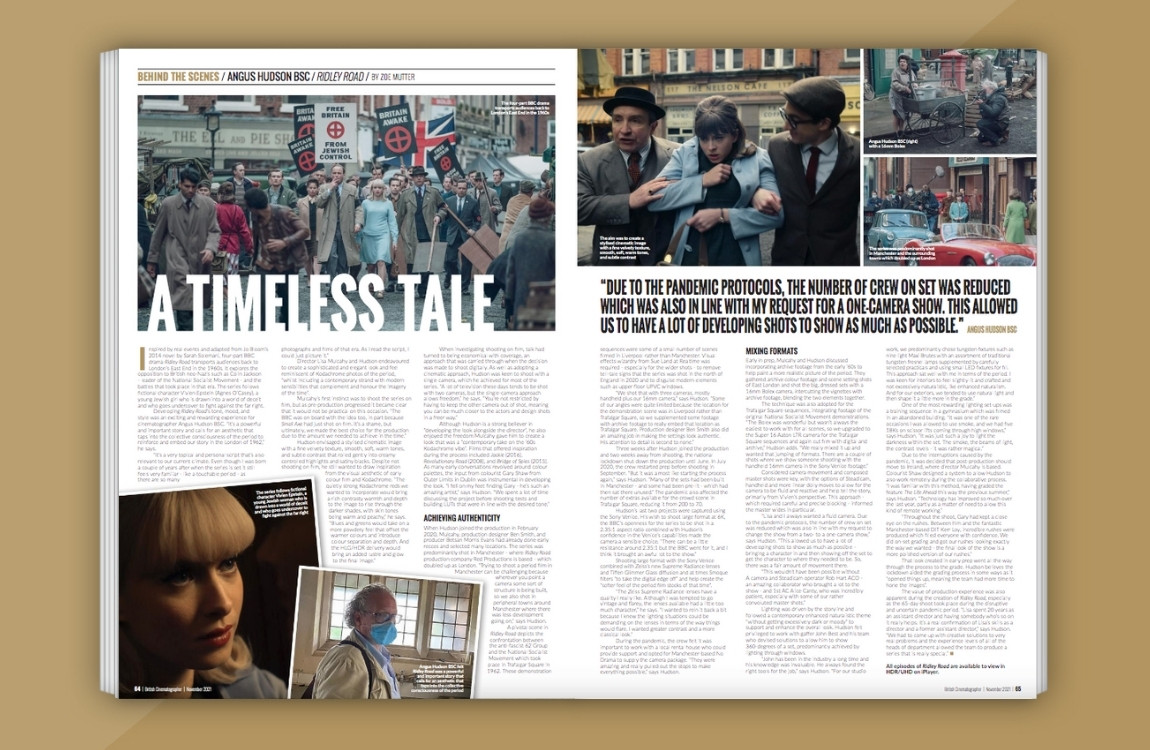 LINUS SANDGREN ASC FSF ON NO TIME TO DIE
The long-awaited latest Bond adventure No Time To Die sees Daniel Craig star as 007 for the very last time.
Linus Sandgren ASC FSF and director Cary Joji Fukunaga share their experiences of working together to capture the look of the action-packed blockbuster.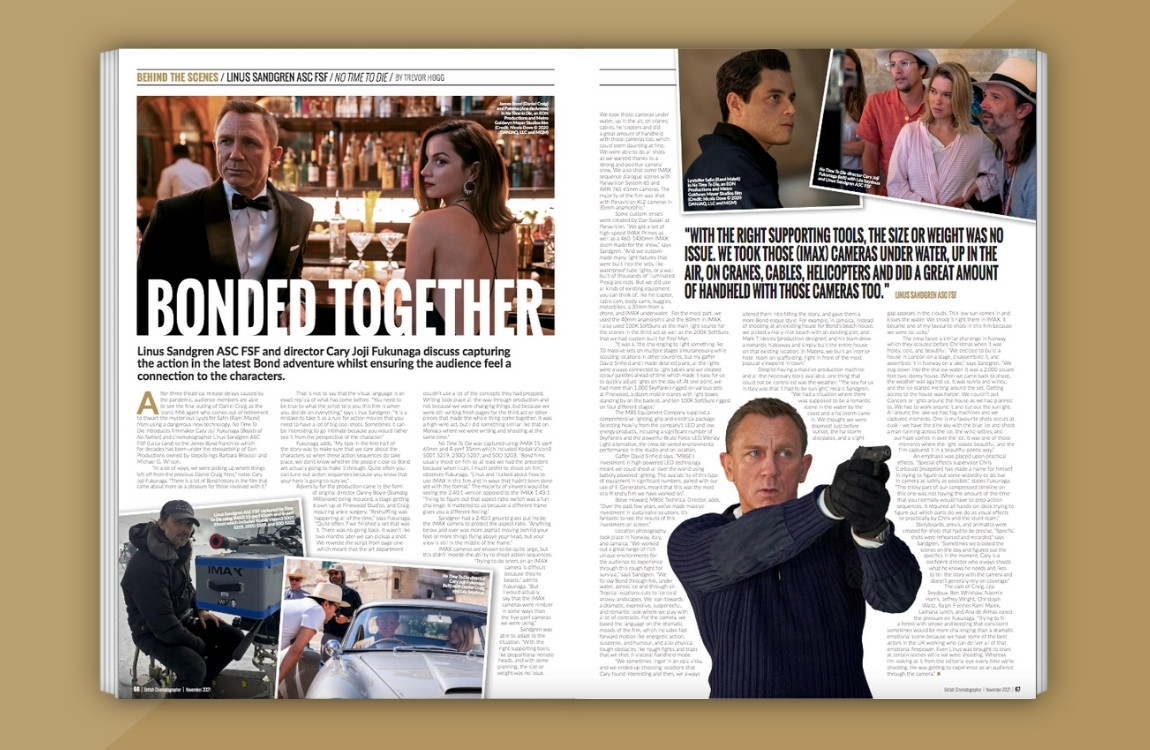 STEPHEN MURPHY BSC ISC ON NO ONE GETS OUT ALIVE
British Horror Film No One Gets Out Alive – directed by Santiago Menghini – is based on the 2014 novel of the same name.
Stephen Murphy BSC ISC talks about creating and shooting spaces to ensure the audience remained visually engaged throughout the film and the vitally important relationship between him and the production designer.
EDU GRAU ASC AEC ON PASSING
Rebecca Hall's directorial debut Passing tells a story of race and identity in 1920s America.
Edu Grau ASC AEC discusses multi-dimensional storytelling, incorporating reflections to help tell a story that is fundamentally about identity, and experiencing a new type of creative freedom.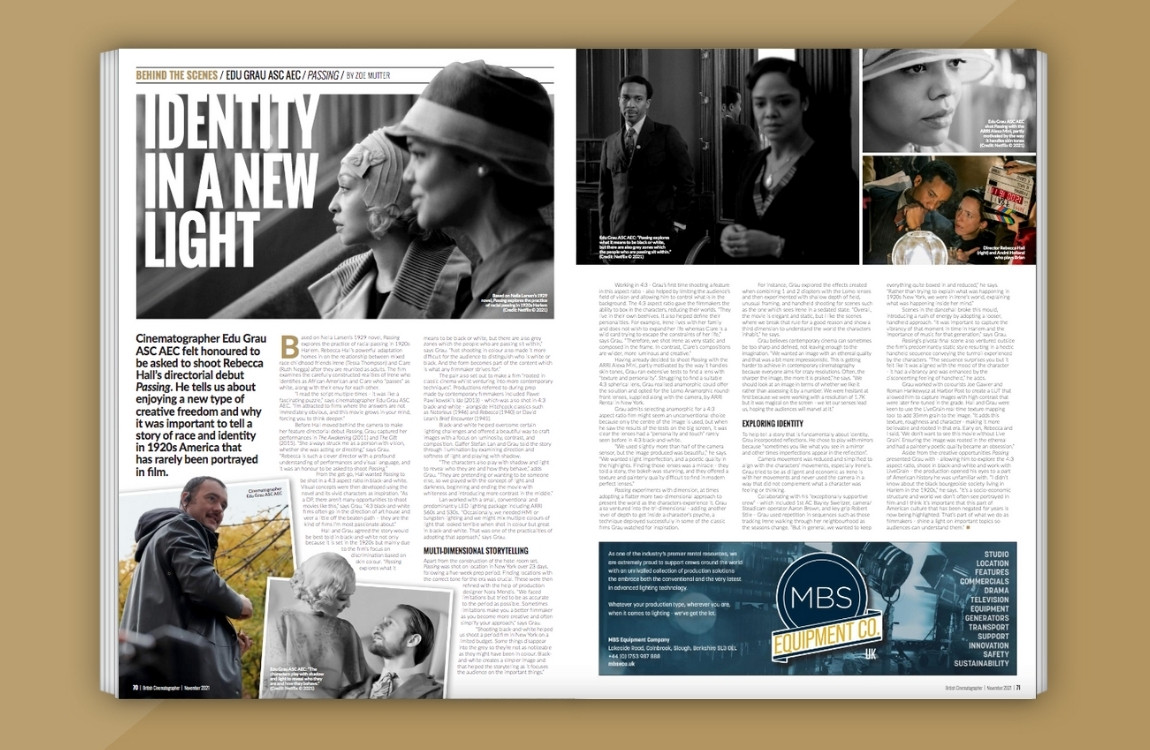 HERE'S WHAT ELSE YOU'LL FIND INSIDE THE LATEST ISSUE…
In this month's edition of Point of View, David Raedeker BSC discusses the transition to a carbon-neutral future; a transition which, in his opinion, is not happening fast enough.
Robbie Bryant is the focus in the latest instalment of Meet The New Wave. He reflects on his life-long passion for cinematography and how he loves visually telling stories with people who inspire him.
Bradford Young ASC of Tribe7 is empowering image-makers with accessible, personalisable glass and a secure, curated community.
Production designer Helen Scott shares insight into how she learned her trade, her design process, and provides words of wisdom for those who want to follow in her footsteps.
In Cinematic Classic, the phenomenal work of Billy Williams OBE BSC, Ronnie Taylor BSC, and their collaborators on Gandhi is celebrated.
Erik Alexander Wilson BSC details how he captured a new "Portrait Anamorphic" mode approach which saw him shoot with 2x anamorphic lenses for a 16:9 delivery.
In Letter from America, Mark London Williams focuses on events surrounding the IATSE call for a strike including a "Drive-thru" held on the eve of the vote announcement.
Newly elected IMAGO Co-Presidents Elen Lotman ESC and Ron Johanson OAM ACS share an important update on behalf of the IMAGO board.
Behind-the-scenes insight is also shared into Alexander Dynan's work on The Card Counter; Bani Mendy lensing of Big Age; Caroline Bridges work on Guilt; and Markus Förderer ASC BVK's lensing of Red Notice.
Sir Roger Deakins CBE BSC ASC has published Byways, his first collection of photographs. In a special interview, he discusses his passion for capturing stills, the inspirations behind his photographic work, and the joy of exploration and observation that has spanned more than five decades.
DPs past and present discuss their favourite filters and consider the place of physical filtration in a digital world in this issue's Tech-nique feature.
There's also a comprehensive rundown of what DPs are currently shooting, plus much, much more!
Digital and Print & Digital Subscribers can read the 108th edition now by clicking here.
Print subscribers* will receive their copies in the post within the next fortnight.
Not a subscriber yet? Don't worry – you can get your annual subscription now from just £30 ($39) by clicking here.
*Issue 108 will only be received in printed format by those with an active 'Print' or 'Print & Digital' subscription purchased before 4th November 2021. Any new 'Print' or 'Print & Digital' subscription purchases made from 4th November 2021 onwards will NOT receive this issue in print as part of their purchase.