September 23, 2021
Take a sneak peek inside the September 2021 issue of British Cinematographer
We're delighted to announce that the September 2021 issue of British Cinematographer is now here! You can find out more about the incredible interviews and articles you can expect to find inside the 107th edition now by reading on…
BEN RICHARDSON ASC ON MARE OF EASTTOWN
In this month's cover story special, Ben Richardson ASC shares fascinating insight into his time lensing HBO's American crime drama series, Mare of Easttown.
In an enthralling interview, he discusses incorporating scale in small, domestic spaces, embracing simplicity, and capturing moments of accidental beauty.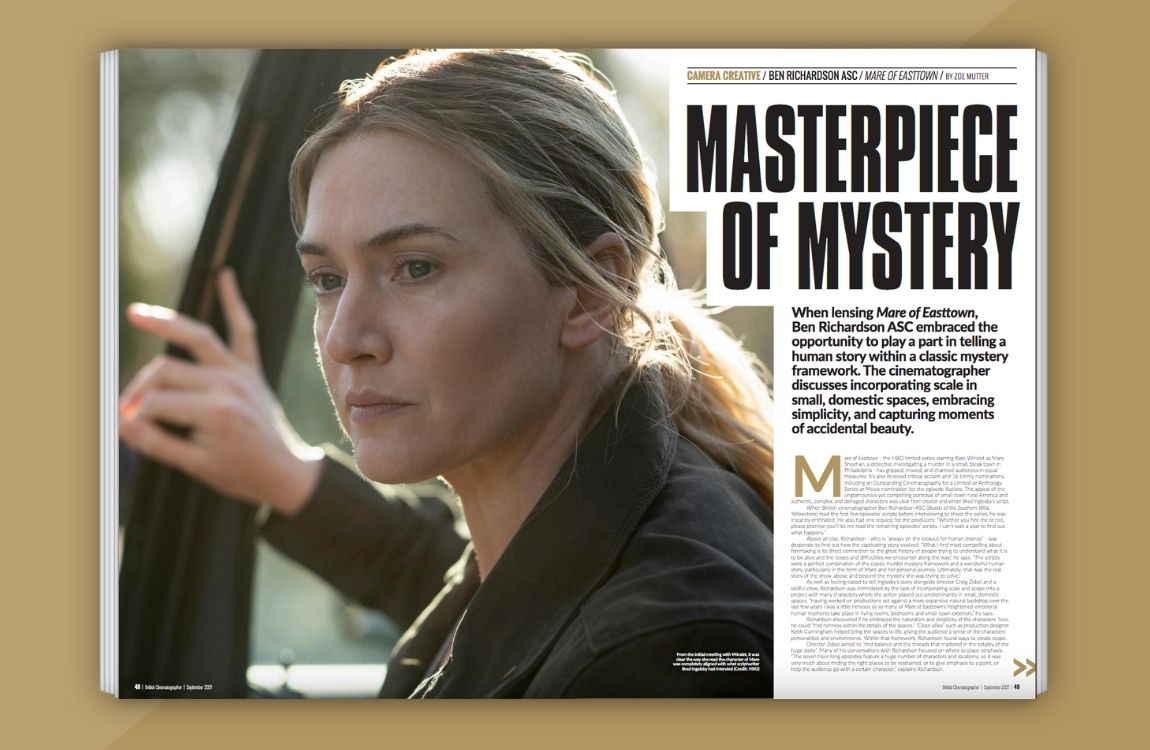 AARON REID ON STEPHEN
The despicable murder of black British teenager Stephen Lawrence in April 1993 was an event that shook the nation; one that drove cultural changes of attitudes on racism and to the practices of the law and police.
It was cinematographer Aaron Reid's responsibility to lense Stephen, the three-part ITV series portraying the events following the racially motivated killing.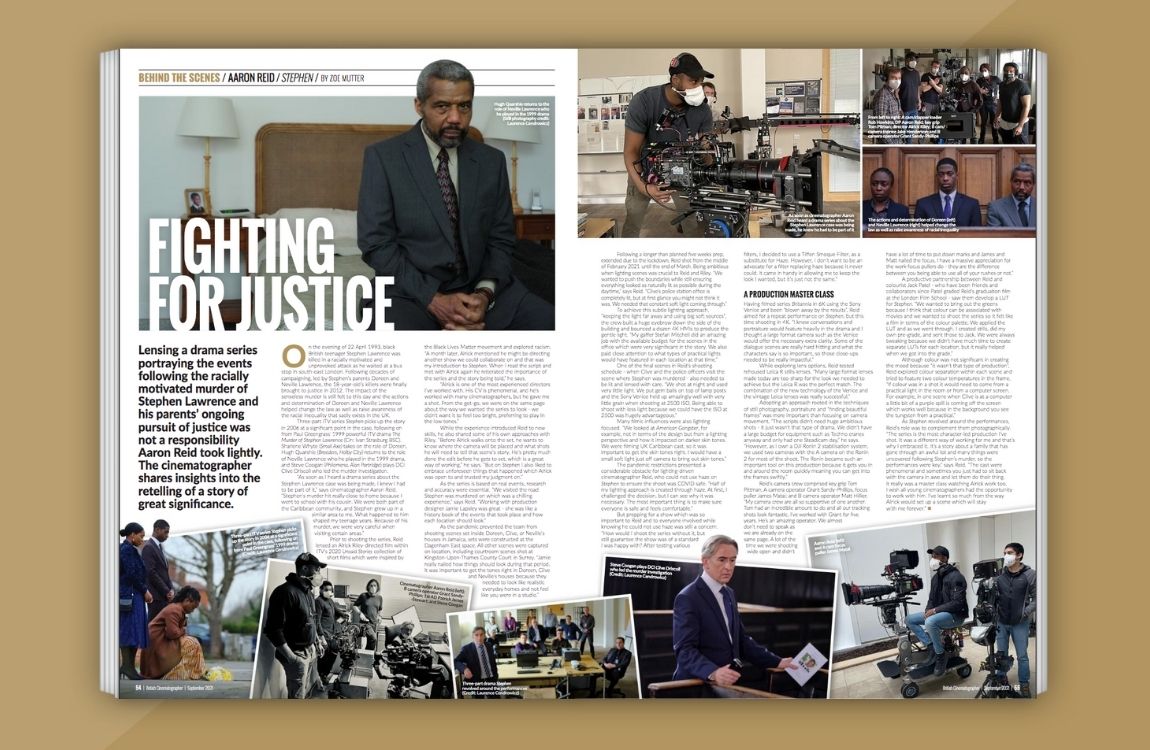 YINKA EDWARD ON THE MILKMAID
The tragic tale of two sisters and the life-changing impact of an attack on their village is juxtaposed against the glorious landscapes of Taraba, Nigeria, in The Milkmaid.
Yinka Edward talks about lensing the film which was selected as the Nigerian entry for the Best International Feature Film at the 93rd Academy Awards.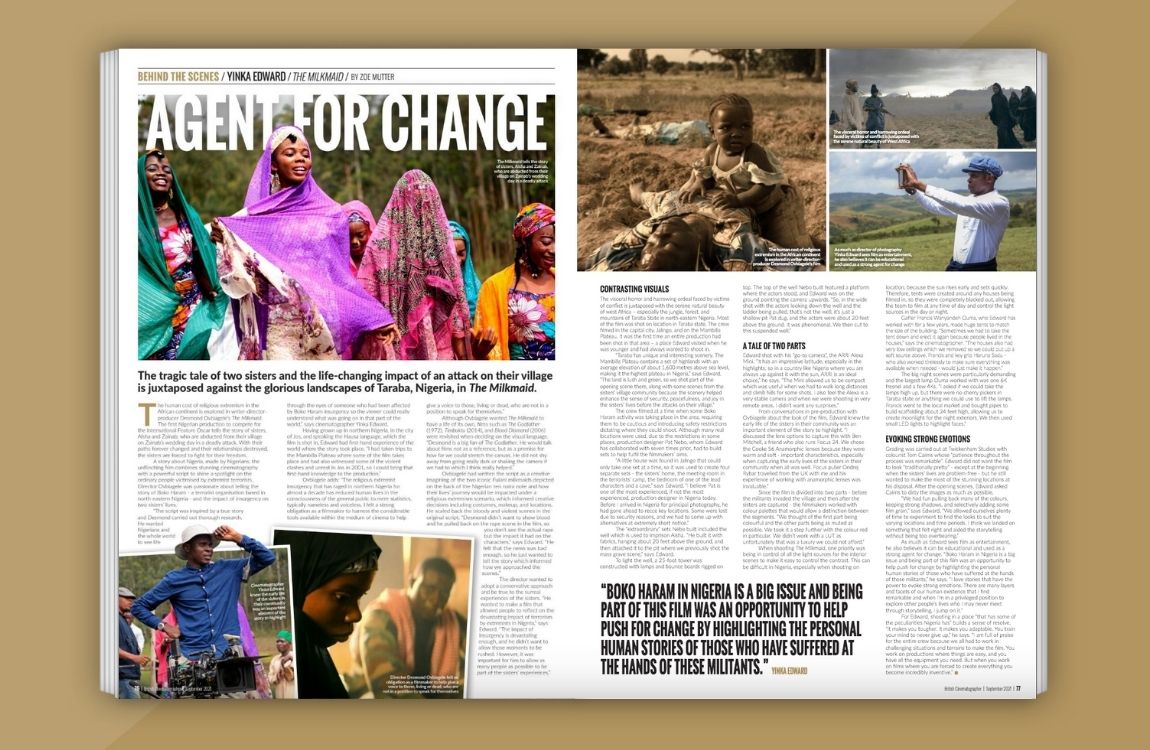 VISIONARY... MANDY WALKER AM ASC ACS
Mandy Walker AM ASC ACS's remarkable achievements were celebrated in the 2021 Queen's Birthday Honours list.
In this month's edition of the Visionary profile, she shares insight into her distinguished career and discusses her ambitions and hopes for the future.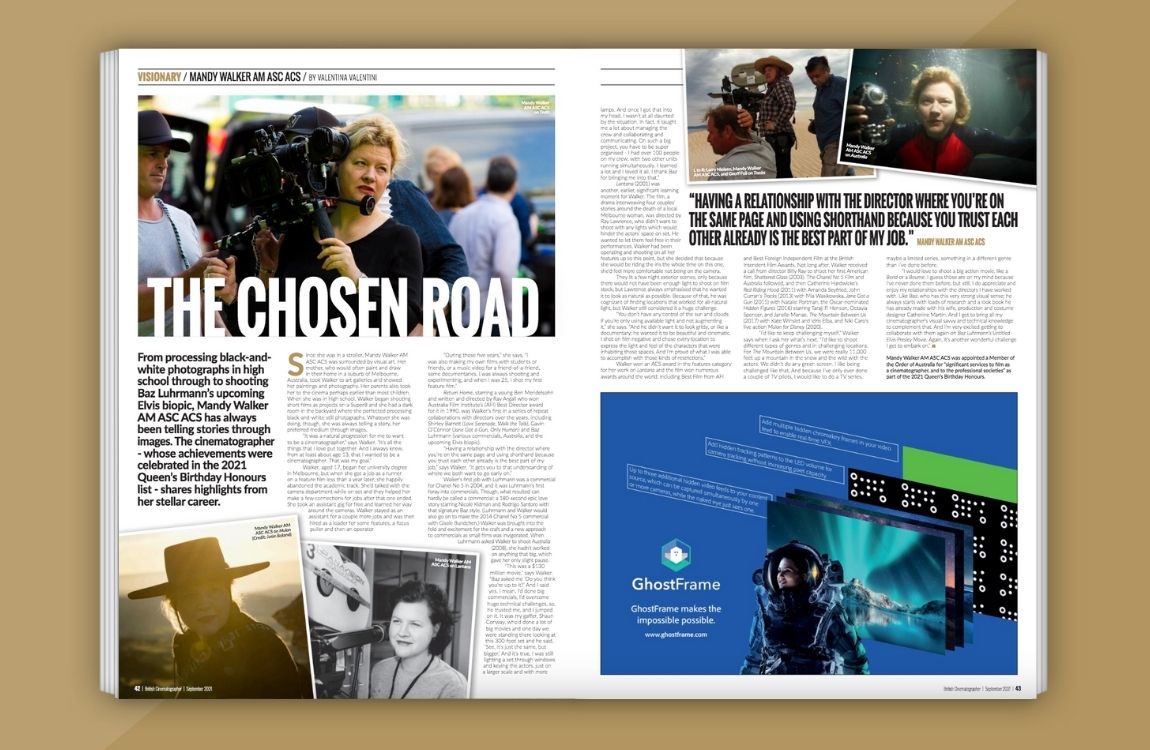 IN THE FRAME... SOL SAIHATI
Since working consecutive 16-hour days on music promos and short films back in the early 2000s, Gaffer Sol Saihati's career has continued to go from strenth-to-strength.
He discusses getting into the industry, the key qualities of a great gaffer, and the fundamentals of a successful gaffer DP/relationship.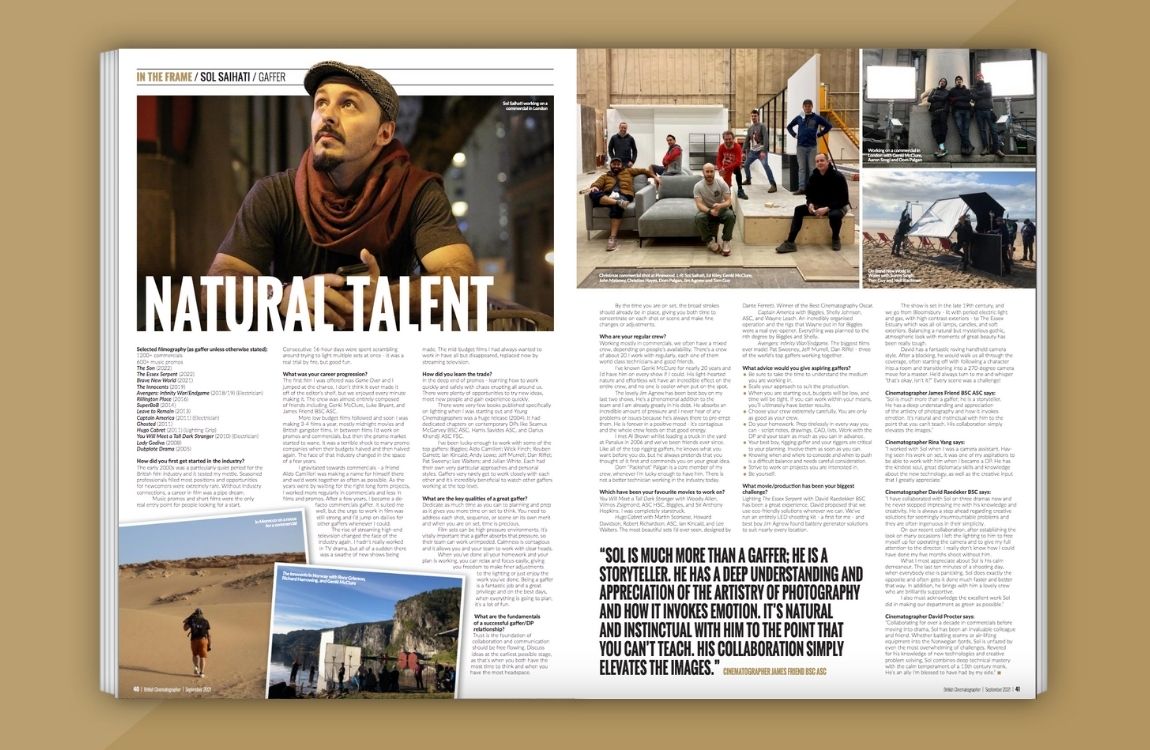 DIANA OLIFIROVA ON WE ARE LADY PARTS
Compelling narrative and equally bold cinematographic concepts combine in We Are Lady Parts - a character-focused sitcom with a female gaze that charts the high and lows experienced by a Muslim punk band. Diana Olifirova discusses her time shooting the Channel 4 six-part comedy series.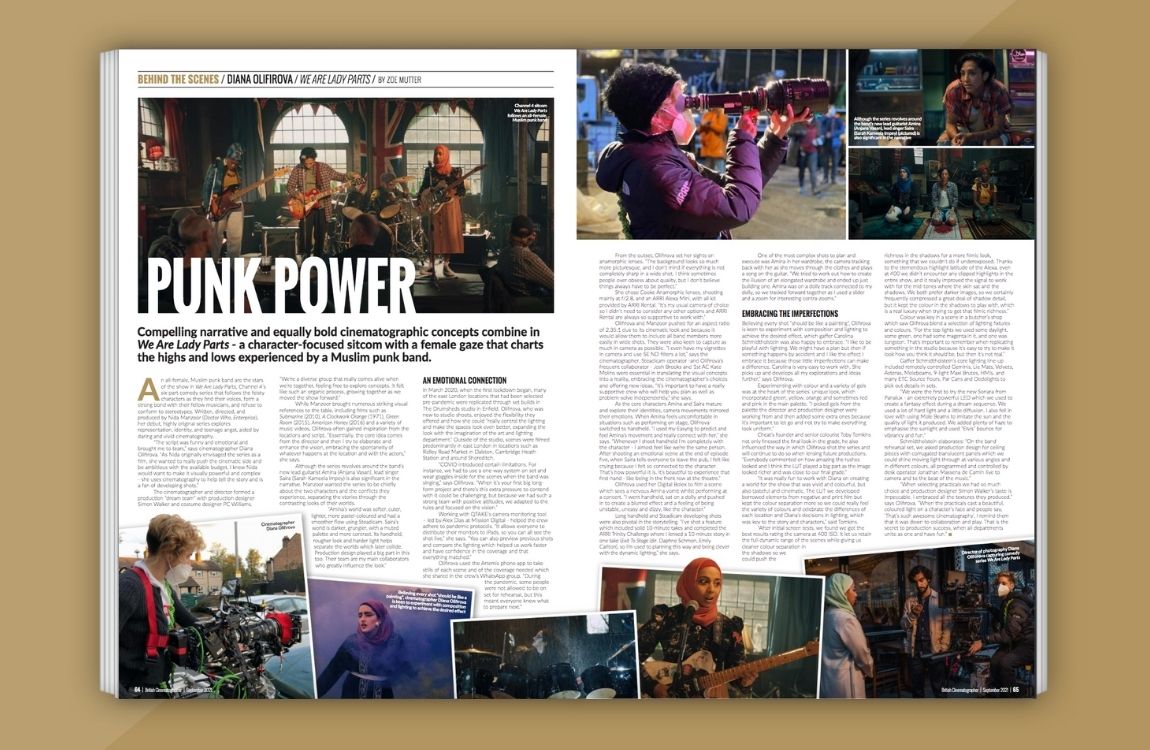 ANNIKA SUMMERSON ON CENSOR
Directed by Prano Bailey-Bond, British horror film Censor premiered at the 2021 Sundance Film Festival in January.
Cinematographer Annika Summerson discusses blurring the lines of fiction, reality and memory in the film, a psychological horror exploring the social hysteria surrounding video nasties in '80s Britain.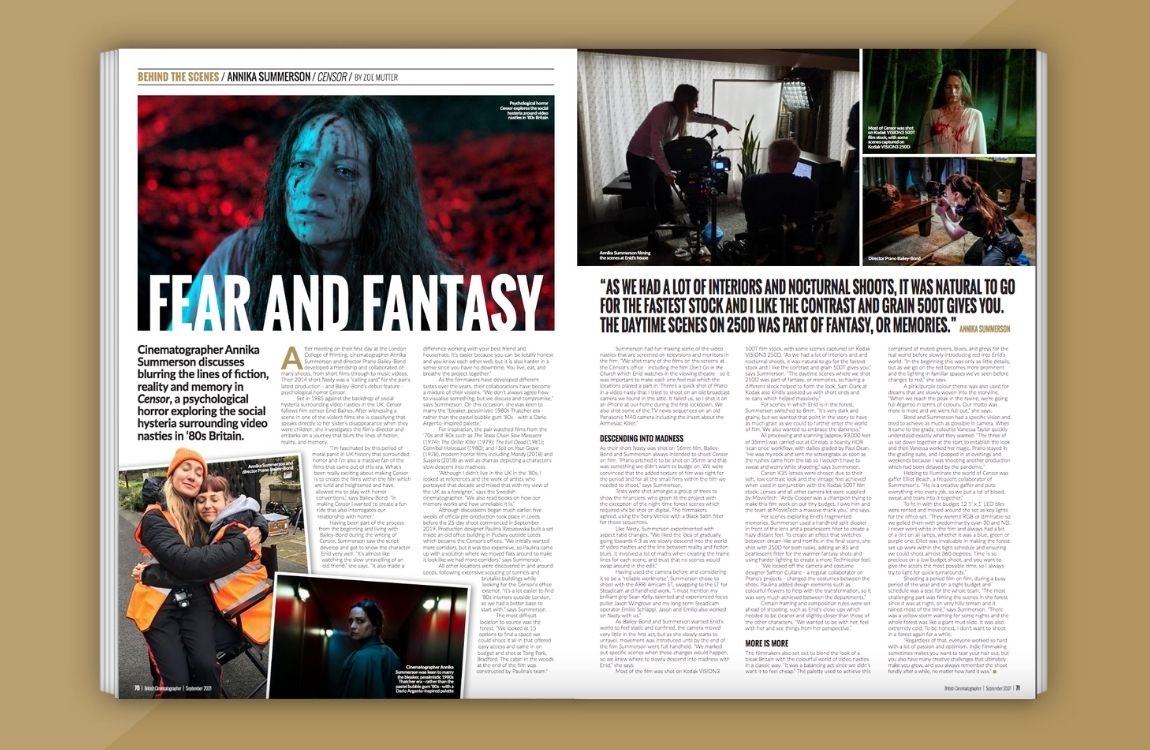 MEET THE NEW WAVE... HOWARD MILLS
While learning his craft, watching directors, DPs and actors find and work out a scene was fascinating and invaluable for cinematographer Howard Mills. He's the focus in the latest instalment of the ever-popular feature.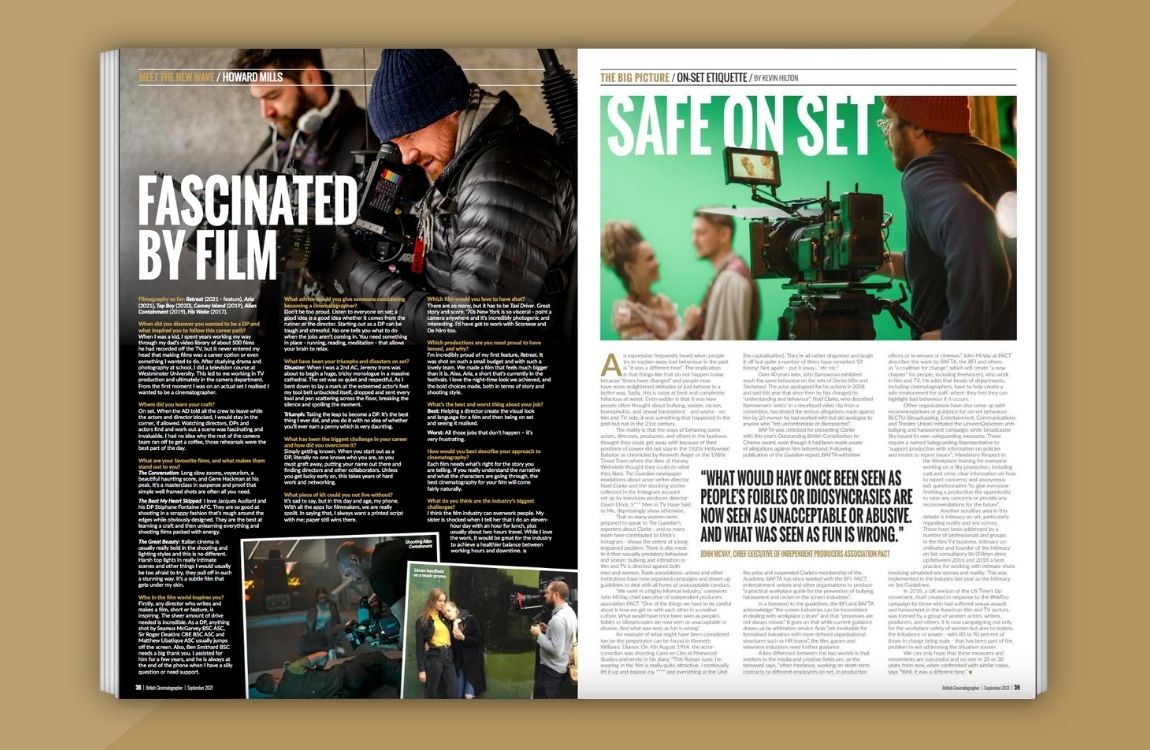 MAGDALENA GóRKA ON INTO THE NIGHT
Magdalena Górka PSC reveals how - along with a truly multi-national crew - she helped craft a new world and fresh style for the second season of Into the Night, exploring different ways of working along the way to capture the action as well as the emotion.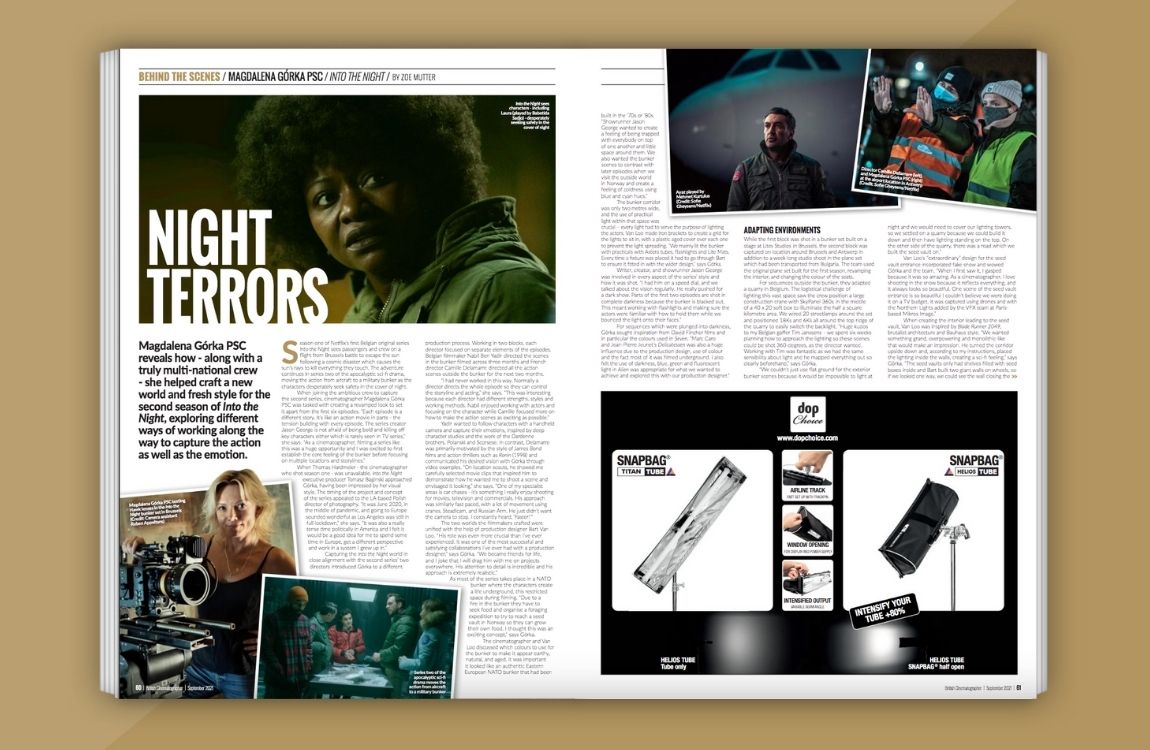 RINA YANG ON SUPER. HUMAN.
Channel 4's film promoting the Paralympics excels in originality and style once again.
Cinematographer Rina Yang talks about the creative process behind the gritty yet quirky commercial, her London-based production family, and working alongside the film's director - and fellow cinematographer - Bradford Young ASC.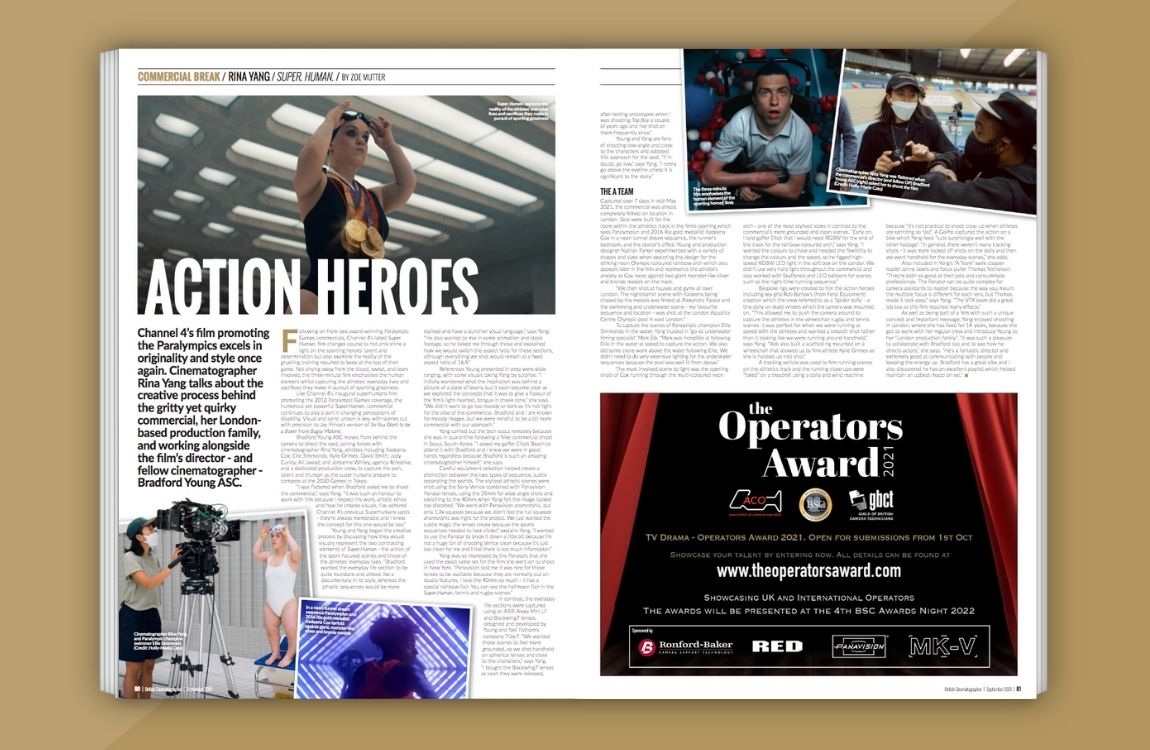 HERE'S WHAT ELSE YOU'LL FIND INSIDE THE LATEST EDITION…
Currently shooting in Rome, BSC President Mike Eley is seeing light anew, inspired by the city's theatricality, contrasts, and hues along with Vittorio Storaro ASC AIC's philosophy on colour.
Kurt Brazda, Chair of IMAGO's Working Conditions Committee, discusses why achieving family-friendly working conditions with fair pay and social protection of all working individuals in a European market with different social standards, financing, and difficult distribution structures requires a common European political will.
In Letter from America, Steven Poster ASC examines the opportunity to re-master movies that have been photographed sometimes as early as the beginning of a cinematographer's career.
The topic of on-set etiquette is examined along with the recommendations and guidance being put in place to help ensure crew and cast remain safe on set.
In Cinematic Classic, Pierre Aïm AFC's spectacular work lensing Mathieu Kassovitz's La Haine is remembered and celebrated.
Global SVP of Innovation at Frame.io, Michael Cioni, discusses his inspirations, Frame.io's Camera to Cloud (C2C) platform, and the future of the lab workflow.
In the latest edition of Point of View, film historian and title management professional Theo Gluck assesses the challenge for content owners and restoration professionals in meeting demand whilst maintaining artistic intent as an increasing number of viewing options and monetisation opportunities present themselves.
Behind-the-scenes insight is shared into Jeanne Lapoirie AFC's work on Benedetta; Xavier Dolléans on Germinal; J-P Passi FSC's lensing of Compartment No.6; Ollie Downey BSC on Fireworks; Matt Gray BSC on Vigil; and Paul Cameron ASC on Reminiscence.
There's also a comprehensive rundown of what DPs are currently shooting, plus much, much more!
Digital and Print & Digital Subscribers can read the 107th edition now by clicking here.