March 7, 2022
Take a sneak peek inside the January 2022 issue of British Cinematographer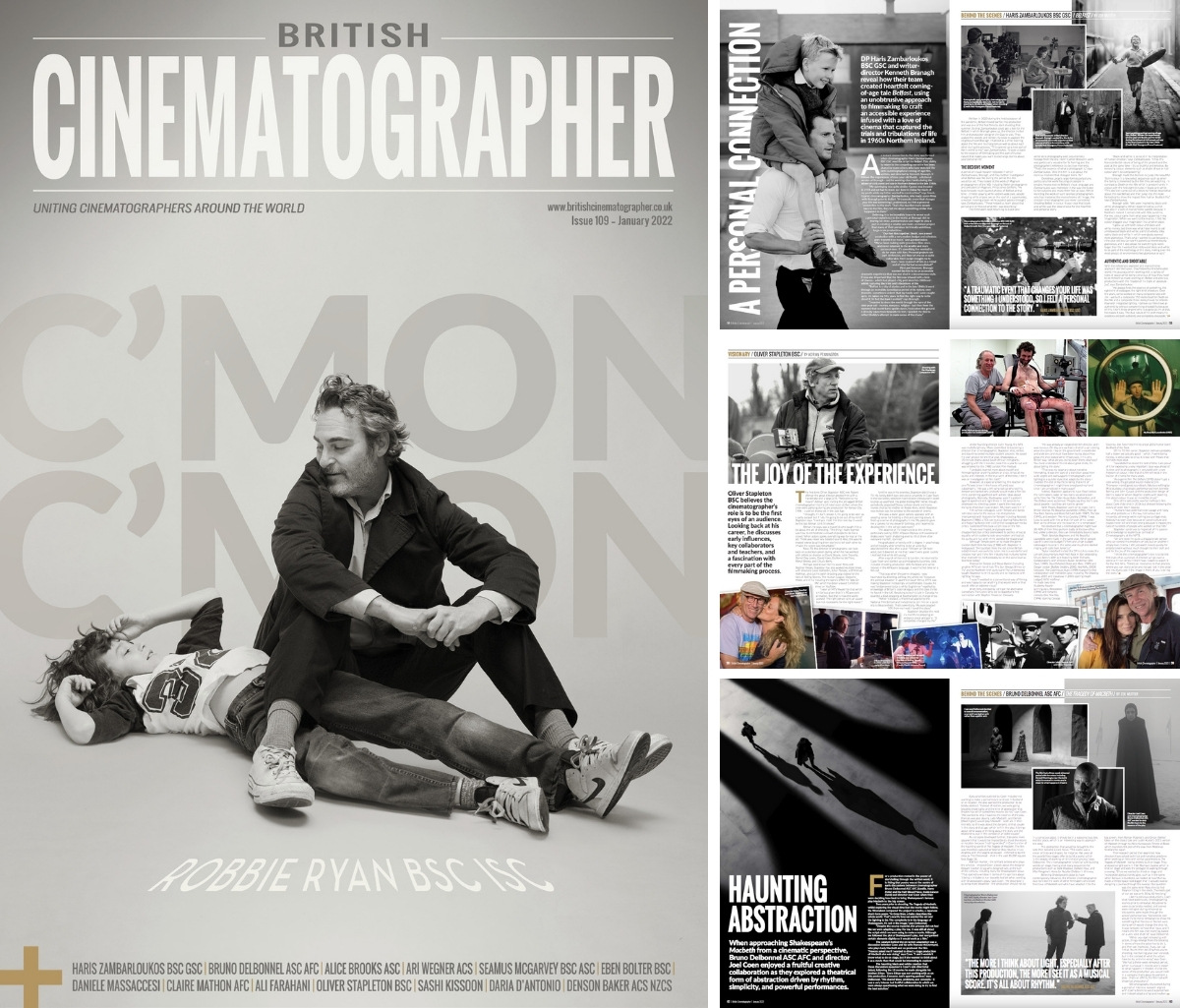 The January 2022 issue of British Cinematographer is now here! You can find out more about the exclusive interviews and articles you can expect to find inside the 109th edition now by reading on…
ROBBIE RYAN BSC ISC ON C'MON C'MON
In the latest cover story special, cinematographer Robbie Ryan BSC ISC shares insight into his time lensing the black-and-white heart-warming tale C'mon C'mon, starring Joaquin Phoenix. In a fascinating interview, Ryan and writer-director Mike Mills relive their journey of creative discovery.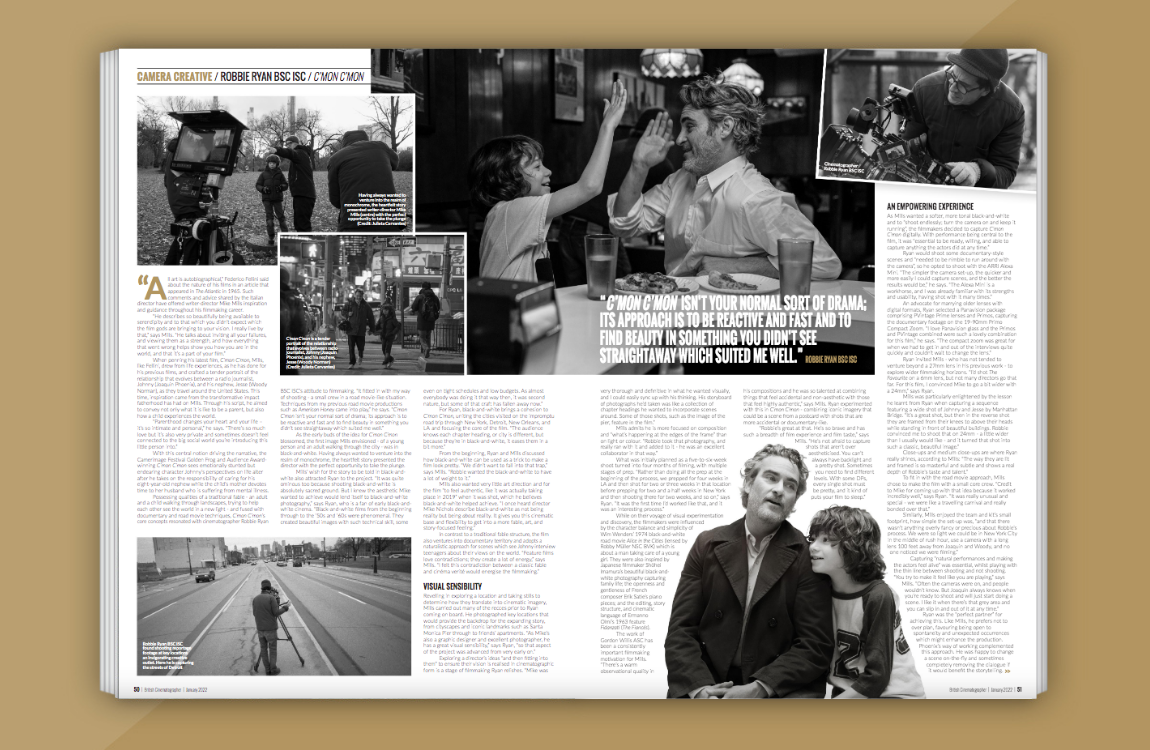 HARIS ZAMBARLOUKOS BSC GSC ON BELFAST
Haris Zambarloukos BSC GSC and writer-director Kenneth Branagh reveal how their team created heartfelt coming-of-age tale Belfast, using an unobtrusive approach to filmmaking to craft an accessible experience infused with a love of cinema that captured the trials and tribulations of life in 1960s Northern Ireland.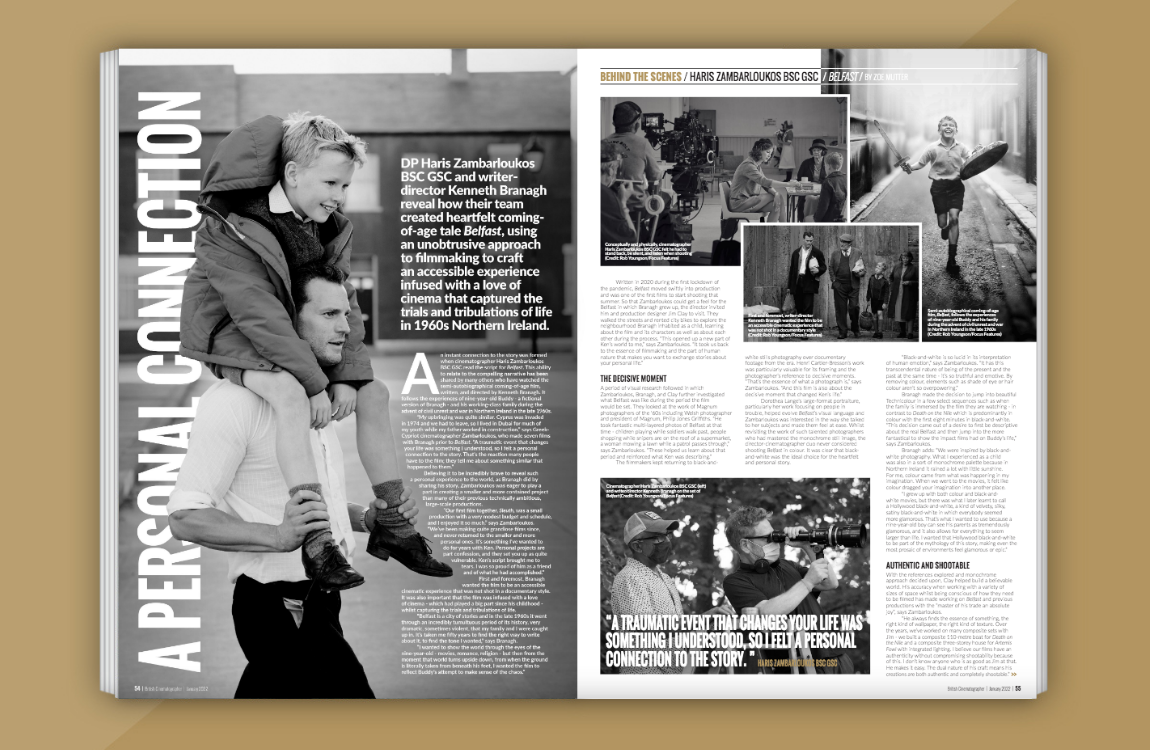 VISIONARY OLIVER STAPLETON BSC
Looking back at his stellar career, Oliver Stapleton BSC discusses early influences, key collaborators and teachers, and a fascination with every part of the filmmaking process.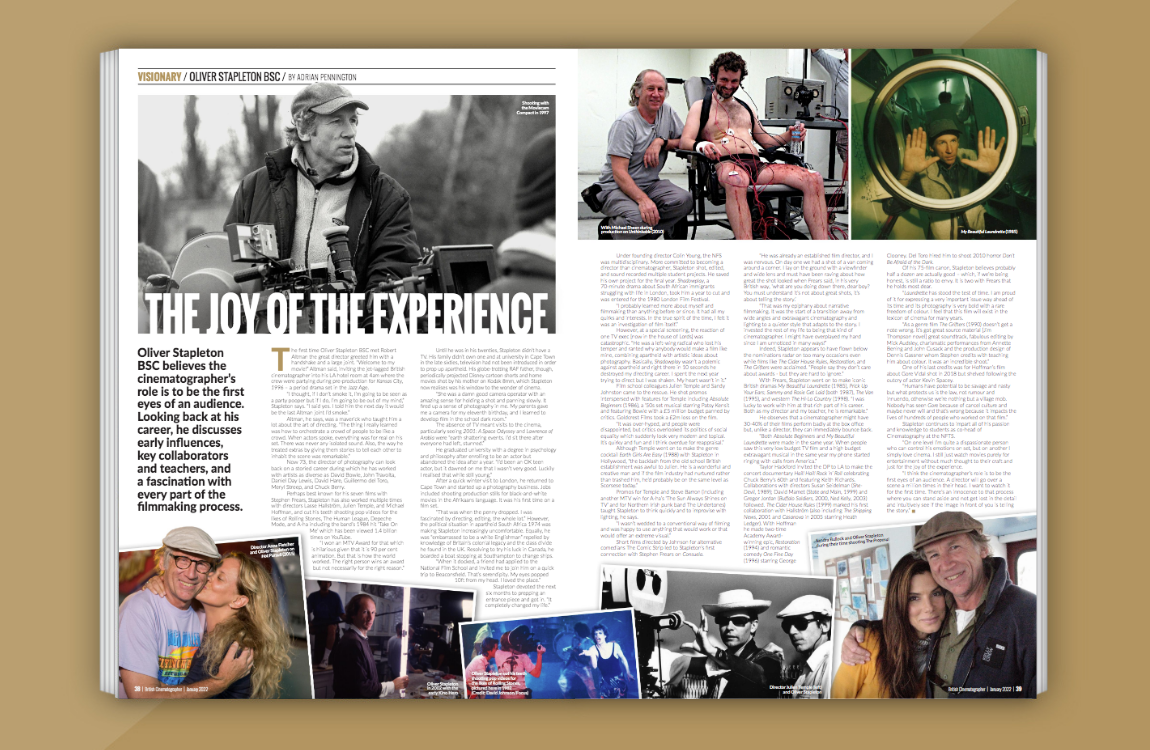 BRUNO DELBONNEL ASC AFC ON THE TRAGEDY OF MACBETH
When approaching Shakespeare's Macbeth from a cinematic perspective, Bruno Delbonnel ASC AFC and director Joel Coen enjoyed a fruitful creative collaboration as they explored a theatrical form of abstraction driven by rhythm, simplicity, and powerful performances.
The French cinematographer talks about his time shooting the historical thriller and working alongside Coen on his solo directorial debut.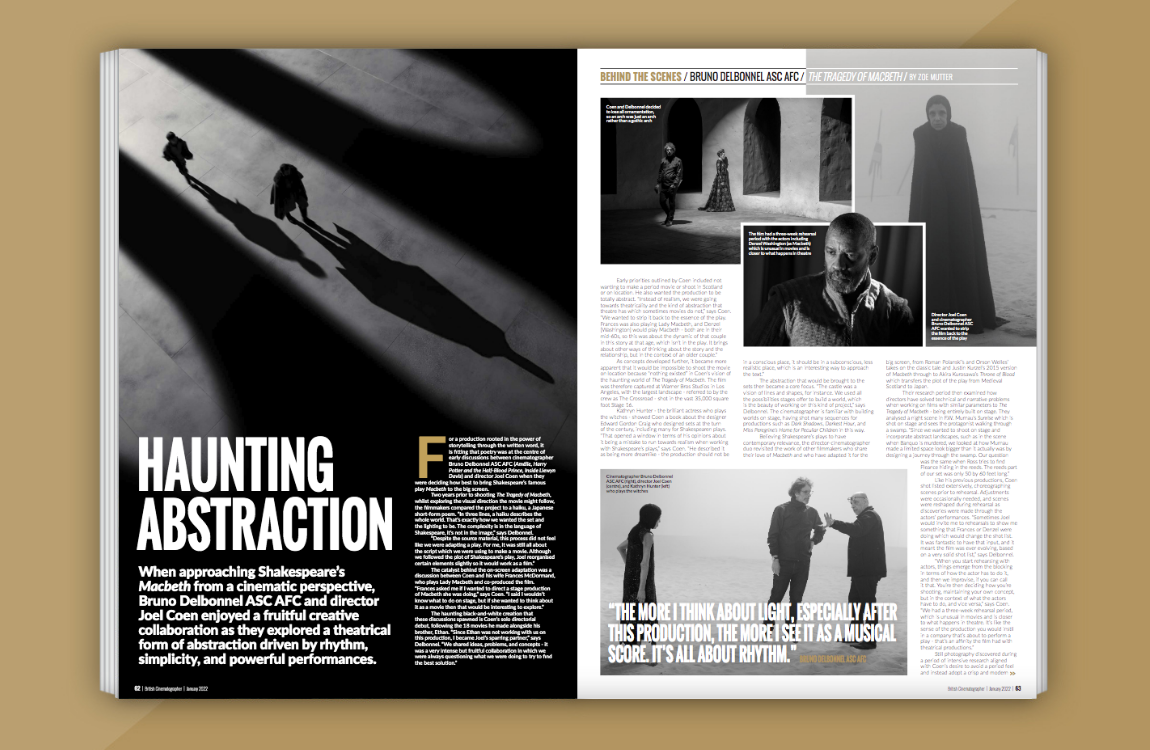 ARI WEGNER ACS ON THE POWER OF THE DOG
It was the responsibility of Ari Wegner ACS to capture the look of The Power of the Dog, Netflix's adaptation of Thomas Savage's 1967 novel examining masculinity from the perspective of a deeply homophobic, but closeted, rancher.
She tells British Cinematographer about working alongside director Jane Campion, months of prep, and shooting aerials with a drone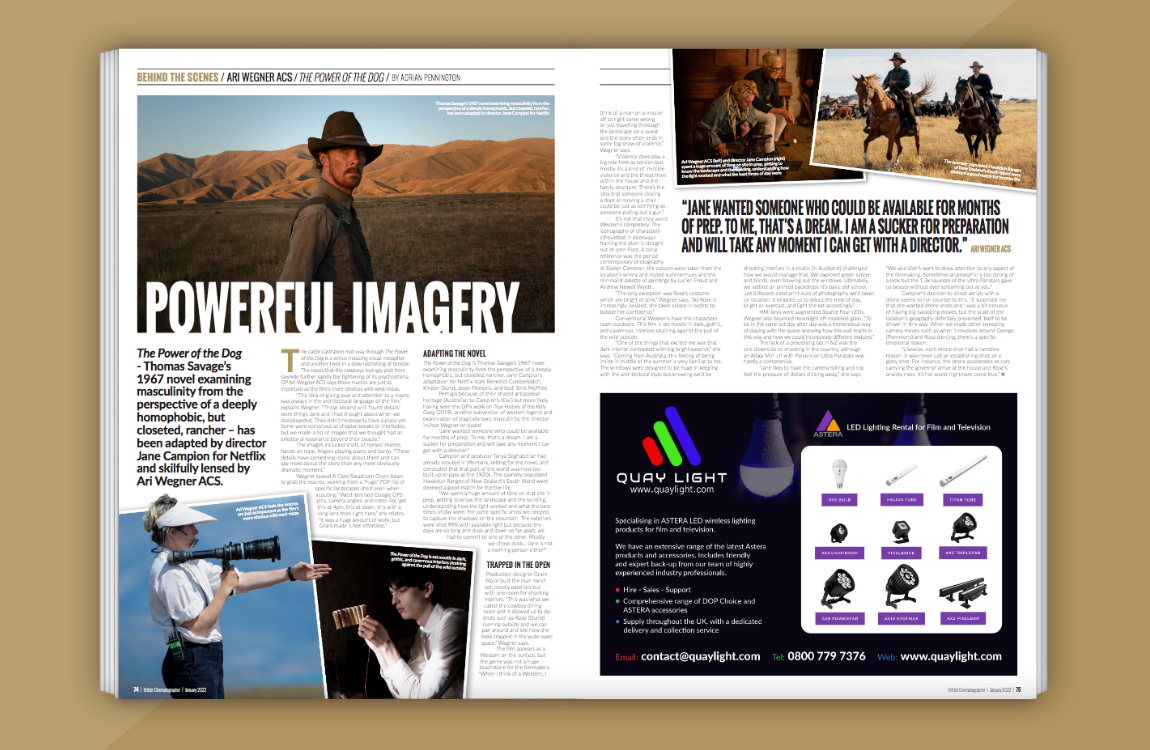 ALICE BROOKS ASC ON TICK, TICK... BOOM!
tick, tick Boom! details the struggles and successes of a composer and a playwright at a pivotal point in life and strives to fulfil his creative ambitions.
Cinematographer Alice Brooks ASC and director Lin-Manuel Miranda explored blurring the line between dreams and reality and infusing music with visuals in the telling of Jonathan Larson's story.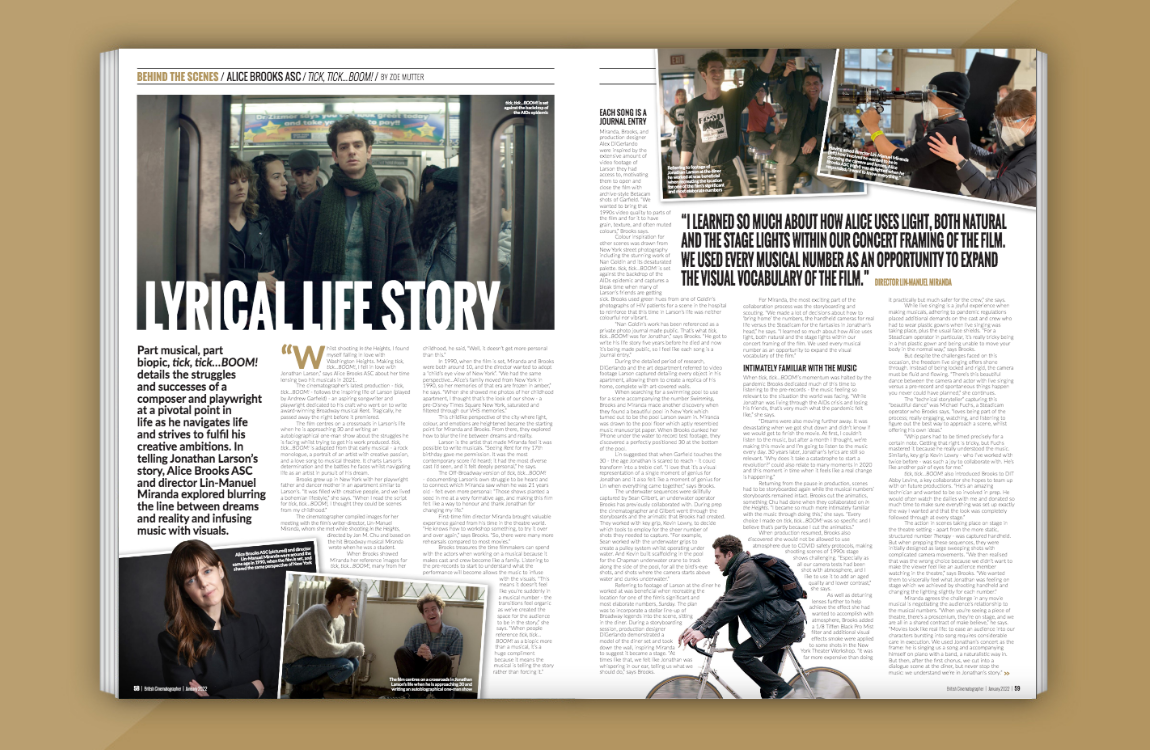 EVENT REVIEW CAMERIMAGE
The British Cinematographer team enjoyed a wonderful whirlwind of a week at EnergaCamerimage Film Festival, joining the industry in celebrating the finest filmmaking talent, creations, and innovations.
NEW WAVE RICK JOAQUIM SASC
In the first edition of 2022, we're shining a light on Rick Joaquim SASC, a cinematographer who is continuing to make waves in the industry and who always endeavours to serve the story.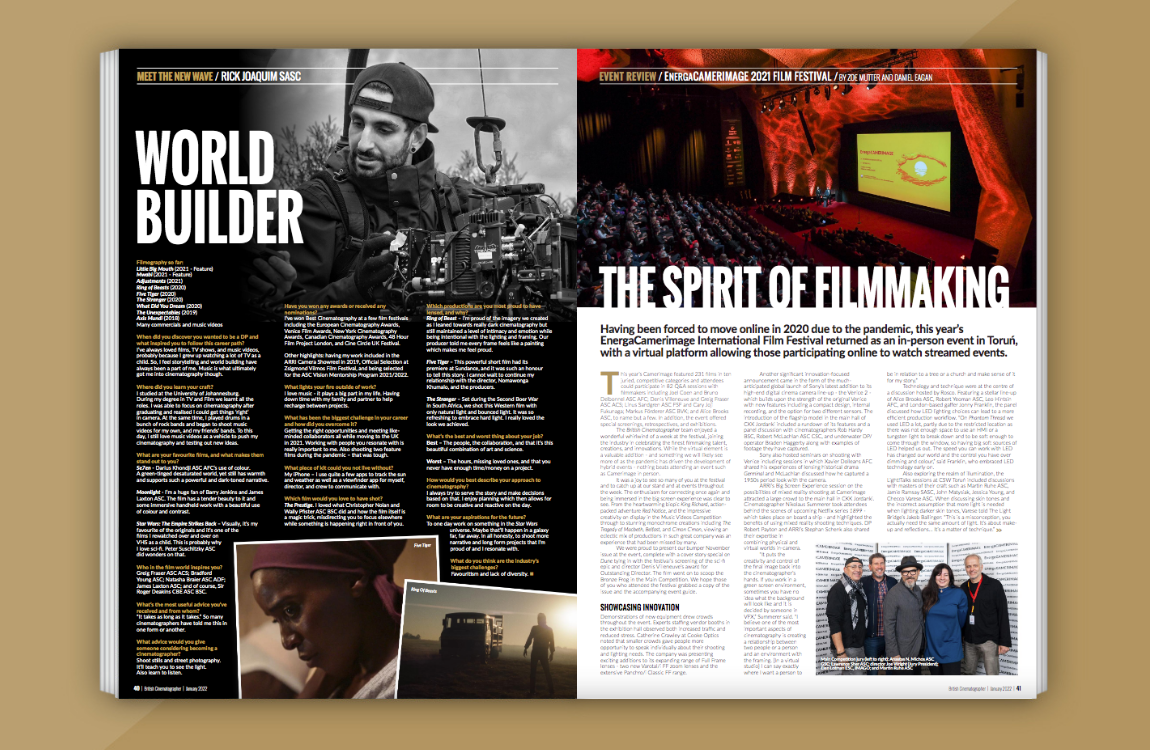 INDUSTRY WIDE SHOT RENTAL HOUSES
In the latest instalment of British Cinematographer's Industry Wide Shot feature, they get the perspectives of a selection of UK rental houses on the ever-evolving sector, from the peak in activity following the production void through to popular gear, training, and encouraging new entrants to the industry.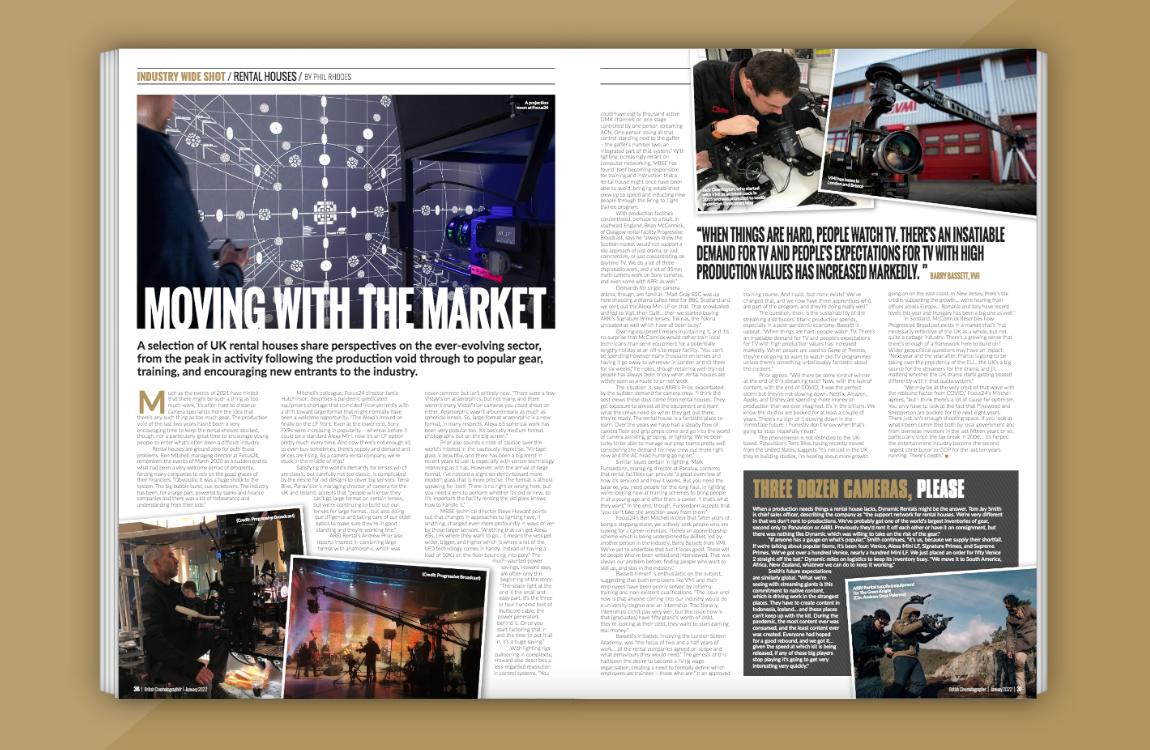 DANIELE MASSACCESI ON THE MATRIX RESURRECTIONS
Released in the middle of the latest COVID maelstrom, while proving to be a draw for at-home viewers with its concurrent release on HBO Max, the fourth - and perhaps final - Matrix film reveals surprises in terms of content, and how it was made.
Cinematographer Daniele Massaccesi discusses capturing the look on The Matrix Resurrections and working alongside director Lana Wachowski.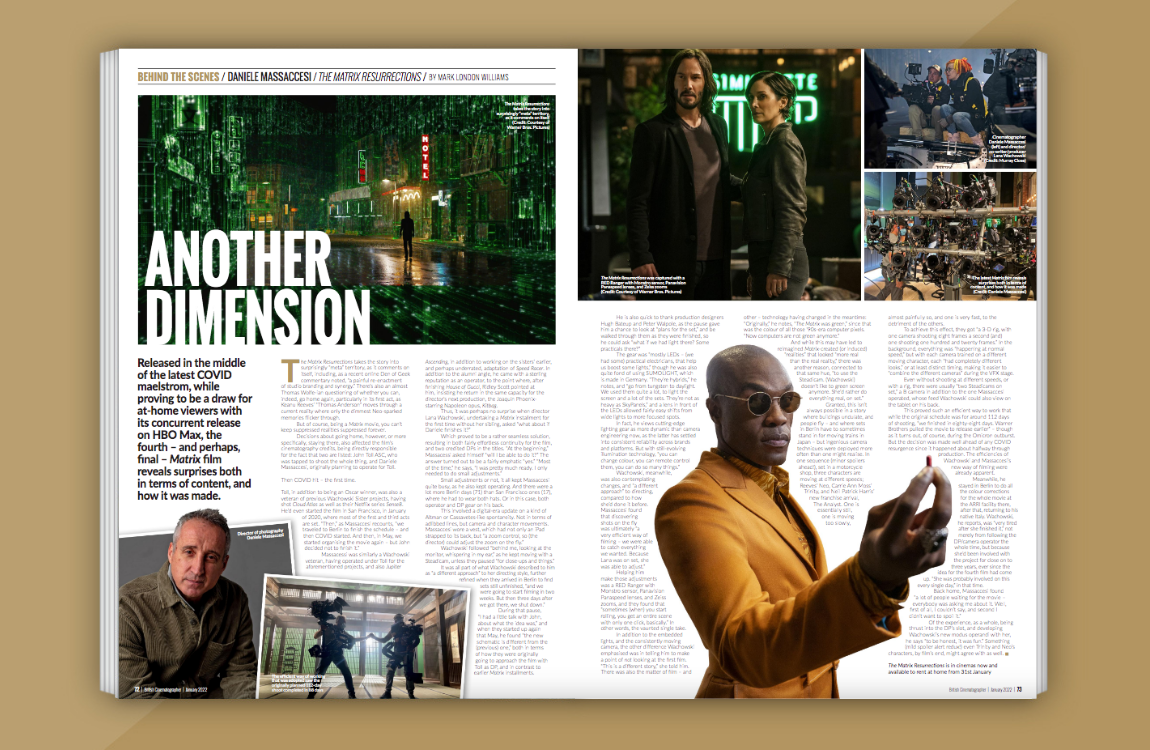 SEAMUS MCGARVEY BSC ASC ON CYRANO
British Cinematographer catches up with Seamus McGarvey BSC ASC to learn about his lensing of Joe Wright's musical romantic comedy Cyrano.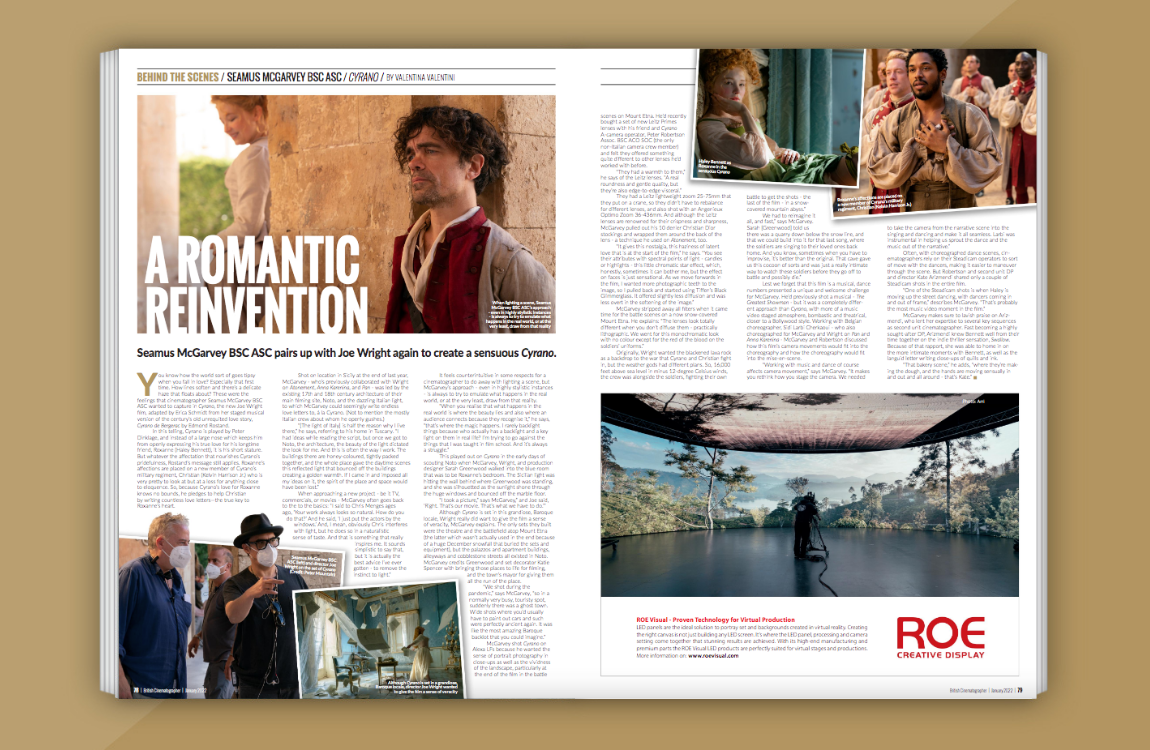 EBEN BOLTER BSC ON NIGHT TEETH
An ambitious production team crafted their own version of Los Angeles when filming vampire thriller Night Teeth. Eben Bolter BSC reveals how the approach adopted allowed them to be bigger, bolder, and more expressive when telling the story of a wild night out and the discovery of a dark underworld.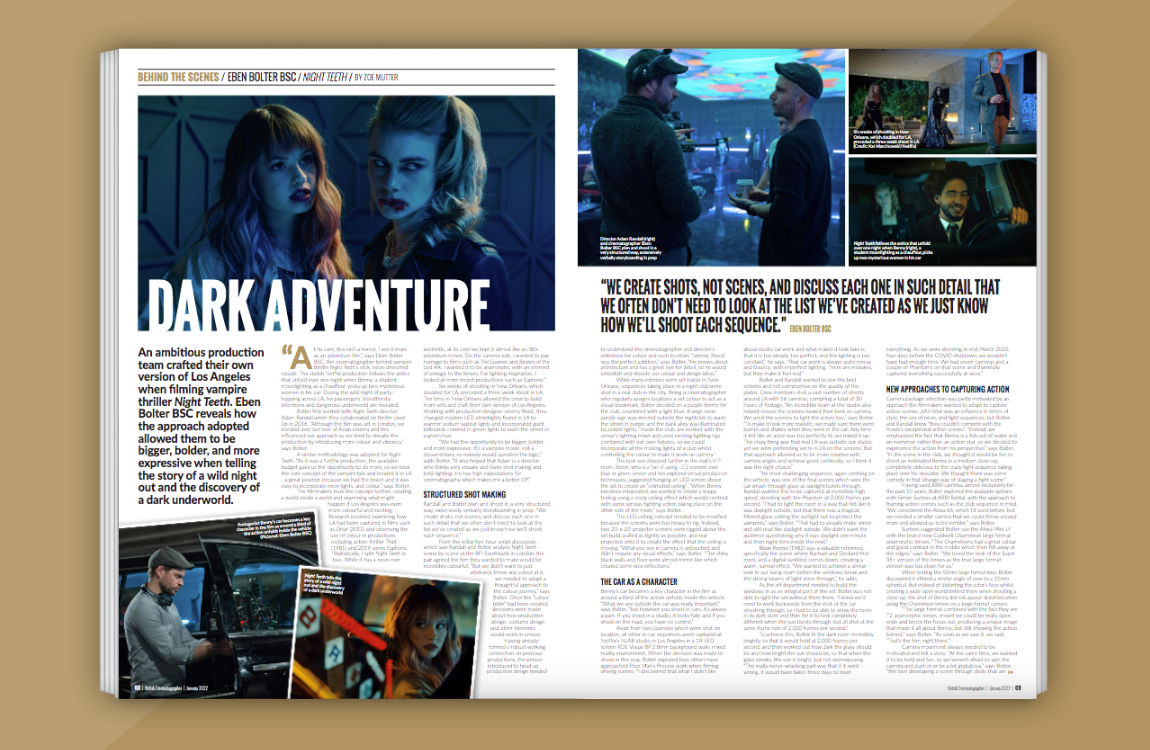 HERE'S WHAT ELSE YOU'LL FIND INSIDE THE LATEST ISSUE…
In his last President's Perspective piece, Mike Eley BSC discusses safety on set and the need to feel free to express concern.
In the first instalment of British Cinematographer's new Music in Motion section they explore productions with music at their core. Rina Yang talks about her time shooting All Too Well, the short film directed by Taylor Swift.
This issue's Innovator is Estelle McGechie, whose recent appointment as chief executive of on-camera monitoring and live switching developer Atomos is the continuation of a career that has included time at organisations built on technological originality.
In Letter from America, Steven Poster ASC comments on the working conditions on sets where safety protocols are being ignored.
Colourist and creative director of colour at MPC, Matthieu Toullet talks life and career lesson, big breaks, colour inspirations, and his passion for the profession in In the Frame.
Nina Kellgren BSC, director Isaac Julien, BFI curator William Fowler, and BFI technical delivery manager Douglas Weir discuss the process of restoring 1991 British indie feature Young Soul Rebels as well as sharing details of the film's creation.
IMAGO Working Committee's Kurt Brazda offers his thoughts on the urgent call the federation made to the industry following the death of Halyna Hutchins.
This bumper issue also shares behind-the-scenes insight into Claire Mathon AFC's work on Spencer; Ali Farahani on Leader; and Sashi Kissoon's lensing of Death of England: Face to Face.
There's also a comprehensive rundown of what DPs are currently shooting, plus much, much more!
Digital and Print & Digital Subscribers can read the 108th edition now by clicking here.
Print subscribers* will receive their copies in the post within the next fortnight.
Not a subscriber yet? Don't worry - you can get your annual subscription now from just £30 ($39) by clicking here.
*Issue 109 will only be received in printed format by those with an active 'Print' or 'Print & Digital' subscription purchased before 27th January 2022. Any new 'Print' or 'Print & Digital' subscription purchases made from 27th January 2022 onwards will NOT receive this issue in print as part of their purchase.