April 20, 2022
Take a sneak peek inside the BSC Expo 2022 issue of British Cinematographer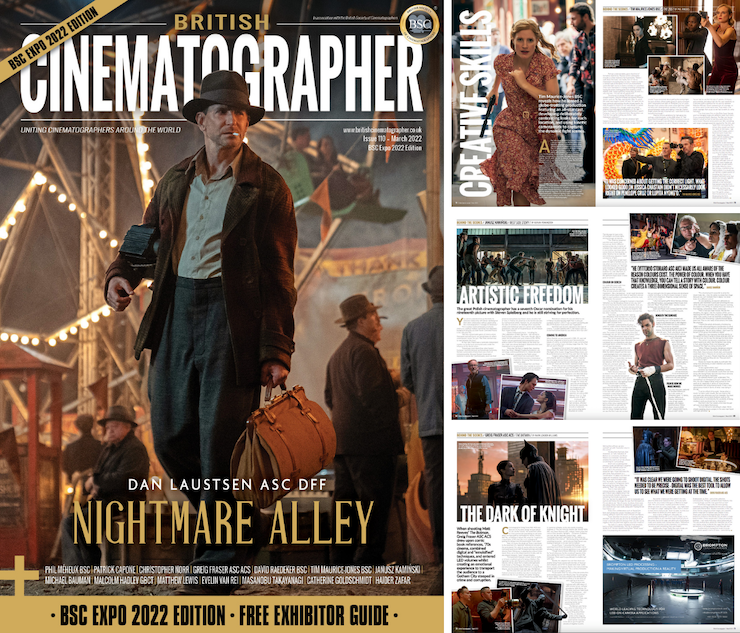 The March 2022 issue of British Cinematographer is now here! You can find out more about the exclusive interviews and articles you can find inside the BSC Expo 2022 special edition now by reading on…
TIM MAURICE-JONES BSC ON THE 355
With absolutely no shortage of beautiful places, intrigue, and excitement, spy thriller The 355 features a stellar cast including Jessica Chastain, Penélope Cruz, Fan Bingbing, and Diane Kruger.
Tim Maurice-Jones BSC reveals how he shot a globe-trotting production featuring an all-star cast, developing deliberately contrasting looks for each location, and using kinetic camerawork to capture the dynamic fight scenes.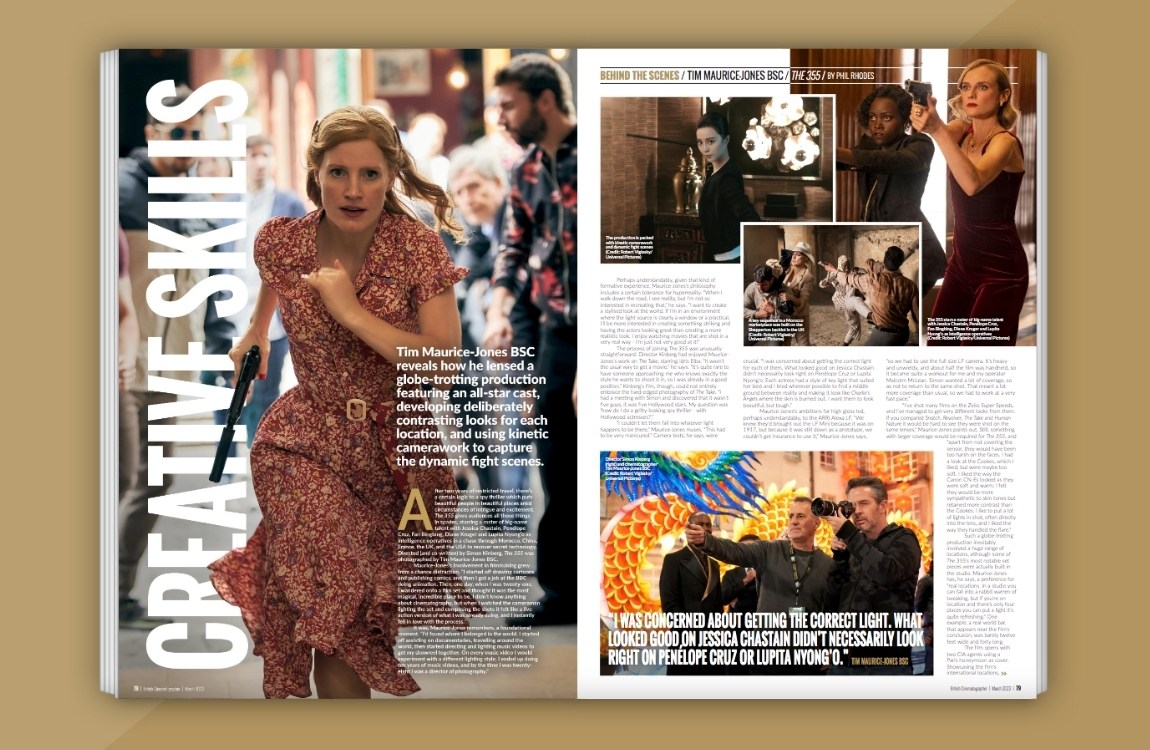 DAN LAUSTSEN ASC DFF ON NIGHTMARE ALLEY
In the cover story special, British Cinematographer editor Zoe Mutter catches up with Dan Laustsen ASC DFF to discuss his time lensing neo-noir psychological thriller Nightmare Alley - based on the 1946 novel of the same name.
Laustsen, director Guillermo del Toro, and their key collaborators share how they created a powerful, nightmarish vision.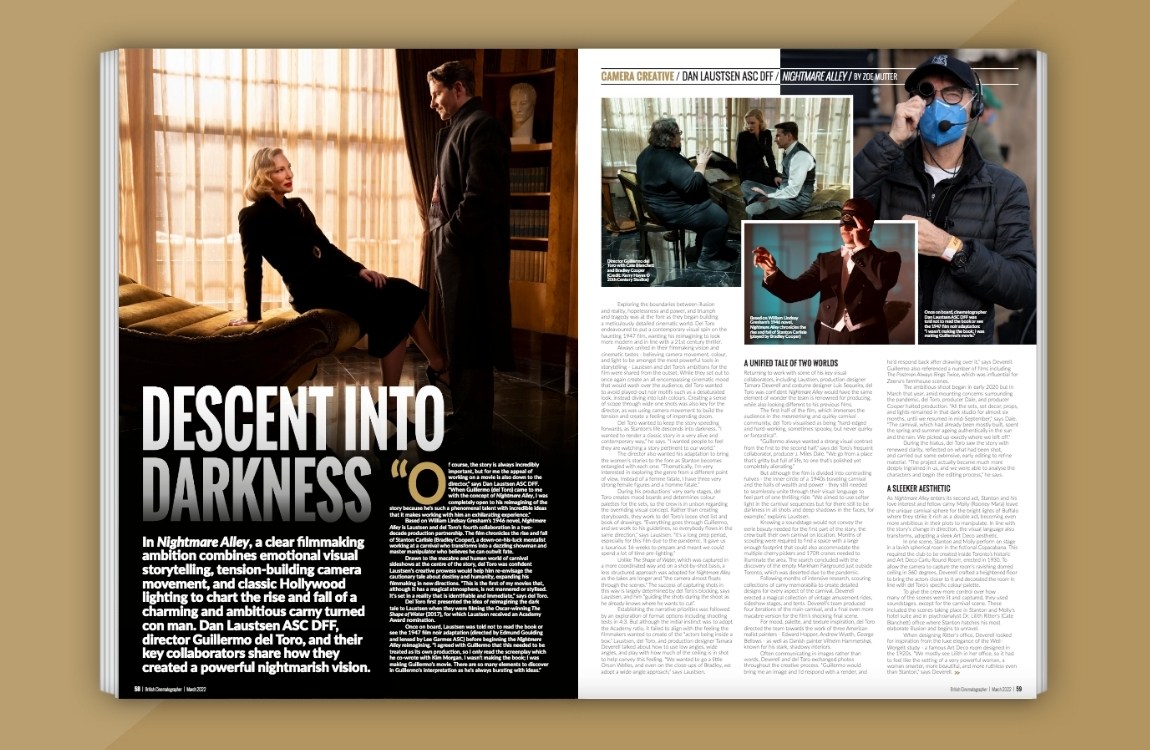 JANUSZ KAMIŃSKI ON WEST SIDE STORY
The critically acclaimed musical drama West Side Story is the second feature-length adaptation of the 1957 stage musical of the same name.
Polish born American cinematographer Janusz Kamiński received his seventh Oscar nomination for his nineteenth picture with director Steven Spielberg. He tells British Cinematographer all about his experience shooting the film.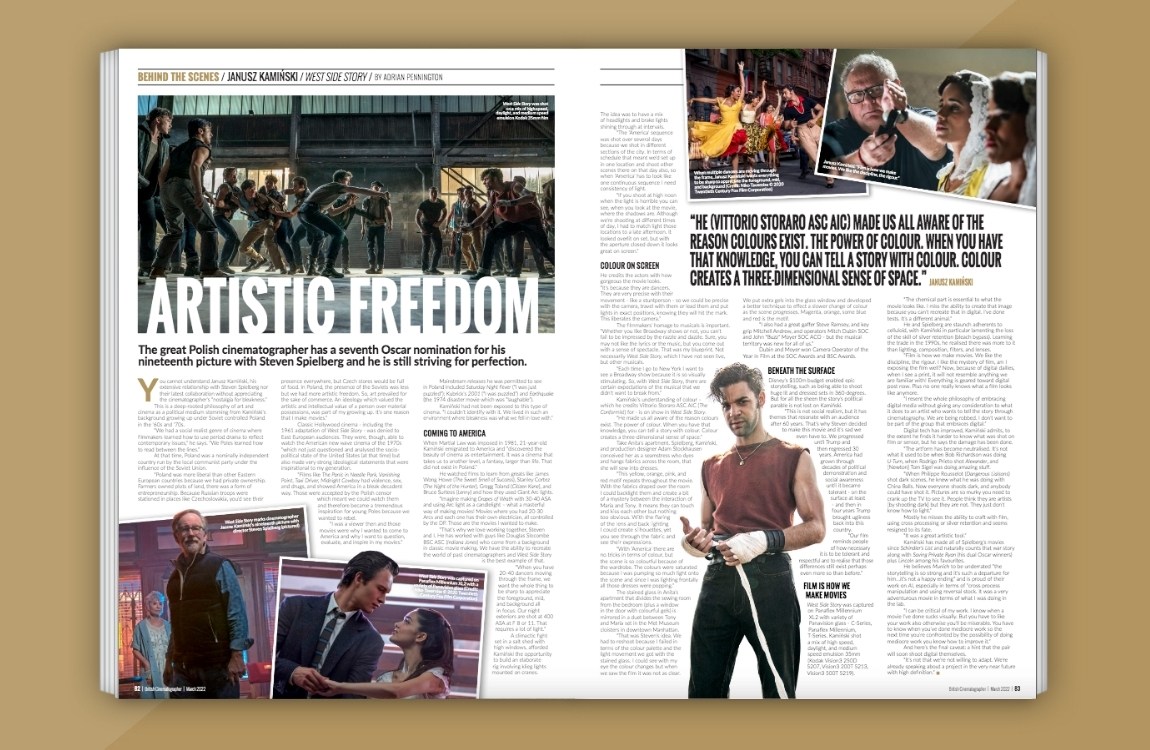 CATHERINE GOLDSCHMIDT ON CHLOE
Chloe, created by main writer and director of three episodes Alice Seabright, starts as an examination of social media aspirations.
Cinematographer Catherine Goldschmidt talks about her experience shooting the six-part psychological thriller series for BBC One and Amazon Prime Video.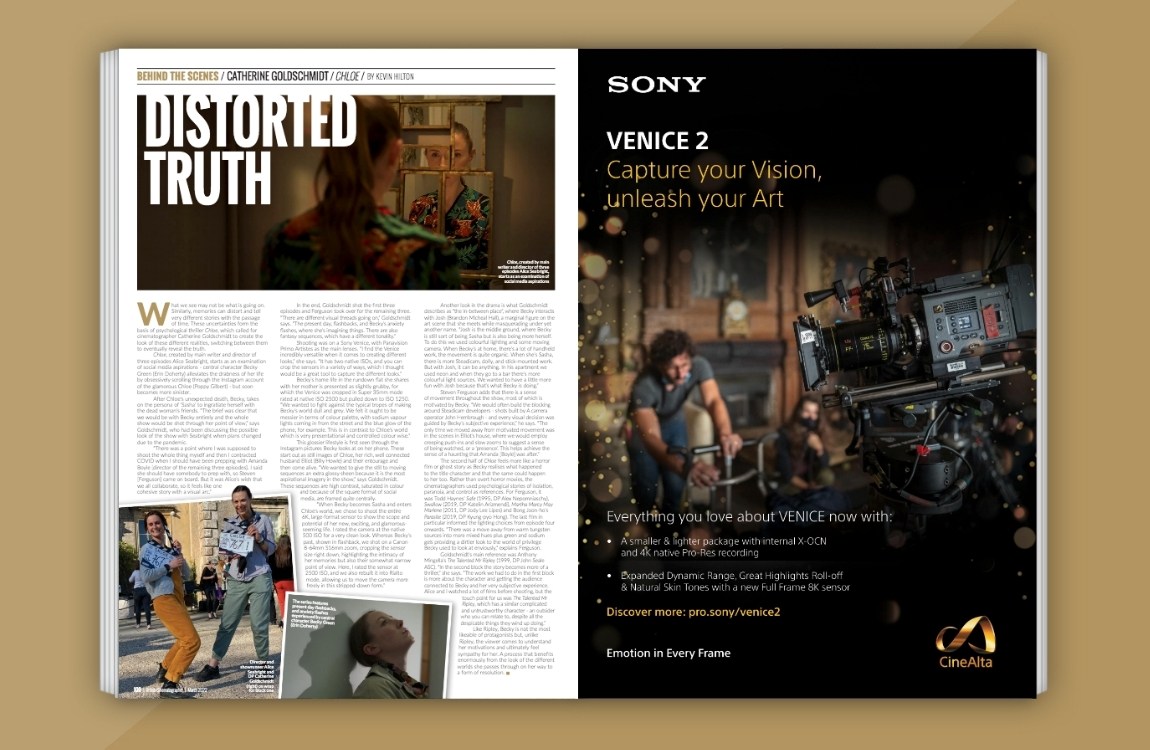 GREIG FRASER ASC ACS ON THE BATMAN
DP Greig Fraser ASC ACS recalls how he drew upon comic book references, '70s cinema, and combined digital and "emulsified" techniques to bring Matt Reeves' superhero blockbuster The Batman to life.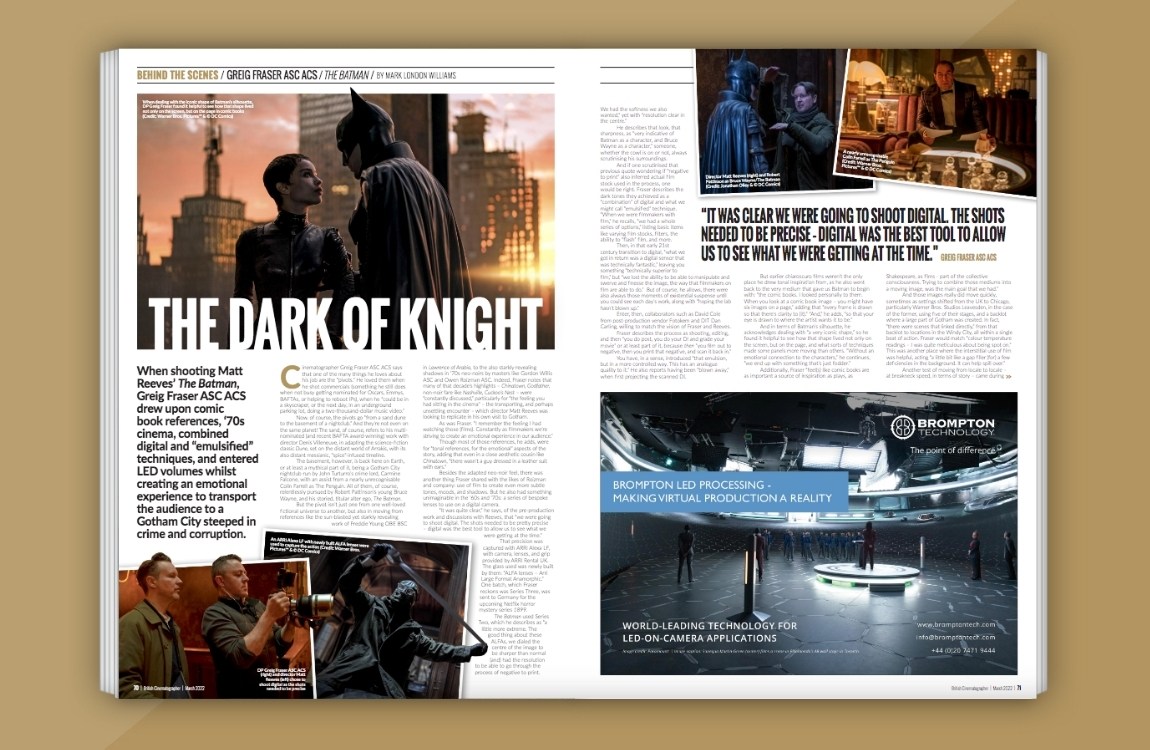 MALCOLM HADLEY GBCT ON THE HOUSE
Combining three self-contained narratives in one and shifting between different eras, Nexus Studios' stop-motion creation The House chronicles the events that unfold in one unconventional house.
Cinematographer Malcolm Hadley GBCT tells British Cinematographer all about working alongside Belgian filmmakers Emma de Swaef and Marc James Roels and how he revelled in the new tasks presented by the film.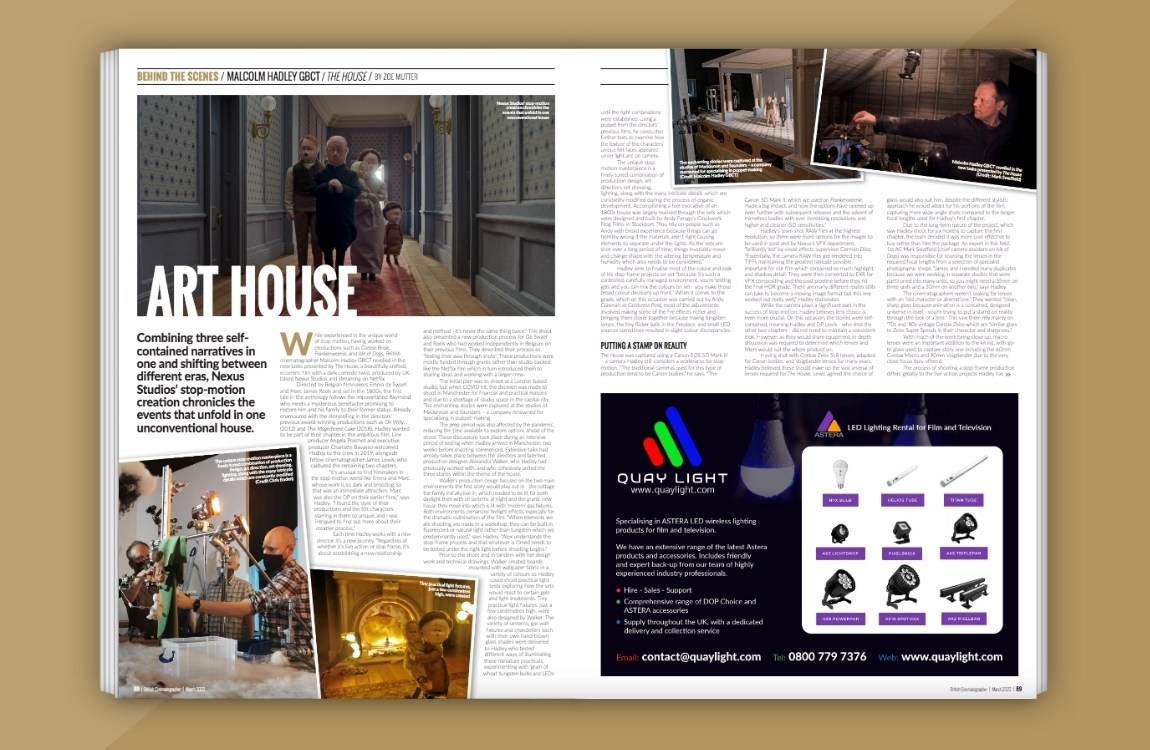 NEW WAVE DAVID PIMM
Up-and-coming talent David Pimm discusses the best advice he's ever been given, the one piece of kit he couldn't live without, and his approach to cinematography in our latest installment of Meet The New Wave.

VISIONARY PHIL MÉHEUX BSC
From Scum and The Long Good Friday through to The Mask of Zorro and Casino Royale, award-winning cinematographer Phil Méheux has entertained and inspired many with his work.
It was only fitting that James Friend BSC ASC – whom Méheux mentored and has formed a firm friendship with – sat down with the BSC Lifetime Acheivement Award recipient and filmmaking master to discuss his career and gain an insight into the industry and art of cinematography.

MICHAEL BAUMAN ON LICORICE PIZZA
Michael Bauman makes the transition to DP on Licorice Pizza, the latest film from director Paul Thomas Anderson.
He discusses his time shooting the Oscar- and BAFTA-nominated coming-of-age comedy-drama.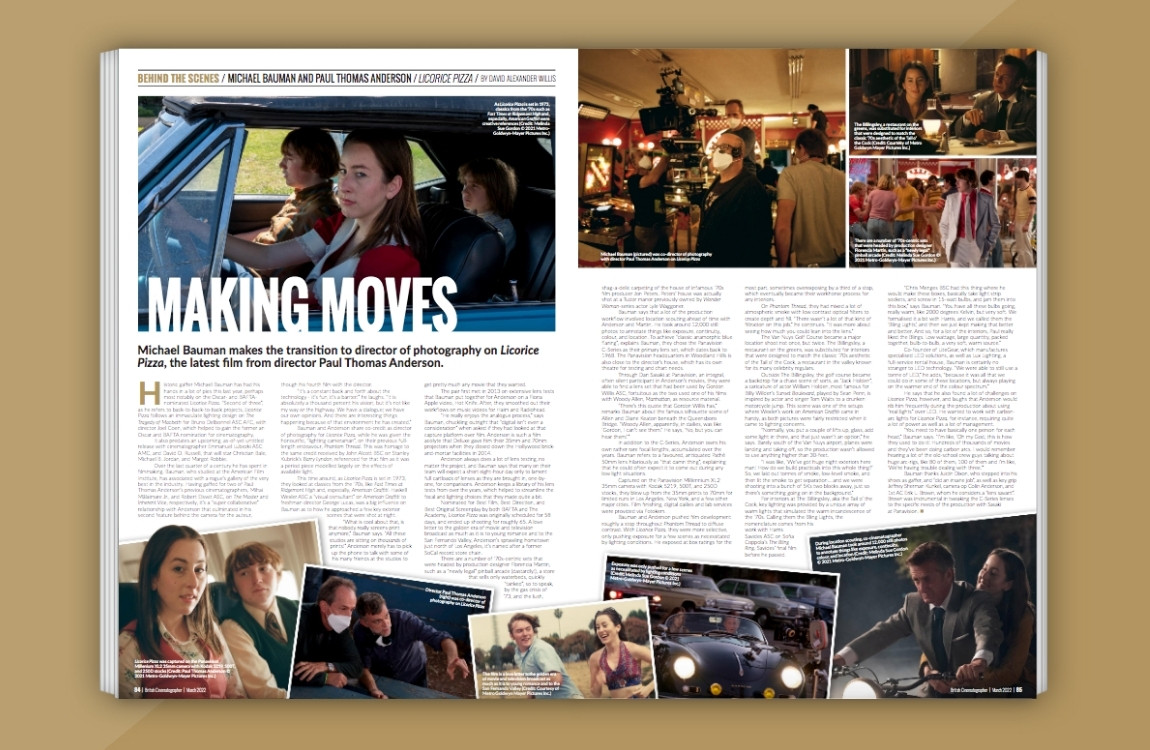 PATRICK CAPONE AND CHRISTOPER NORR ON SUCCESSION
"We talk about our challenges and how best to steer the visual language as friends. If Pat or I try something new, we'll tell each other if it worked well."
Christoper Norr and Patrick Capone share insight into their time shooting HBO's black-comedy drama series Succession.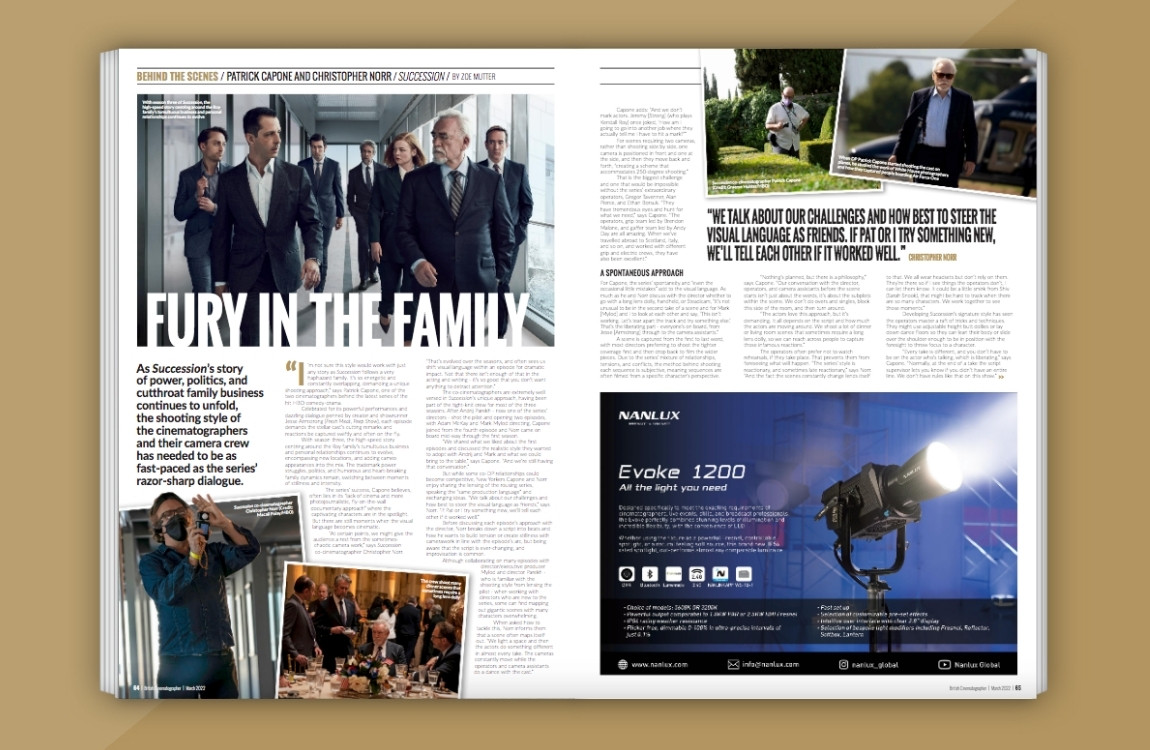 INNOVATOR... JARRED LAND
Jarred Land has spent his career in close collaboration and connection with filmmakers, supporting the execution of their vision with powerful and ground-breaking tools. In this month's installment of Innovator, British Cinematographer shines a light on the President and co-owner of Red Digital Cinema.
HERE'S WHAT ELSE YOU'LL FIND INSIDE THE LATEST ISSUE…
In his first column since being appointed BSC President, Christopher Ross BSC reflects on the words and work of previous presidents, welcomes in-person celebrations of cinematography, and highlights the importance of human connection and a respectful workplace.
British Cinematographer reflects on the BSC Awards where Ari Wegner ACS made history when she became the first female cinematographer to win in the BSC Best Cinematographer in a Theatrical Feature category.
Braden Haggerty talks about her career as an underwater cinematographer and camera operator.
In The Big Picture feature on sustainability, crew members, studios, and rental companies discuss what is being done in the film and TV industry to reach Net Zero by 2050.
Steven Poster ASC highlights some of the tools and resources he believes DPs will find useful in the future.
In The Craft, Witold Stok BSC explores the use of natural light in a truly illuminating piece.
In IMAGO News, there's an update on the diversity and inclusion that took place at EnergaCAMERIMAGE.
British Cinematographer also shares behind-the-scenes insight into David Raedeker BSC's work on The Souvenir Part II; Matthew Lewis's lensing of Boiling Point; Evelin van Rei discusses Vera; Masanobu Takayanagi talks Swan Song; and Haider Zafar's explores his lensing of Blonde. Purple.
There's also a comprehensive rundown of what DPs are currently shooting, plus much, much more!
You can also download the official BSC Expo Guide – produced by British Cinematographer – here.
Digital and Print & Digital Subscribers can read our 110th edition now by clicking here.
Print subscribers* will receive their copies in the post within the next fortnight.
Not a subscriber yet? Don't worry - you can get your annual subscription now from just £30 ($39) by clicking here.
*Issue 110 will only be received in printed format by those with an active 'Print' or 'Print & Digital' subscription purchased before 28th March 2022. Any new 'Print' or 'Print & Digital' subscription purchases made from 28th March 2022 onwards will NOT receive this issue in print as part of their purchase.