September 21, 2022
Take a sneak peek inside the September 2022 issue of British Cinematographer
The September 2022 issue of British Cinematographer is now here! You can find out more about what's inside the action-packed 113th edition now by reading on…
JAMES FRIEND ASC BSC ON ALL QUIET ON THE WESTERN FRONT
The latest cover story special sees British Cinematographer editor Zoe Mutter catch up with James Friend ASC BSC and camera operator Danny Bishop ACO Assoc. BSC SOC to discuss how they tackled challenging conditions to retell the anti-war story of All Quiet on the Western Front.
They share their incredible creative journey including how they gained valuable inspiration from Saving Private Ryan camera operators Mitch Dubin SOC ACO and Chris Haarhoff SOC.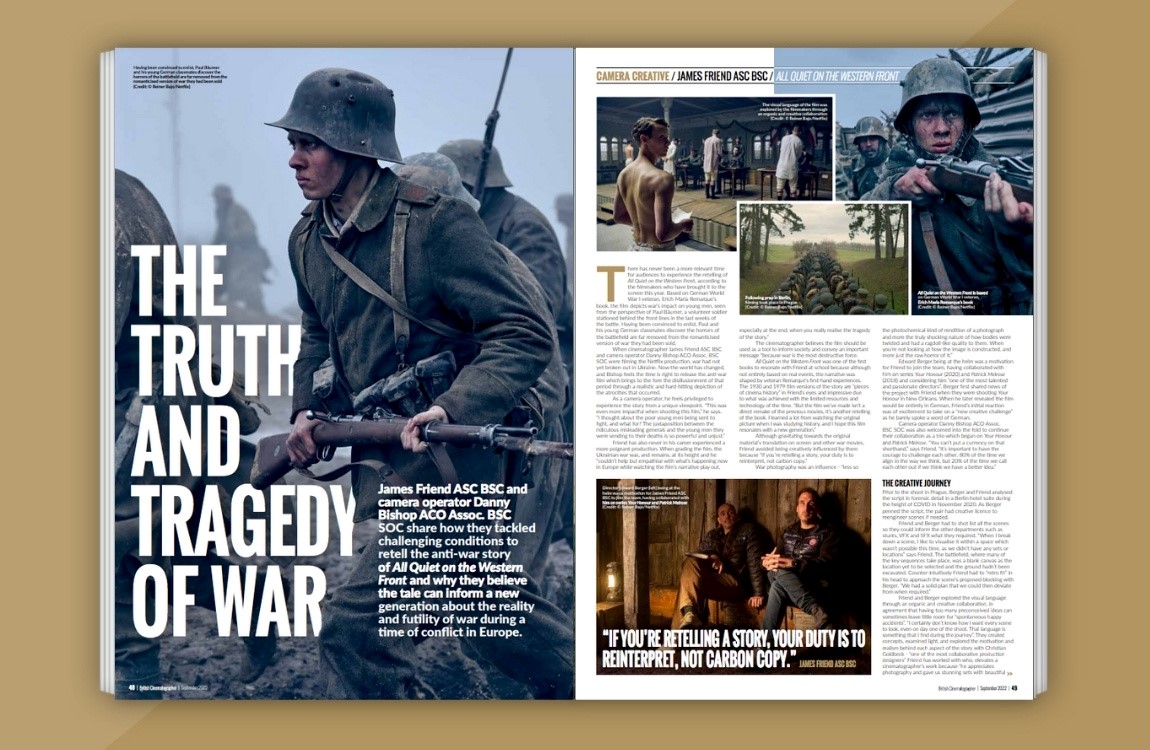 VISIONARY DARIUS KHONDJI ASC AFC
In the latest Visionary profile, the master of light, Darius Khondji ASC AFC, muses on his storied career as one of the most celebrated contemporary cinematographers, reflecting on his collaborations with the likes of Woody Allen, Michael Haneke, and Bong Joon-ho.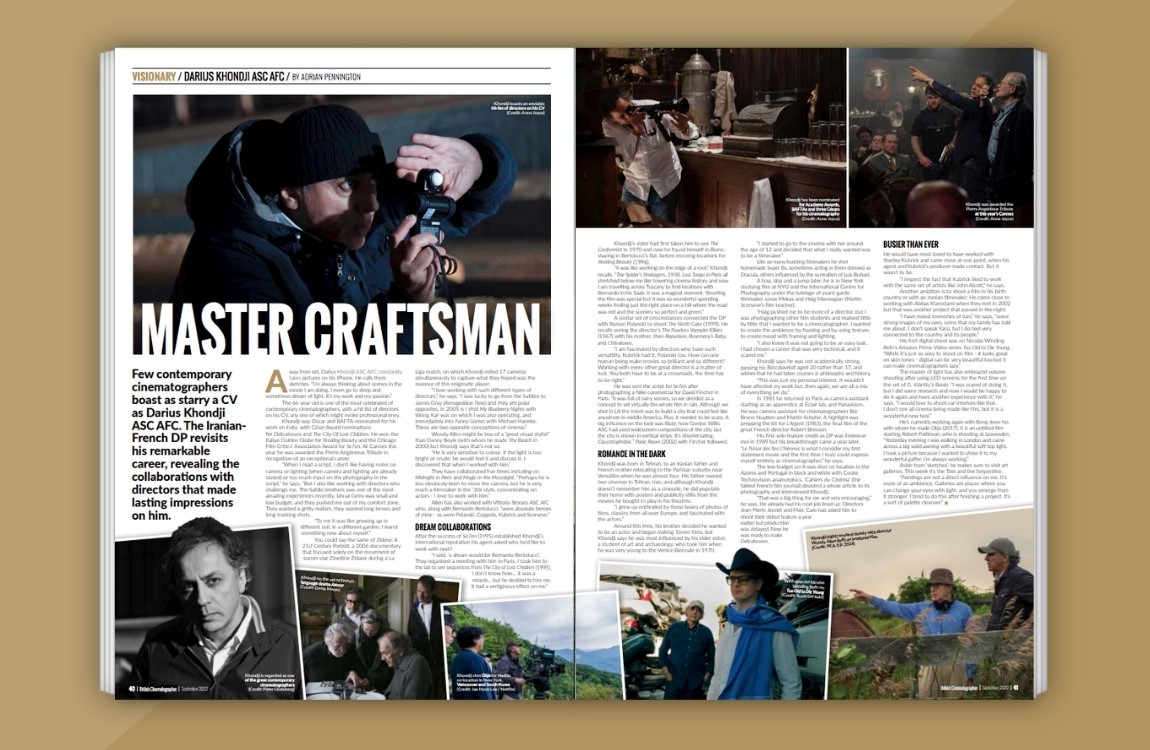 POLLY MORGAN BSC ASC ON WHERE THE CRAWDADS SING
Growing up in a remote part of the UK, Polly Morgan BSC ASC spent much of her childhood walking in the woods, sitting on riverbanks, and discovering the natural world alone. It was perhaps fate then that the responsibility of lensing Where the Crawdads Sing fell into her hands.
She shares her experience working alongside director Olivia Newman to bring the much-loved book to the screen.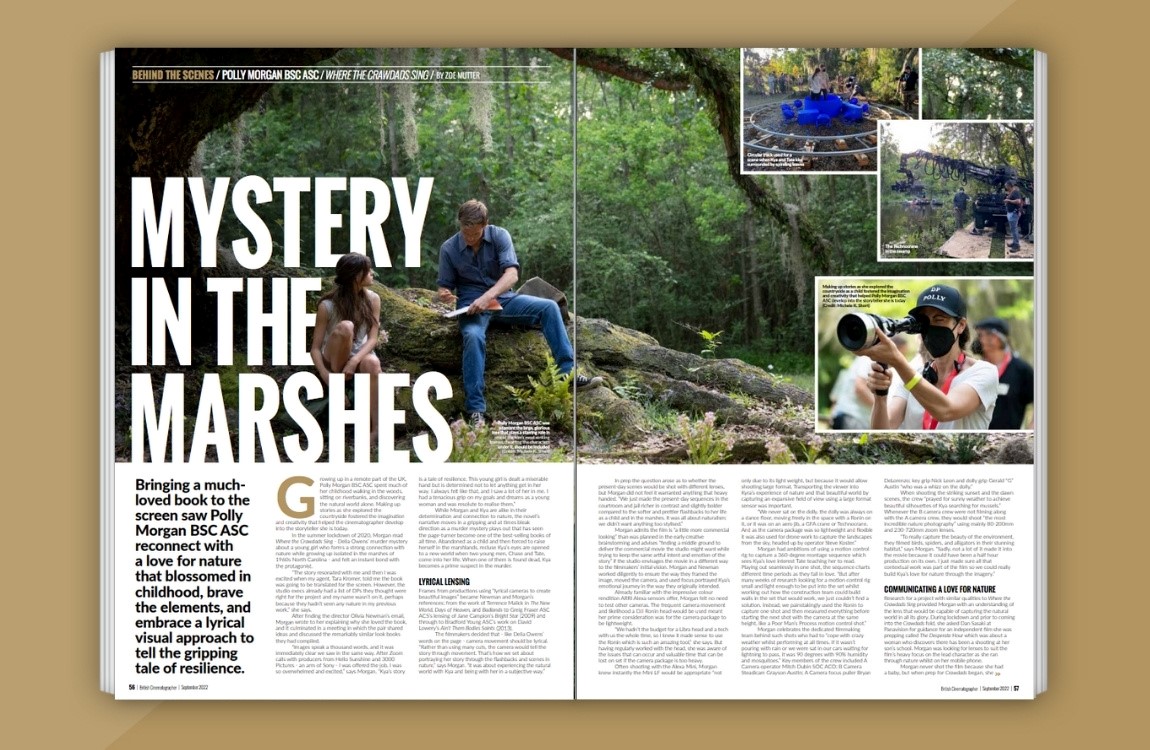 CHAYSE IRVIN ASC CSC ON BLONDE
"I don't really know what I want until I see it so I'm constantly making pivots. I really try to protect the special process of blocking and using that as a sacred creative space."
Chayse Irvin ASC CSC explains how he revived Marilyn Monroe's star power in his cinematography for Blonde.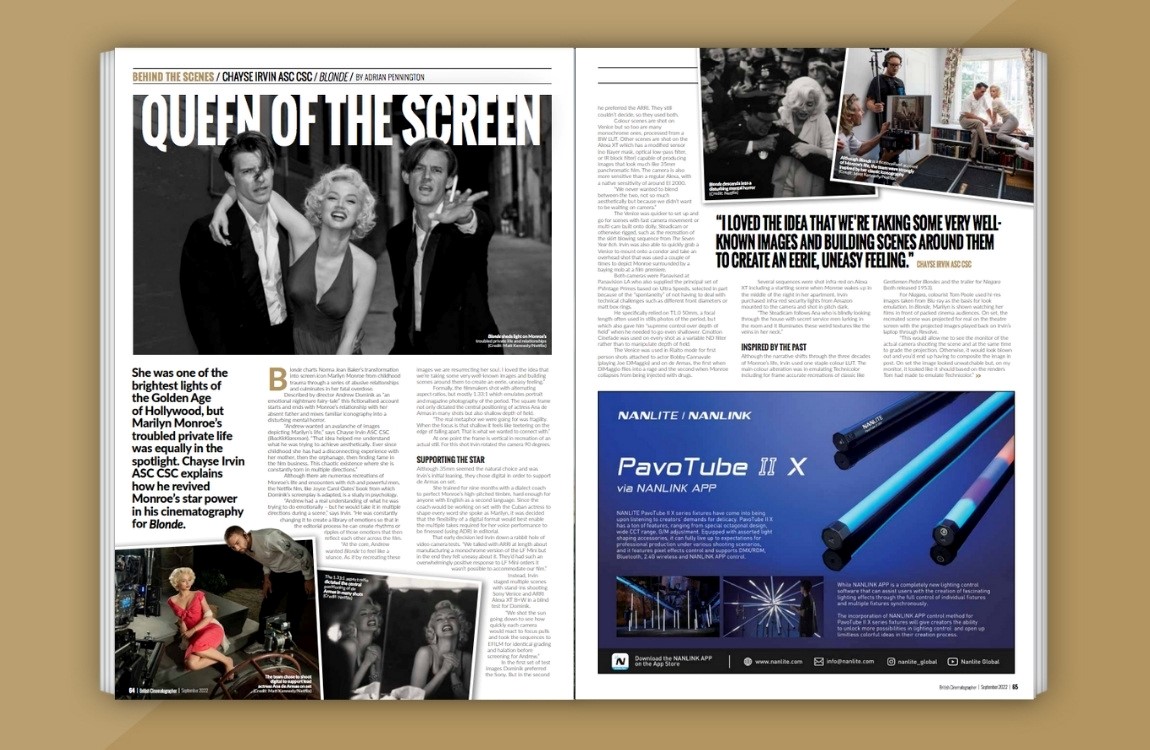 AVA BERKOFSKY ASC ON INSECURE
It's goodbye to South Los Angeles as HBO's comedy-drama series Insecure ends after five seasons of awkward-girl antics.
The show, however, leaves behind an indelible cultural legacy. Cinematographer Ava Berkofsky ASC reflects on the evolution of its distinctive visual language.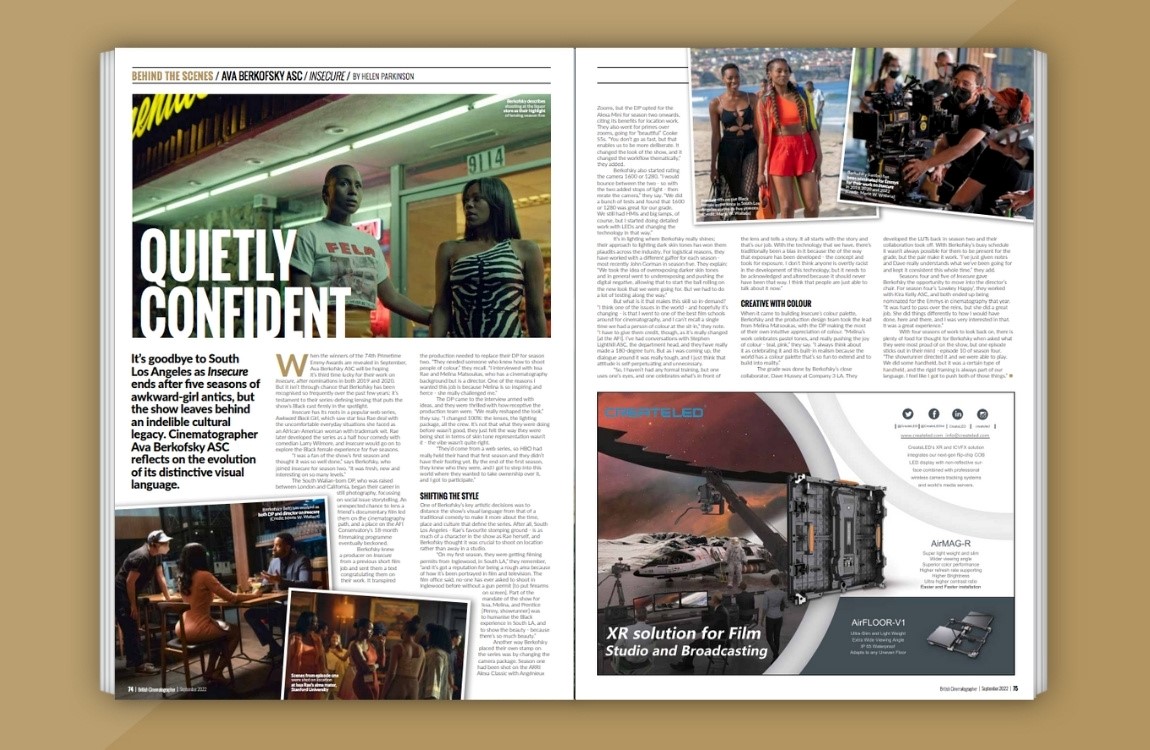 THE BIG PICTURE TRAINING AND SKILLS
It's no surprise that solving the crew issue will require investment in training and skills across the industry.
British Cinematographer takes a look at out how organisations like the BSC, ScreenSkills, VMI, and Digital Orchard Foundation are helping to equip tomorrow's talent with the expertise they need to thrive.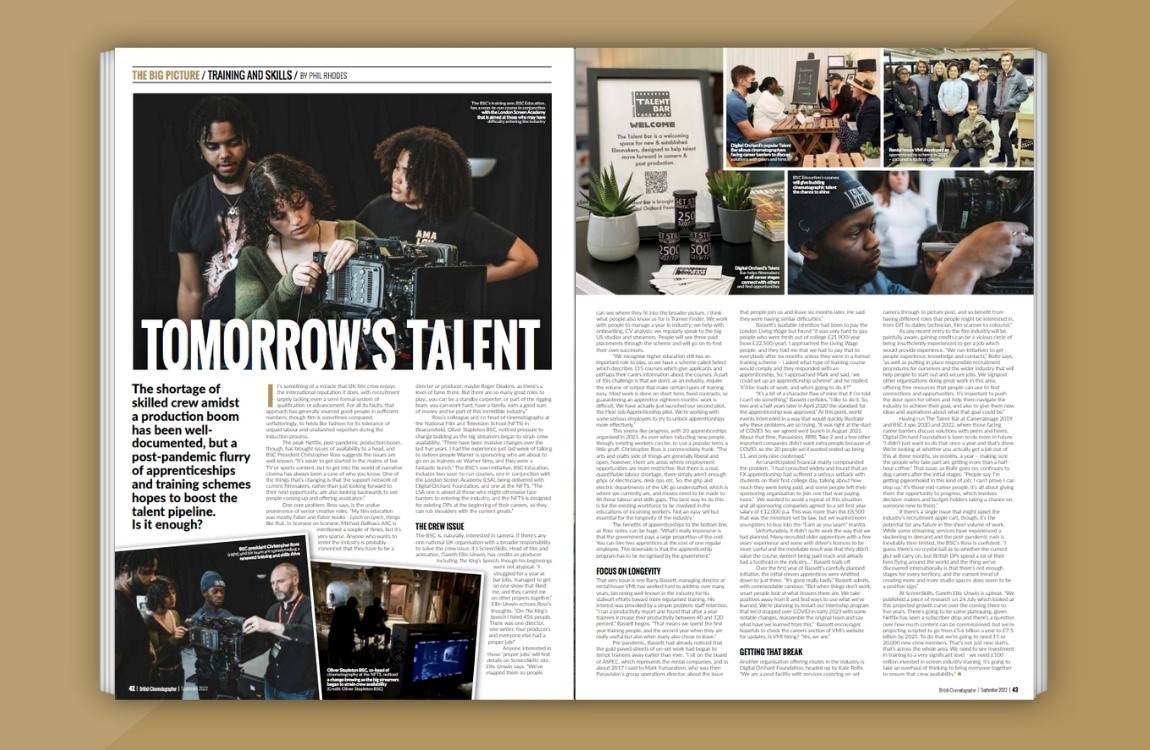 MASTERCLASS ULA PONTIKOS BSC
Ula Pontikos BSC talks through one of her favourite sequences from the second series of Russian Doll which follows protagonist Nadia's DMT trip in episode four "Station to Station".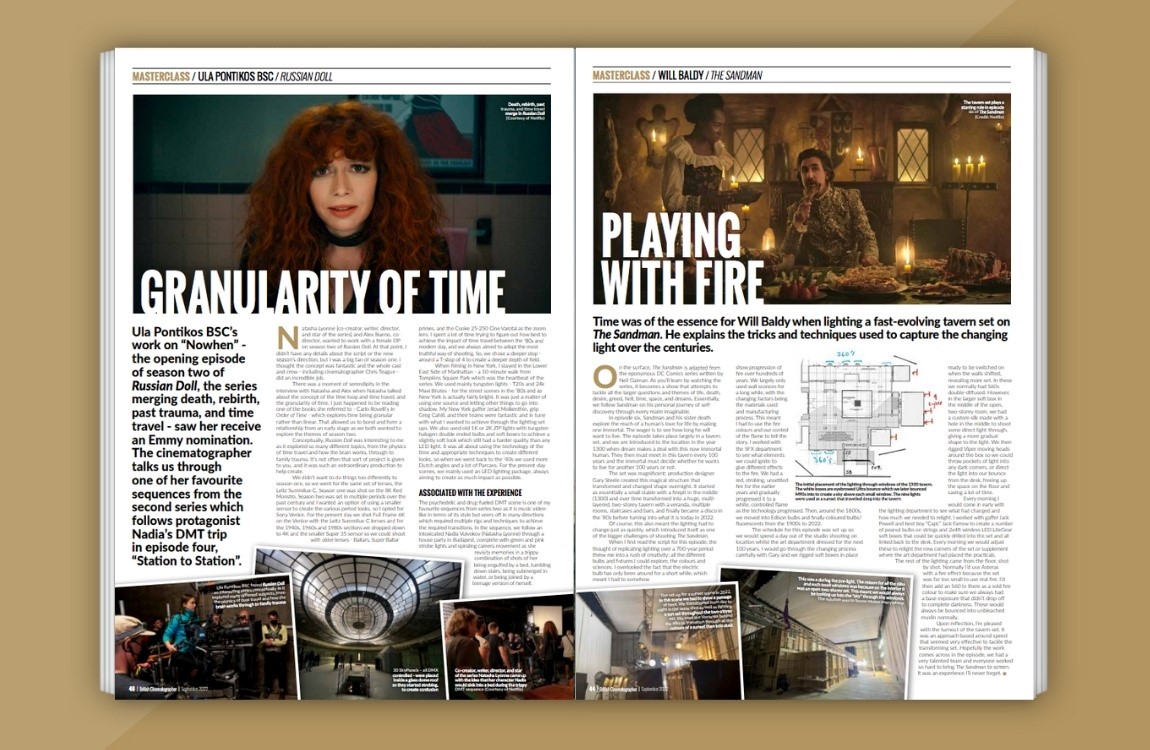 MASTERCLASS WILL BALDY
Lighting an ever-evolving tavern set over the centuries was a challenge for Will Baldy on The Sandman. He reveals the techniques and equipment used by his team to spark success.
TECH-NIQUE VEHICLE RIGS
From superhero stunts in a circling single take to bloody revenge on a wildly spinning waltzer, the challenges of filming in moving vehicles are no barrier to a DP's creativity.
A riveting instalment of Tech-nique explores the innovative methods and tricks used to combat the challenge of shooting in moving vehicles.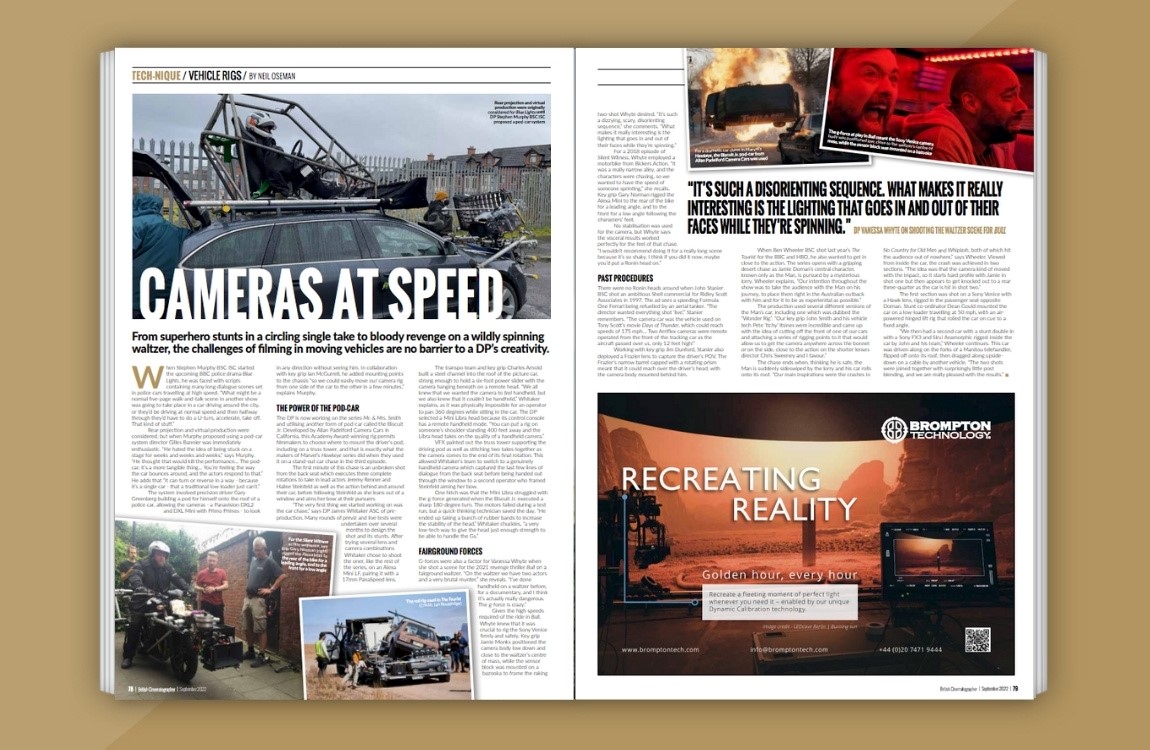 HERE'S WHAT ELSE YOU'LL FIND INSIDE THE LATEST ISSUE…
Behind-the-scenes insight into Stuart Bentley BSC's work on The Long Goodbye; Sam Care on Sherwood; Darius Khondji ASC AFC on Armageddon Time; and Maximilian Pittner's lensing of Harka.
As a fresh generation of talented cinematographers hones their skills as part of the British Society of Cinematographers' new Masterclass series, Christopher Ross BSC explores how curiosity is central to the craft.
As an exciting new era dawns for IMAGO, Ron Johanson OAM ACS explores the federation's history and the key figures who have made an impact over the years.
Steven Poster ASC dives into the fascinating science of colour and how the study of psychocinematics is relevant to cinematographers.
In the first instalment of the new BSC Heritage Series, adapted from profiles featured in the BSC book Preserving the Vision, the work and talent of the society's founding member, Georges Périnal BSC is celebrated.
Finnish cinematographer Sonja Huttunen shares the most useful advice she's received and the DPs and films that inspired her, as she looks back upon her filmmaking journey in Meet The New Wave.
Gaffer Seamus Lynch - who has established himself as one of the industry's leading lights, with credits including The Northman and Derry Girls – is the star of In the Frame.
There's also our comprehensive rundown of what DPs are currently shooting, plus much, much more!
Digital and Print & Digital Subscribers can read the 113th edition now by clicking here.
Print subscribers* will receive their copies in the post within the next fortnight.
Not a subscriber yet? Don't worry - you can get your annual subscription now from just £30 ($39) by clicking here.
*Issue 113 will only be received in printed format by those with an active 'Print' or 'Print & Digital' subscription purchased before 30th August 2022. Any new 'Print' or 'Print & Digital' subscription purchases made from 30th August 2022 onwards will NOT receive this issue in print as part of their purchase.
*Royal Mail has announced that its services will be impacted by some proposed days of industrial action by the Communication Workers Union during September. British Cinematographer apologises in advance should this cause a delay in delivery.