March 11, 2023
Take a sneak peek inside the January/February 2023 issue of British Cinematographer
The January/February issue of British Cinematographer is now here! You can find out more about what's inside the first edition of 2023 now by reading on…
AUTUMN DURALD ARKAPAW ASC ON BLACK PANTHER: WAKANDA FOREVER
In an incredible cover story special, Autumn Durald Arkapaw ASC tells all about bringing Marvel Studios' blockbuster Black Panther: Wakanda Forever to life.
The cinematographer discusses joining forces with director Ryan Coogler and a crew who were devoted to cinematic storytelling to craft a film with a unique identity that views loss through a new lens.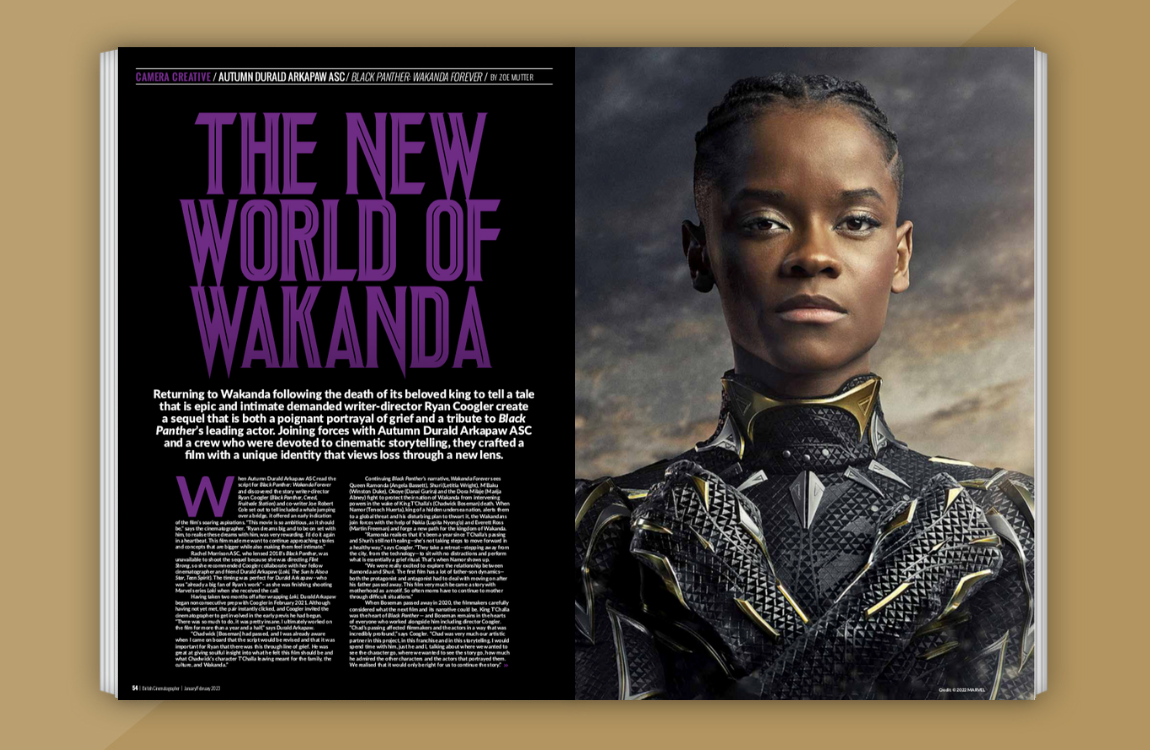 VISIONARY... ROGER PRATT BSC
With a filmography spanning the epic and the intimate, Roger Pratt BSC is the worthy recipient of this year's BSC Lifetime Achievement Award.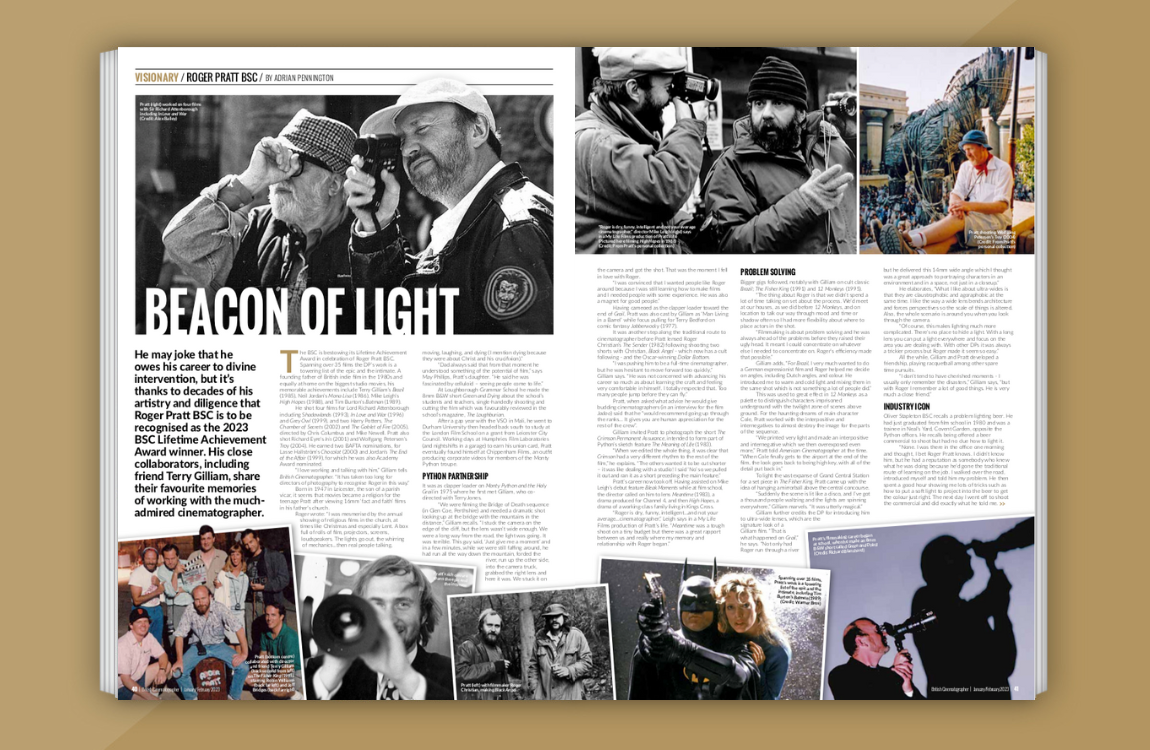 MASTERCLASS... ADRIANO GOLDMAN ASC BSC ABC
Mohamed Al-Fayed's arrival in series five of The Crown required a fresh approach from the series' long-time cinematographer Adriano Goldman ASC BSC ABC, who explores how they brought a flavour of 1940s Egypt to the show.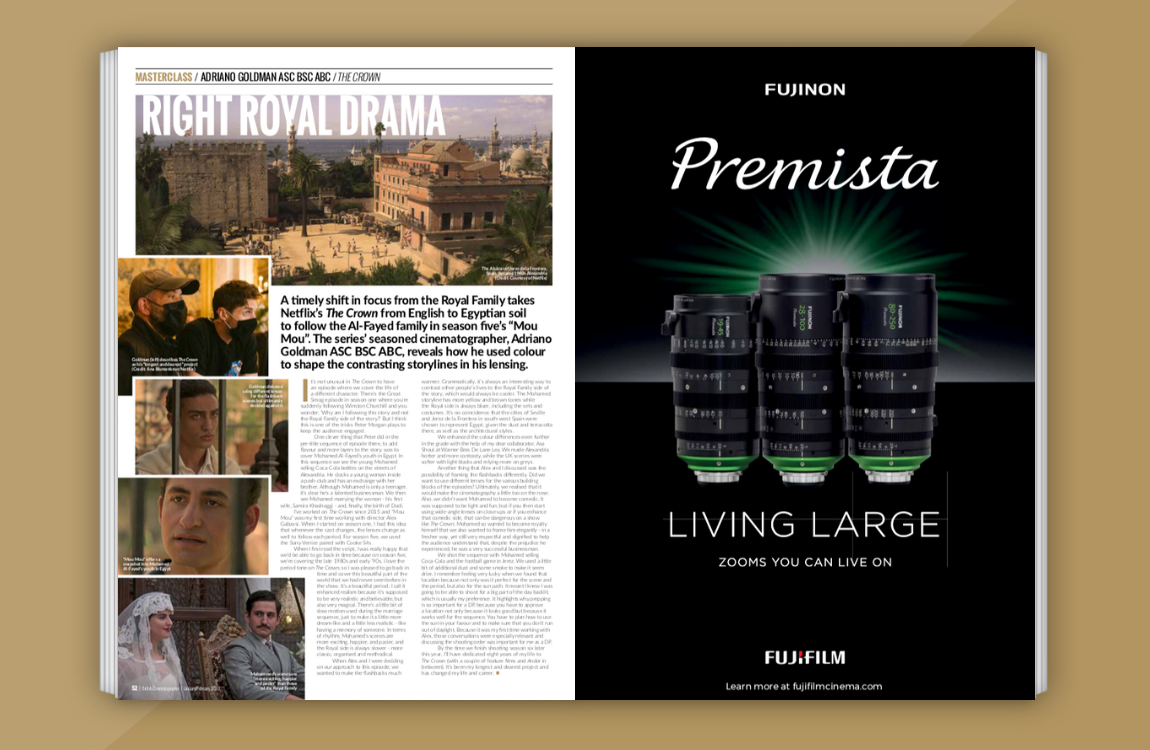 IN FOCUS... THE FILM AND TV CHARITY
Working in the industry can feel isolating at times, so The Film and TV Charity is a welcome resource for dealing with professional and personal hurdles. British Cinematographer hears from CEO Alex Pumfrey about the charity's recent initiatives.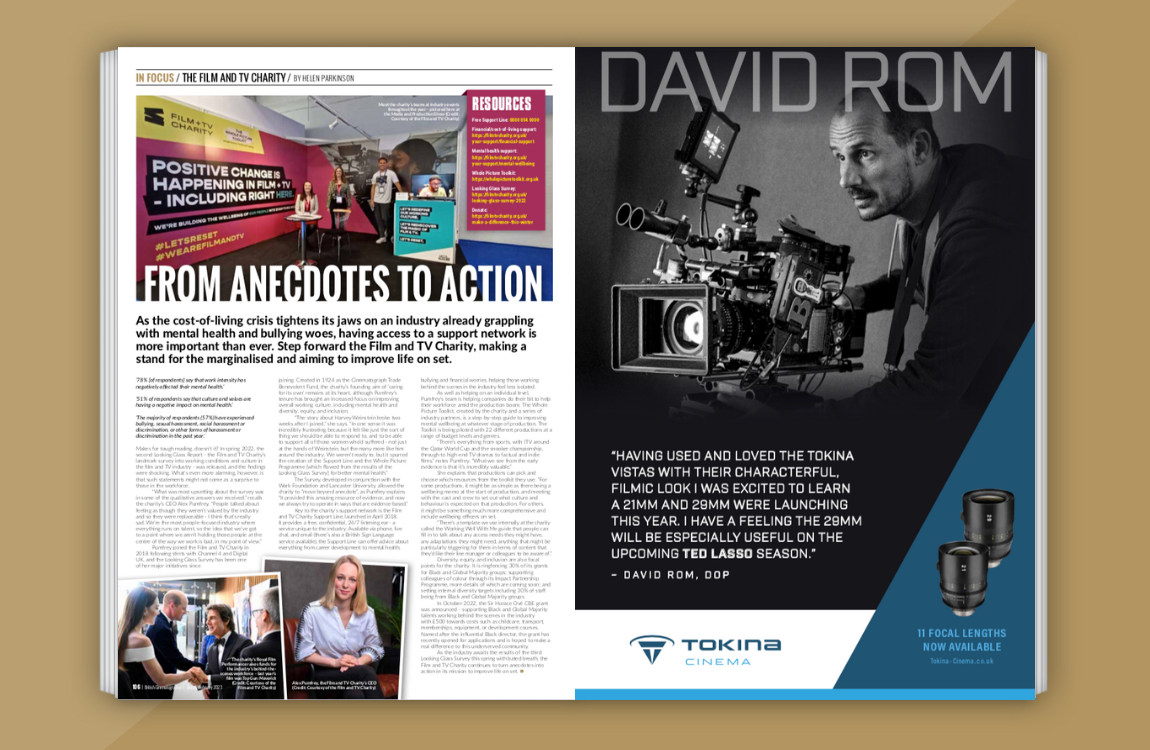 BEN DAVIS BSC ON THE BANSHEES OF INISHERIN
A commentary on friendship, the pain of rejection, and moving on, writer-director Martin McDonagh's latest creation reunites Colin Farrell and Brendan Gleeson, the stars of McDonagh's debut feature, In Bruges.
Cinematographer Ben Davis BSC reveals how he lensed the tale of humour, heartbreak, and horror.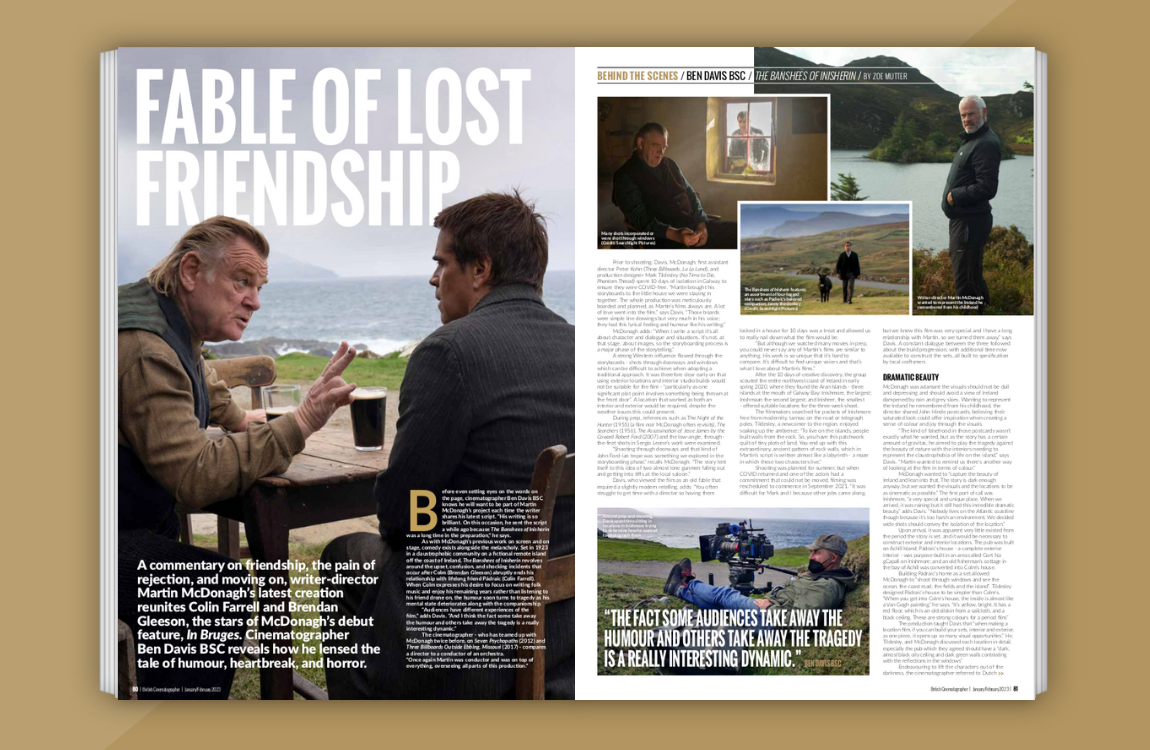 LINUS SANDGREN ASC FSF ON BABYLON
" I never start with the tools; I begin with how dynamic we want to be."
Linus Sandgren ASC FSF shares insight into his time reteaming with director Damien Chazelle to transport cinematographers back to 1920s Los Angeles for Babylon,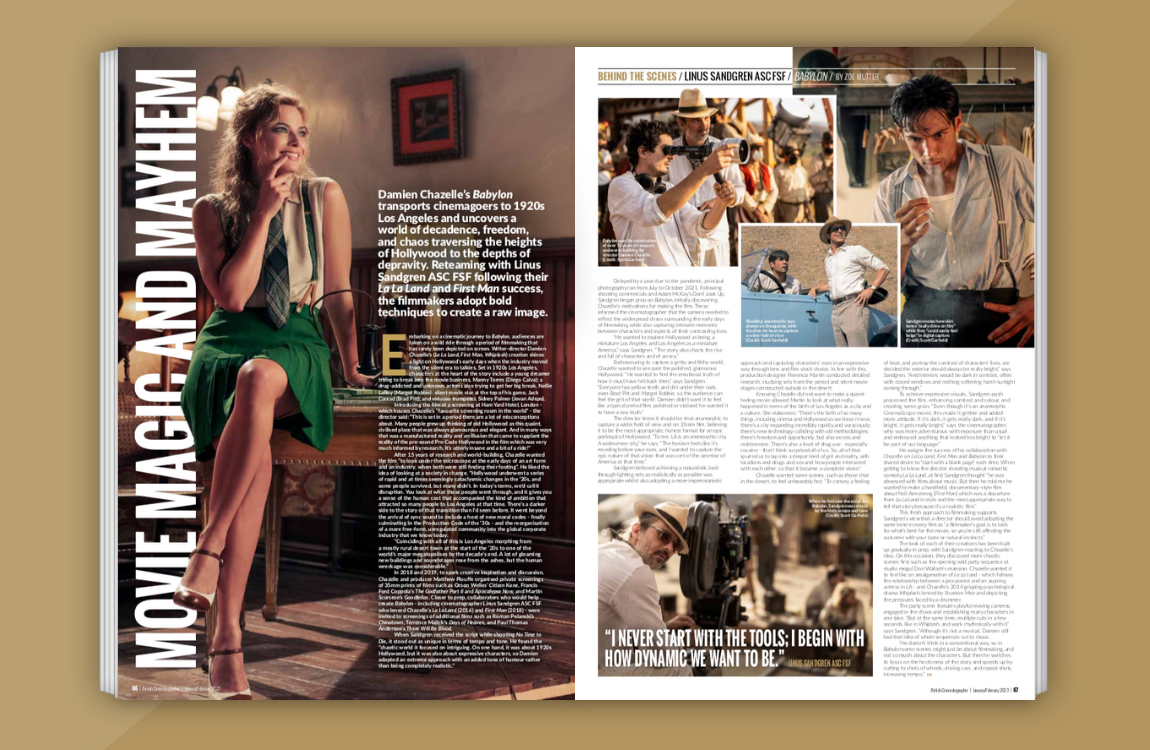 RUSSELL CARPENTER ASC ON AVATAR: THE WAY OF WATER
Over a decade since the world first encountered the blue-skinned Na'vi tribe, James Cameron's ground-breaking futuristic universe returns for Avatar: The Way of Water.
Long-time Cameron collaborator Russell Carpenter ASC discusses taking on the titanic task of lensing the much-awaited sequel.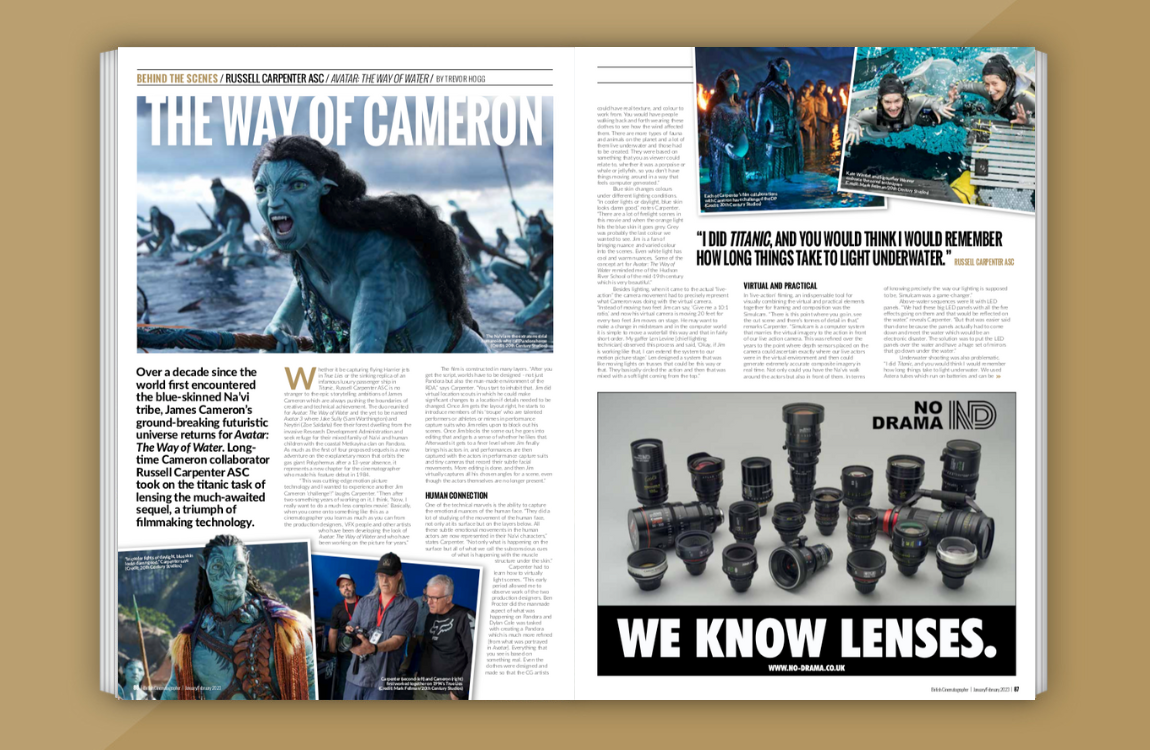 ARI WEGNER ASC ACS ON THE WONDER
Set in The Irish Midlands in 1862, psychological period drama The Wonder - directed by Sebastián Lelio - tells the tale of two strangers who transform each other's lives.
British Cinematographer speaks to Ari Wegner ASC ACS who tells us all about her time elevating the tale to new cinematographic heights.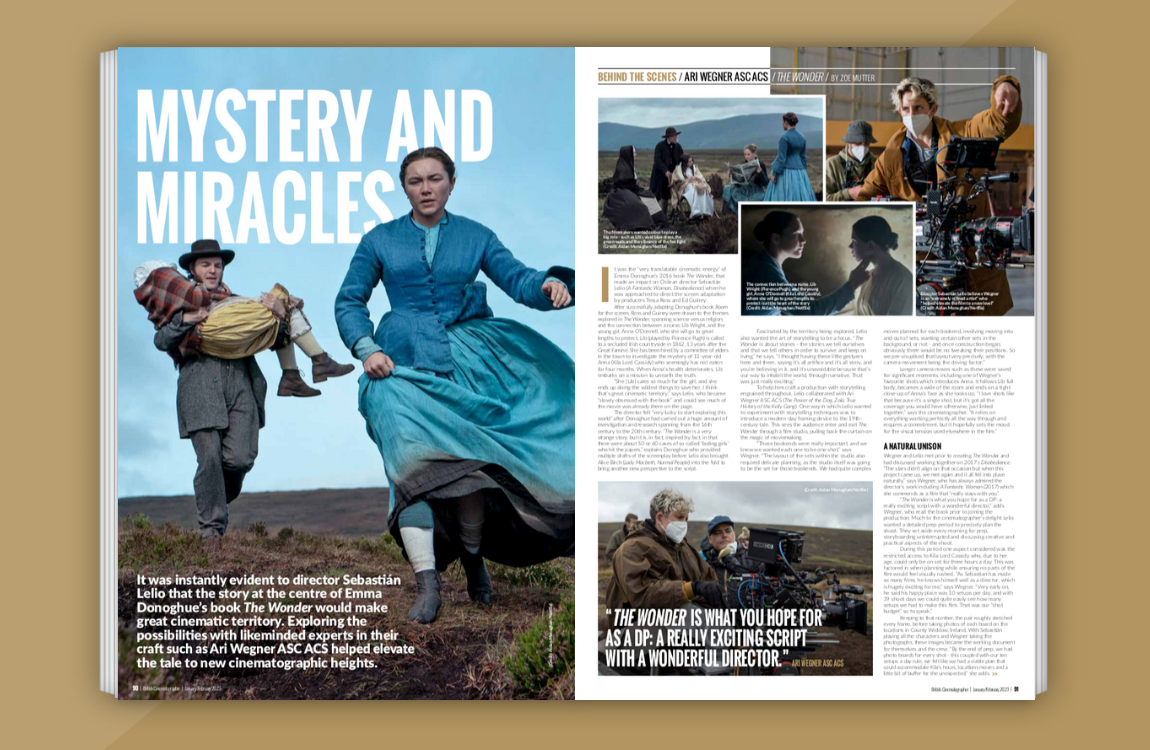 IN THE FRAME... ANDREI AUSTIN ASSOC. BSC ACO SOC
Becoming a camera operator and cinematographer was a childhood dream come true for Andrei Austin Assoc. BSC ACO SOC, who takes us on his career journey so far.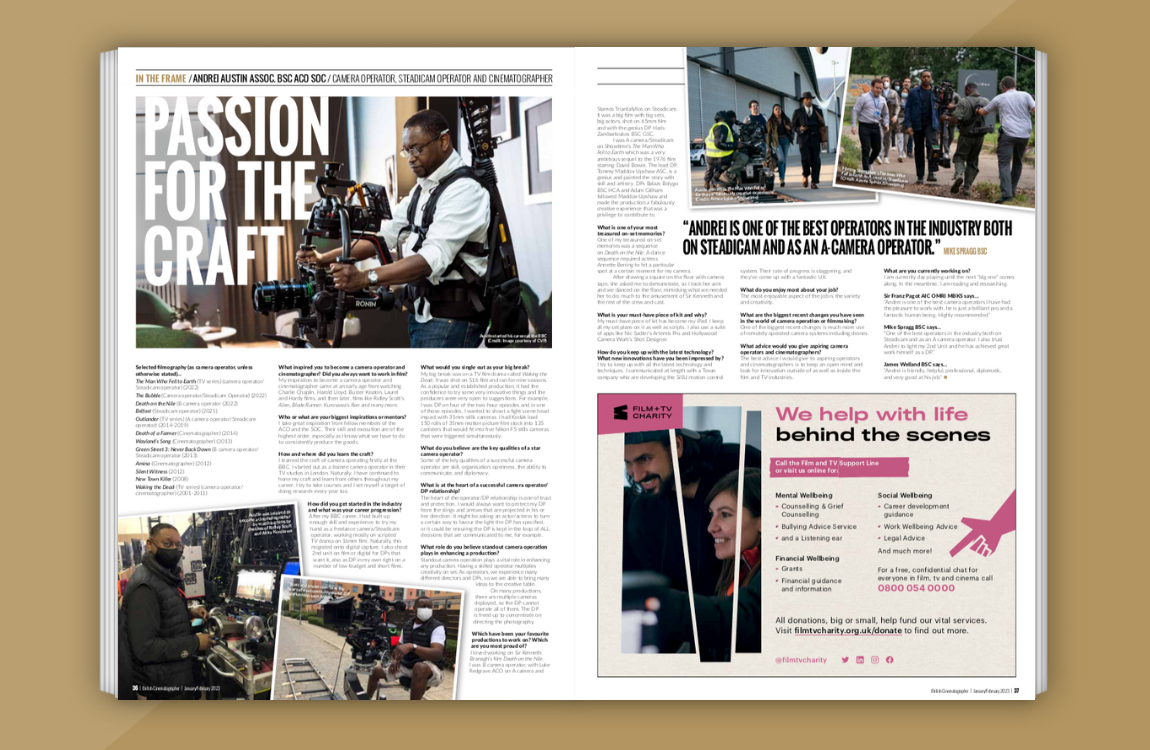 EVENTS REVIEW
We've got reports from the cinematographer's home-from-home of Poland's EnergaCAMERIMAGE Film Festival, a trip to sunny Spain for Evolution Mallorca International Film Festival's inaugural Cinematography Focus, and an interview with BSC President Christopher Ross highlighting what to look forward to at this year's BSC Expo.
HERE'S WHAT ELSE YOU'LL FIND INSIDE THE LATEST ISSUE…
British Cinematographer shares behind-the-scenes insight into Janusz Kamiński's work on The Fabelmans; Frank Passingham on Guillermo del Toro's Pinocchio; Lol Crawley BSC on White Noise; and Steve Yedlin ASC on Glass Onion: A Knives Out Mystery.
As AI makes an impact in the arts, BSC President Christopher Ross BSC wonders if cinematographers can learn a thing or two from its ways.
In Letter From America, Steven Poster ASC reflects on how lucky we are to work in an industry with such plentiful support networks exposing us to the newest tools and equipment.
IMAGO president Mustapha Barat ABC shares details of IMAGO's upcoming 30th Anniversary Celebration and Annual General Assembly and highlights the new and improved website and communication between member societies, cinematographers, and sponsors.
British Cinematographer takes a peek inside the selection process for the GBCT's ever-popular traineeships and remember one of its key figures, Dee Edwards, whom we sadly lost in December.
In Train To Gain, British Cinematographer looks at how the BSC's first Cinematography and Camera Department Workshop, run in partnership with London Screen Academy, gave 82 students from marginalised backgrounds a practical insight into life on set.
In the latest excerpt of the new BSC Heritage Series, the spotlight falls on Society founding member and former president Geoffrey Unsworth OBE BSC.
Following the deaths of Mark Milsome and Halyna Hutchins, British Cinematographer focuses on set health and safety - or lack thereof - in the The Big Picture feature as it continues to be an issue for the camera department.
In Meet The New Wave, German cinematographer Maximilian Pittner discusses breaking into the narrative world, trusting your gut as a DP, and words of wisdom from Seamus McGarvey BSC ASC