July 20, 2023
July/August Issue of British Cinematographer!
The July/August issue of British Cinematographer is now here! Read on to find out what's in their latest edition…
HOYTE VAN HOYTEMA ASC NSC FSF ON OPPENHEIMER
It's the cinematic event of the summer and Christopher Nolan's most groundbreaking project yet: Oppenheimer, the fascinating true story of the eponymous "father of the atomic bomb". Nolan's long-time collaborator, Hoyte van Hoytema ASC NSC FSF, tells them about shooting on a "magic mix" of IMAX and "workhorse" 65mm cameras to bring the director's vision to the big screen.
Fun fact: the film's final prints are said to span over 11 miles and weigh 600lbs!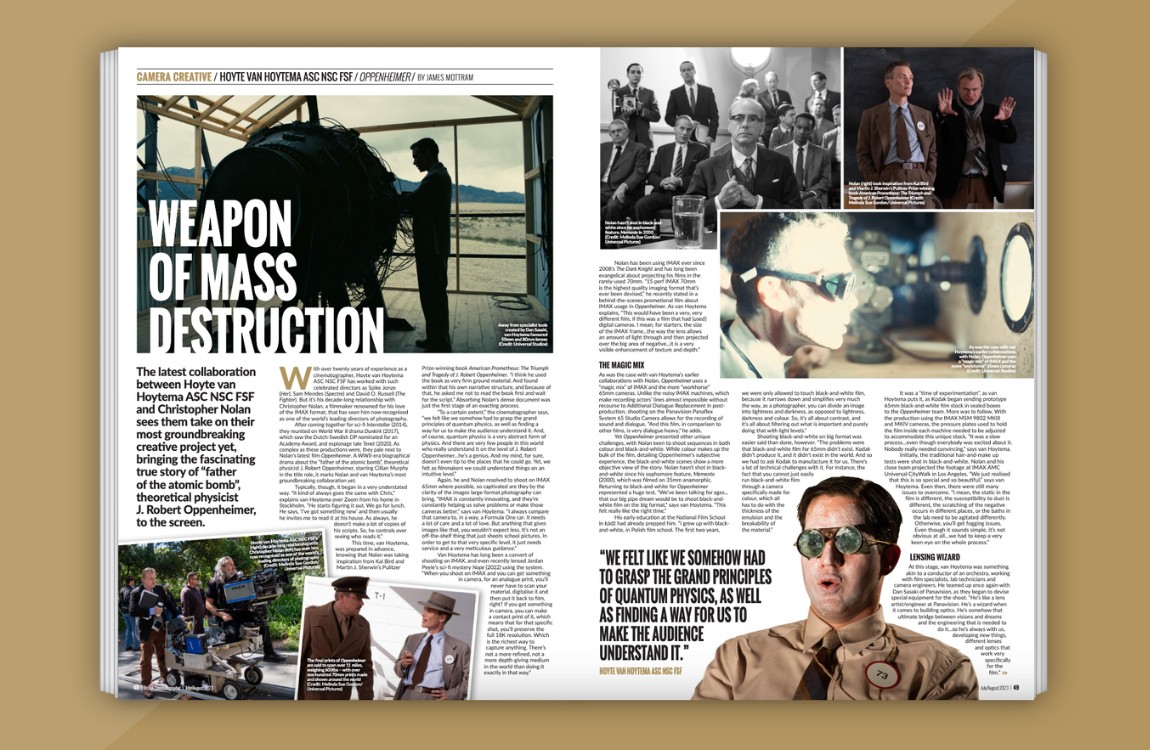 VISIONARY… BARRY ACKROYD BSC
Join a journey through the career of this year's Pierre Angénieux Tribute winner. From working-class beginnings in Oldham, Barry Ackroyd BSC has established himself at the highest echelons of the craft, with credits including The Hurt Locker and The Big Short – not to mention 12 features with friend and collaborator Ken Loach.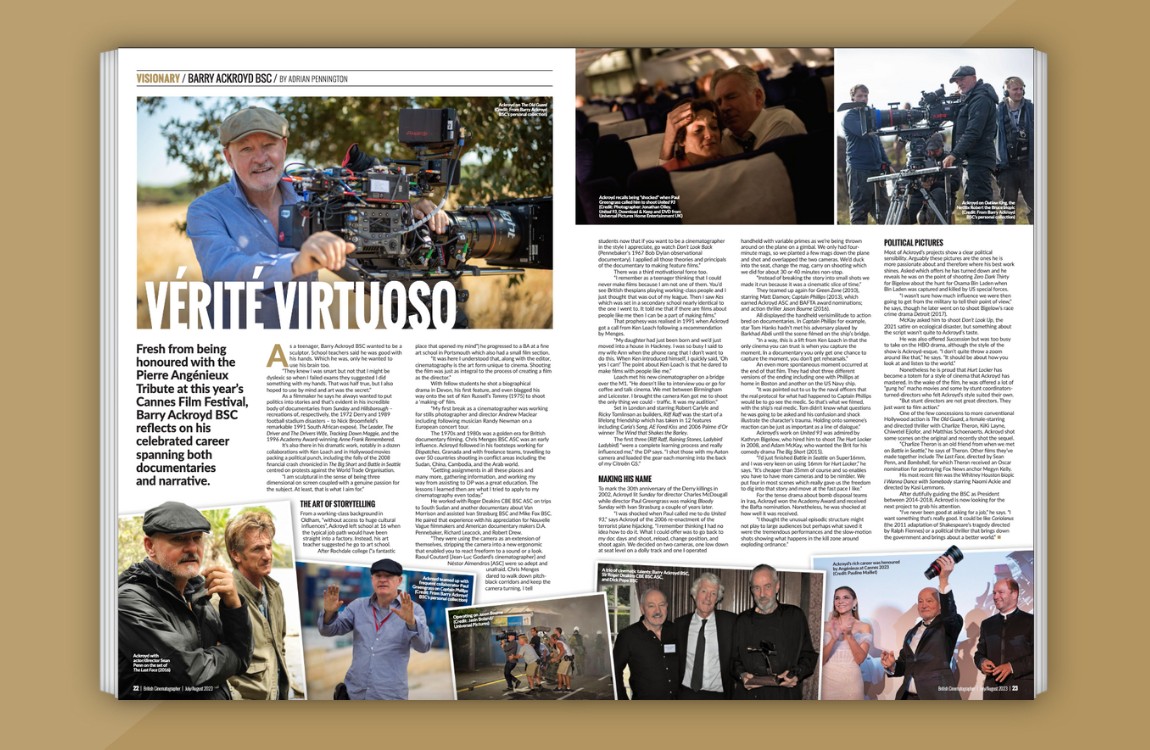 THE BIGGER PICTURE… DIVERSITY AND INCLUSION (PART ONE)
Take a closer look at the organisations and initiatives striving to make our industry a more welcoming space. There's still a way to go, so if you'd like to let them know about initiatives you have been involved with or have played an important role in your career, please get in touch.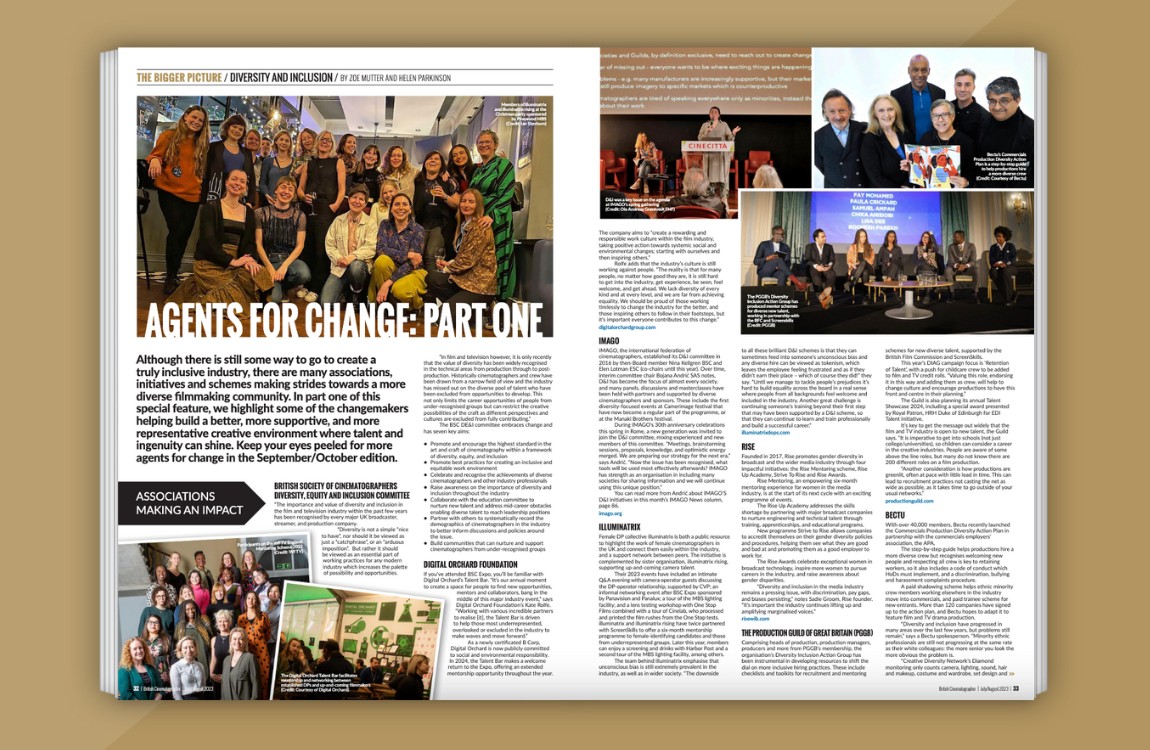 ROBERT YEOMAN ASC ON ASTEROID CITY
Wes Anderson's latest idiosyncratic adventure zigzags between a dreamlike desert town in the Fifties' American Southwest and the black-and-white confines of a television studio. Robert Yeoman ASC shares his experiences of capturing the two contrasting worlds on film.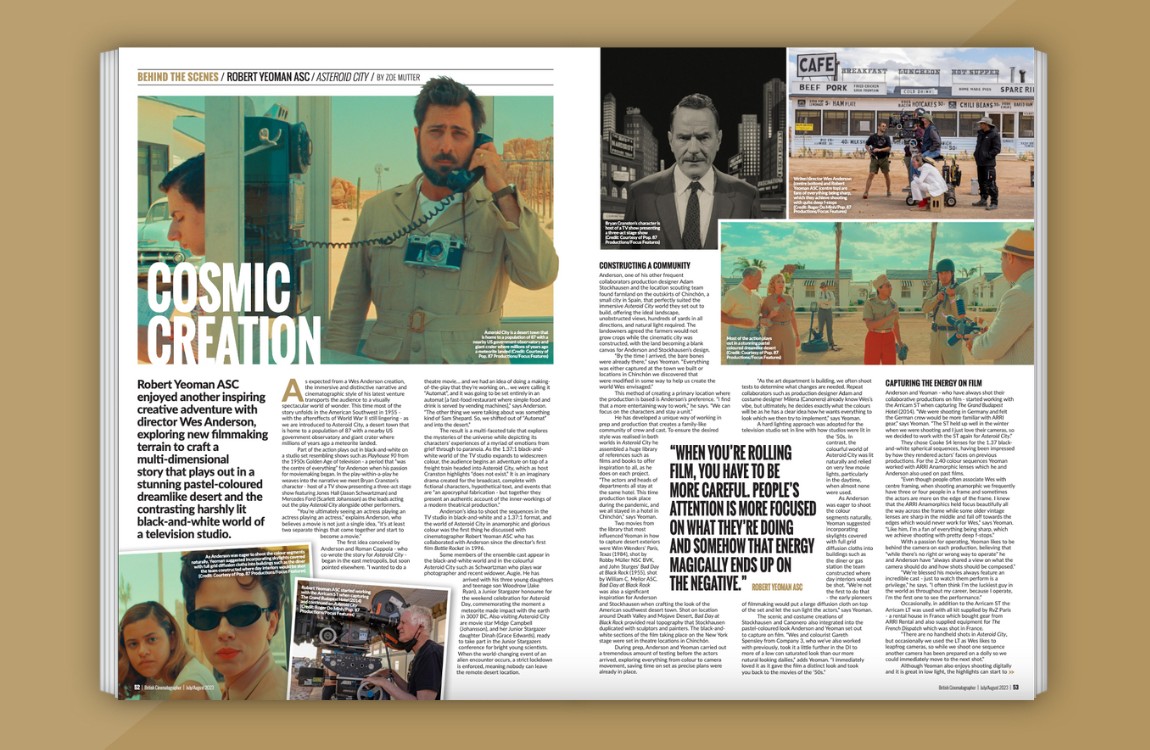 PHEDON PAPAMICHAEL ASC GSC ON INDIANA JONES AND THE DIAL OF DESTINY
The fifth instalment of the iconic franchise sees Phedon Papamichael ASC GSC follow in the footsteps of Douglas Slocombe OBE BSC ASC GBCT and Janusz Kamiński in lensing Harrison Ford's latest rip-roaring outing.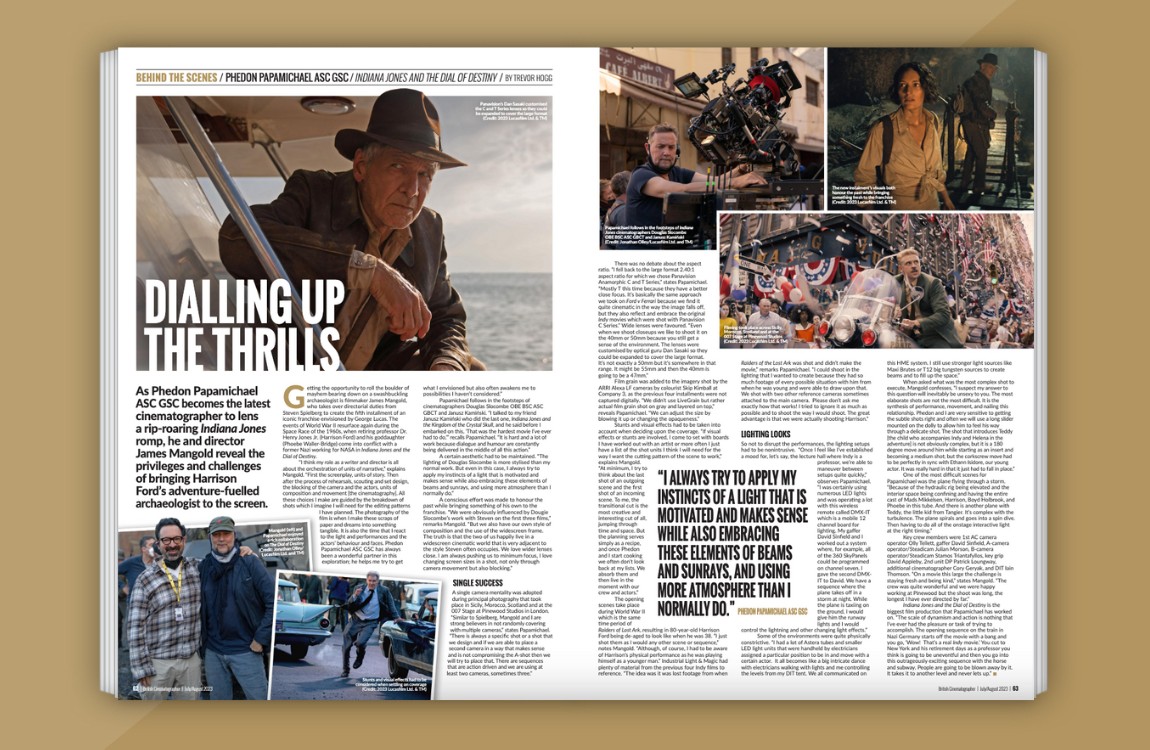 CHAS APPETI ON JUNGLE
Jungle rips up the musicals rulebook with its neon-drenched, drill-soundtracked take on the genre, created by Nothing Lost duo Junior Okoli and Chas Appeti. Appeti shares a fascinating insight into his lensing of the series, which earned him a BAFTA Craft Award.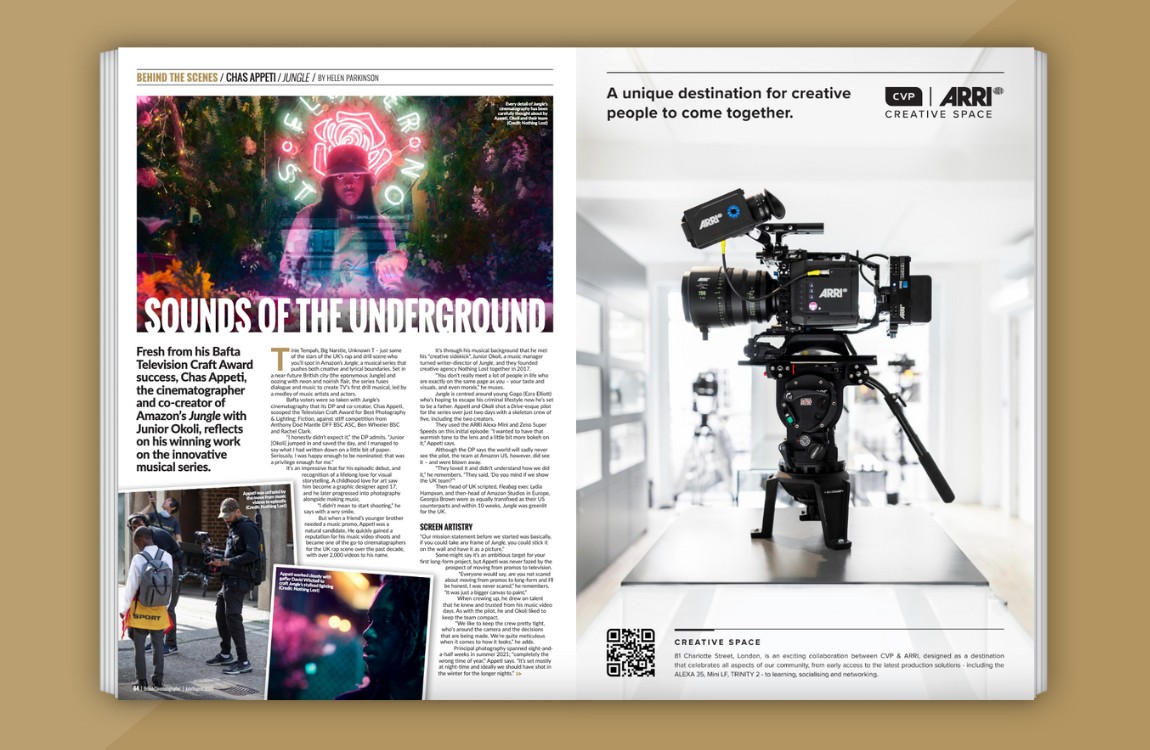 HENRY BRAHAM BSC ON GUARDIANS OF THE GALAXY VOL. 3
Marvel's beloved motley crew assemble for another candy-coloured galactic romp that carries a darker storyline than fans of the previous chapters may expect. Henry Braham BSC continues his work on Vol. 2, taking references from Southeast Asian cinema for the film's action-packed visuals.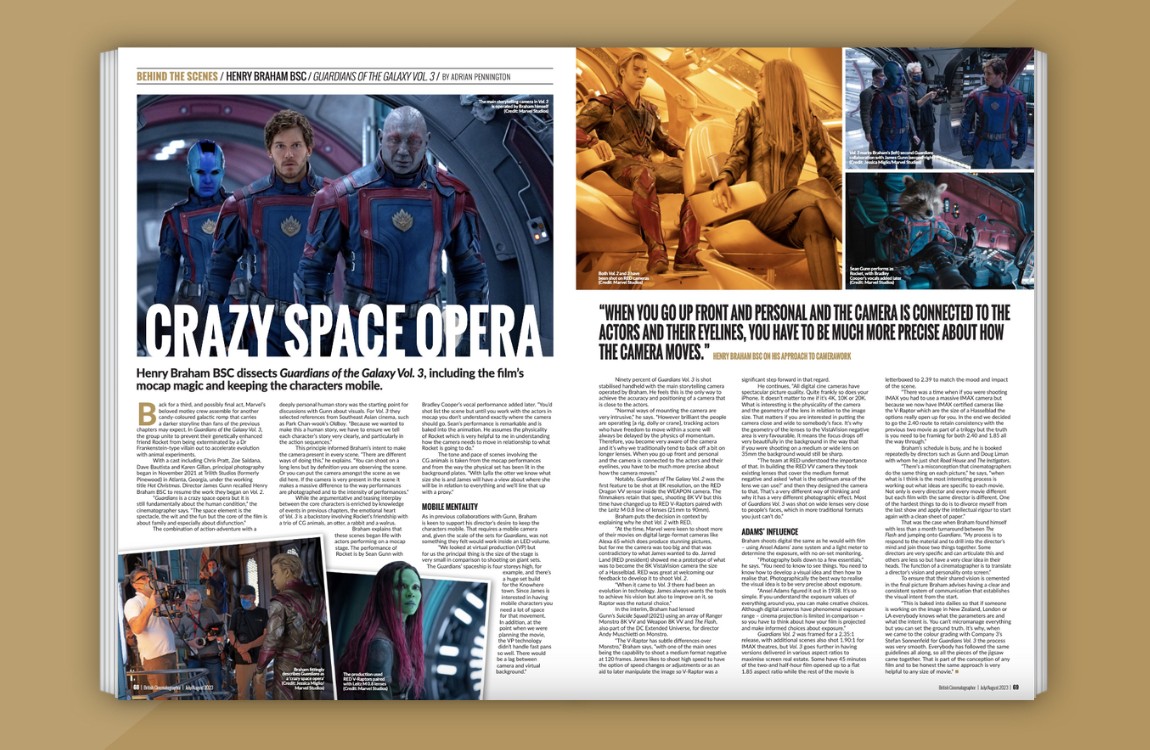 ANNA PATARAKINA FSF ON THE LESSON
Following The Lesson's world premiere at Tribeca this summer, cinematographer Anna Patarakina reflects on reuniting with her The Midwich Cuckoos collaborator Alice Troughton to shoot the director's feature debut, a psychological thriller immersed in the literary world.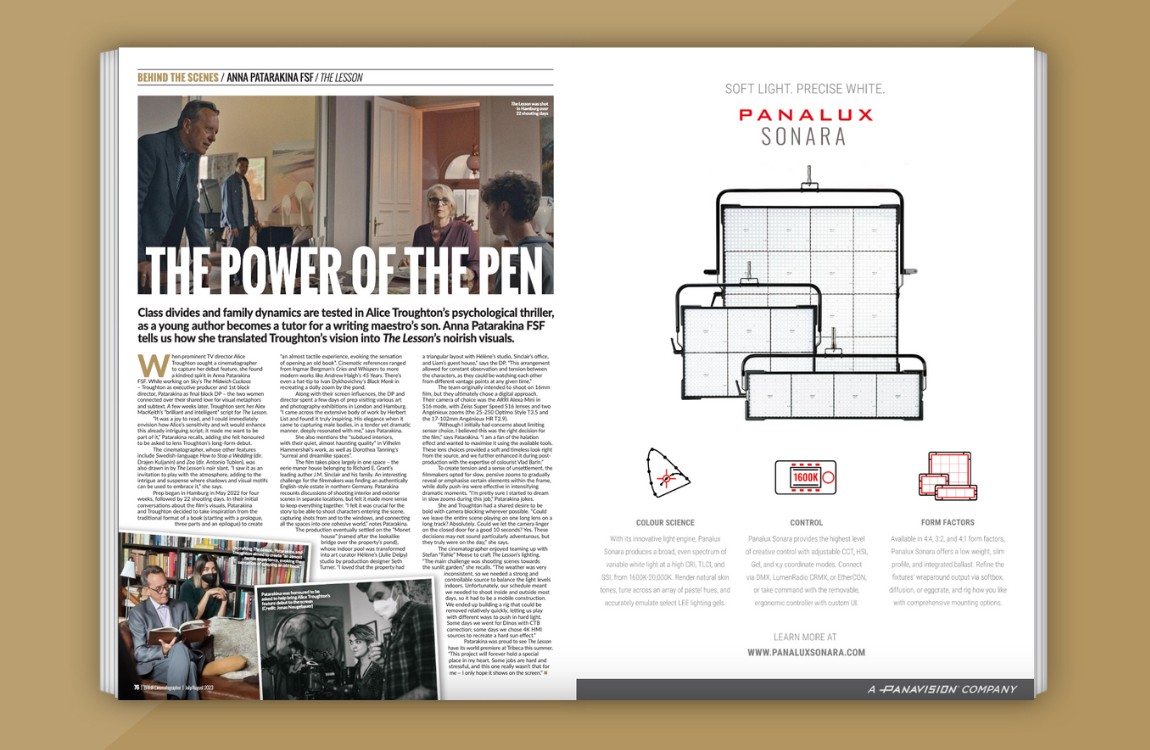 IN THE FRAME… JULIE FÖRDERER, LIGHTING PROGRAMMER
After discovering a passion for lighting during her master's in cinematography, Julie Förderer has made a name for herself in this male-dominated profession, with projects including Netflix's 1899 and upcoming thriller Constellation under her belt.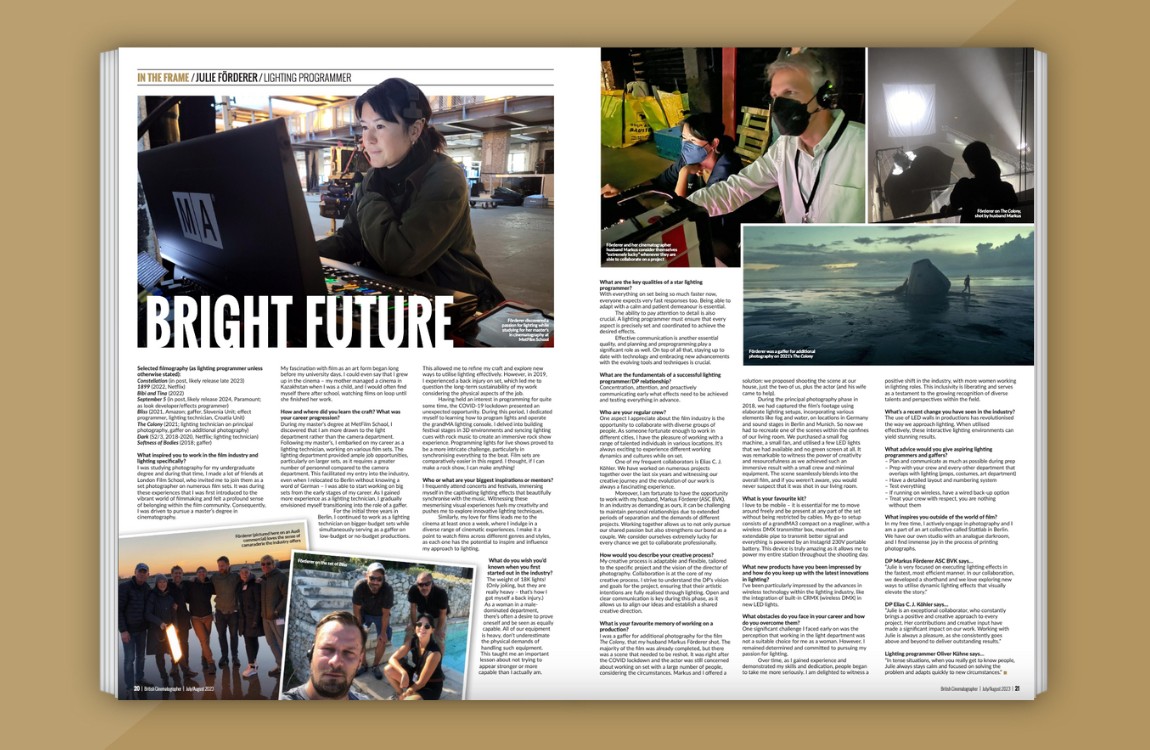 EVENT REVIEWS… CANNES AND CINE GEAR EXPO
It's been a busy few months for Team BC on both sides of the pond! Get the lowdown from another sparkling edition of the Cannes Film Festival and find out the latest news and innovations from Cine Gear Expo's Los Angeles show.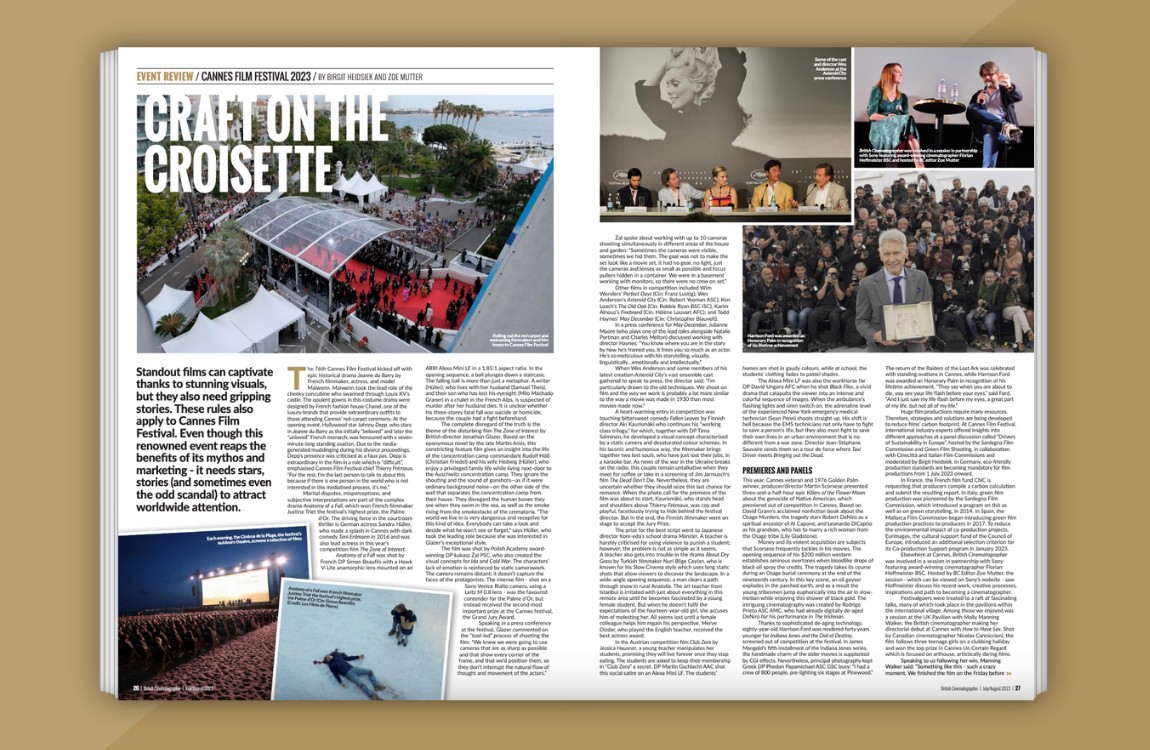 INDUSTRY WIDE SHOT… AERIAL FILMING
They meet the cinematographers capturing sky-high shots in style in a deep-dive into aerial filming. Get to know the people and the tech making waves in this niche, and delve into the drones versus helicopters debate.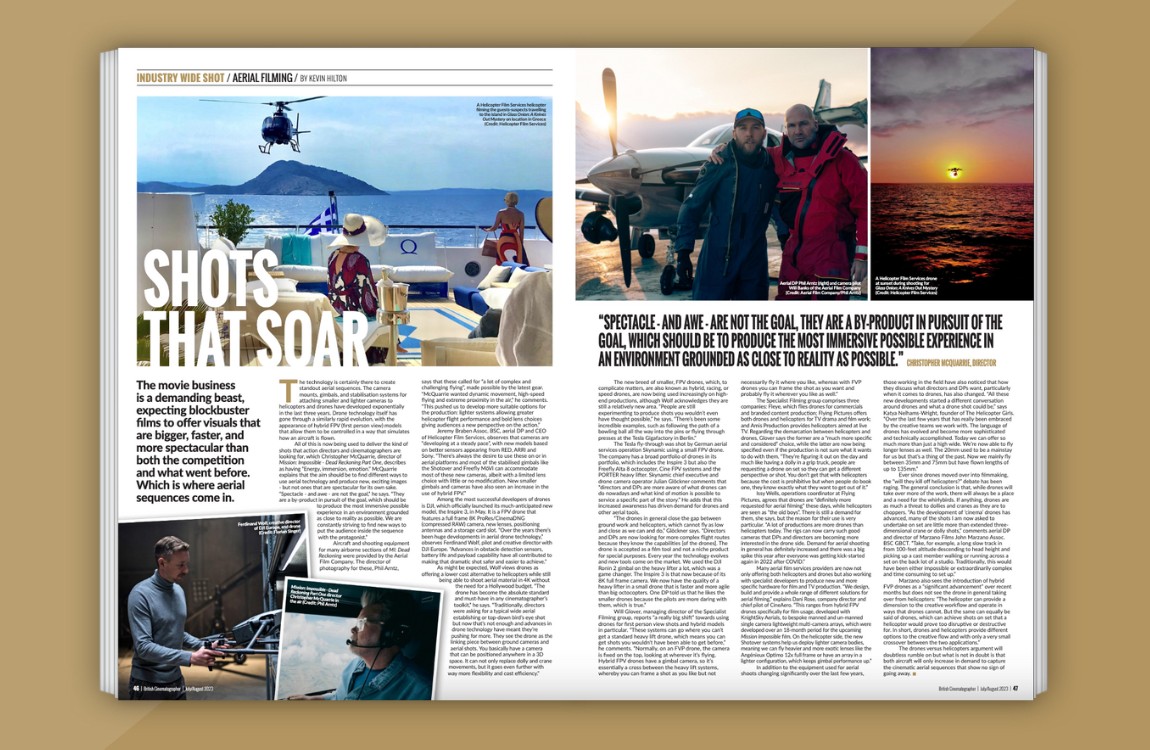 HERE'S WHAT ELSE YOU'LL FIND IN THE LATEST ISSUE…
There's plenty more behind-the-scenes features making a splash, including Dion Beebe ACS ASC's work on The Little Mermaid; Ed Wild BSC on Guy Ritchie's The Covenant; Olan Collardy on Rye Lane; and Donna Wade on A Moral Man.
In this issue's Masterclasses, Ted Lasso season three DPs David Rom and Vanessa Whyte reveal how they shot two of the show's most challenging sequences. Plus, ever wondered what it's like to lens a choose-your-own-adventure game? Rick Joaquim SASC fills them in.
Two Shot, their new series putting the spotlight on the DP-director relationship, kicks off with Chas Bain and Jamie Donoughue.
In the latest New Wave, Ben Saffer, tells them about his blossoming career as a DP, having shifted from working as a DIT on top productions like No Time to Die and Black Mirror.
Not to miss for Coldplay fans – director Paul Dugdale and cinematographer Brett Turnbull share how they took a cinematic approach to capturing Chris Martin and co.'s latest concert film.
BSC president Christopher Ross toasts Barry Ackroyd BSC and up-and-coming talent Haya Khairat as he returns from the Cannes Croisette.
In his Letter From America column, Steven Poster ASC examines the evolution of the viewfinder and takes a closer look the newly updated version of the Artemis Pro.
The GBCT's president Tim Potter highlights the introduction of the career-boosting Cine Cert initiative, while John Keedwell GBCT examines the impact of the ongoing writers' strike on rental houses.
IMAGO's diversity and inclusion committee is keeping up the fight for a fairer, more inclusive industry, as Bojana Andrić SAS explains.
The latest excerpt from the BSC's Preserving the Vision book showcases the Oscar-winning cinematographer Robert Krasker BSC.
You can also read about the latest news and industry happenings and much, much more!
Digital and Print & Digital Subscribers can read their 118th edition now by clicking here.
Not a subscriber yet? Don't worry - you can get an annual subscription now from just £30 ($39) by clicking the link below...
https://britishcinematographer.co.uk/subscribe/