November 18, 2023
Take a sneak peek inside the November/December 2023 issue of British Cinematographer
The November/December issue of British Cinematographer is now here! Read on to find out what's in the latest edition…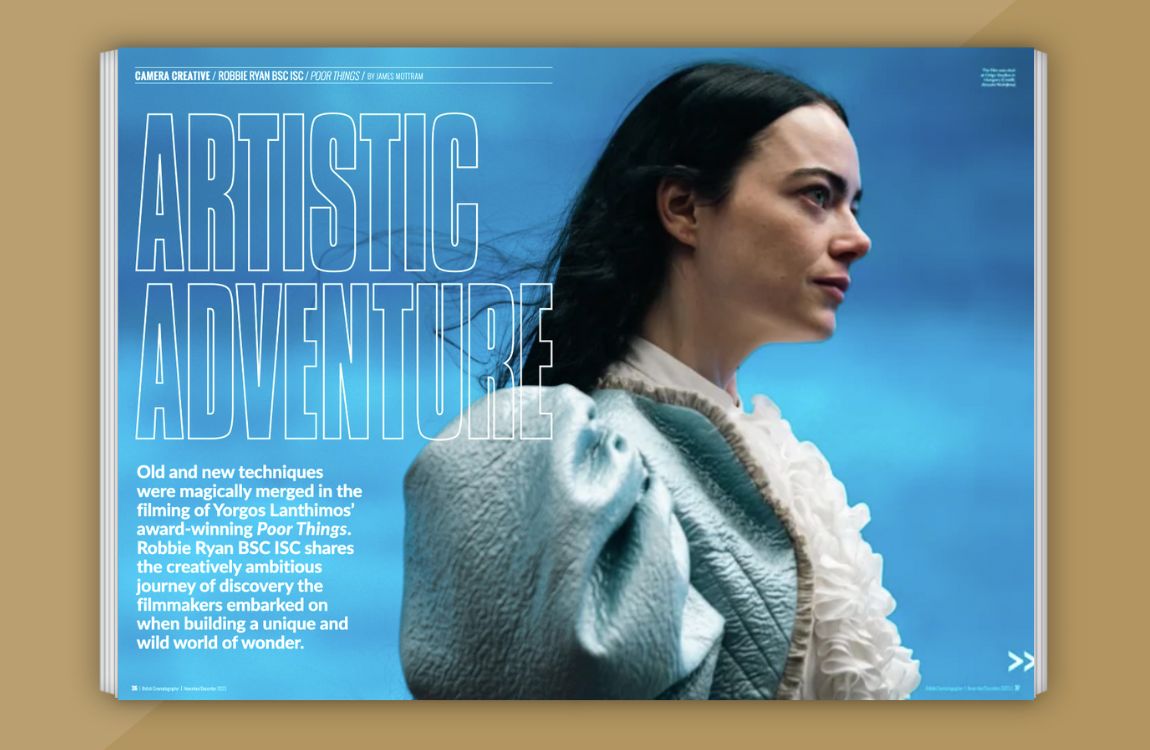 ROBBIE RYAN BSC ISC ON POOR THINGS
"Unique" is a word you'll hear a lot – and for good reason – in relation to Yorgos Lanthimos and Robbie Ryan BSC ISC's latest visual feast. Find out how the pair combined techniques old and new to spellbinding effect, and why Ryan likens the filmmaking process to a "crazy music video".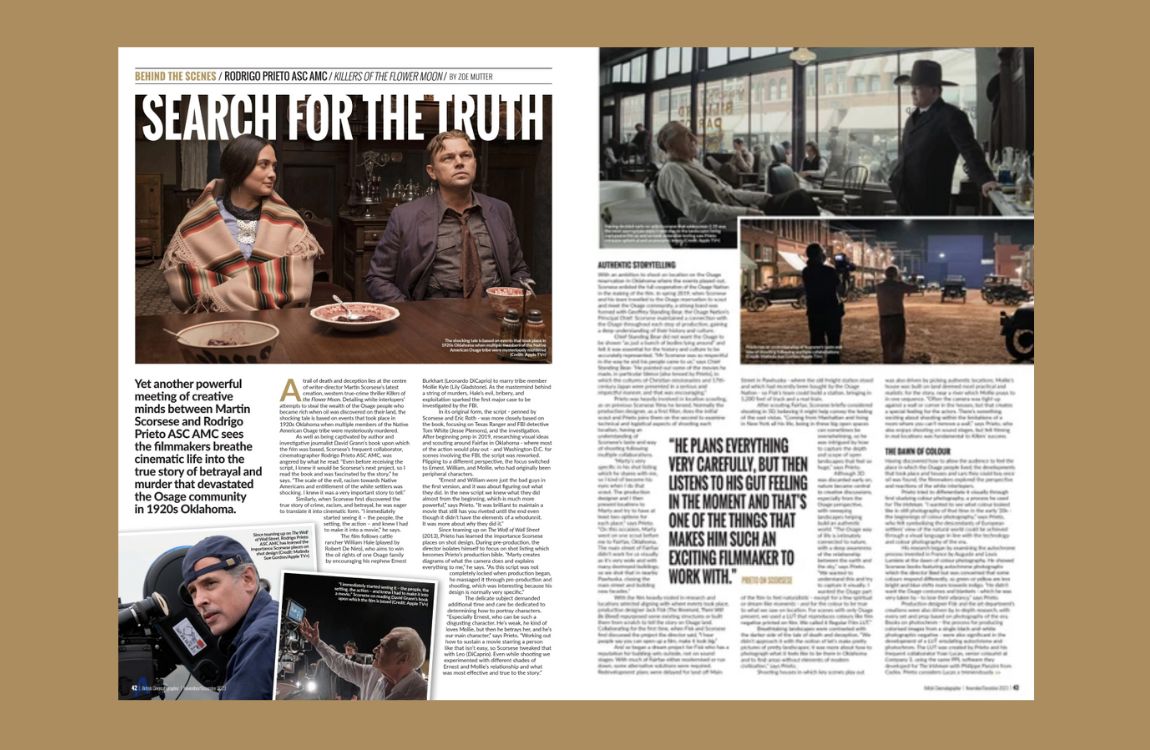 RODRIGO PRIETO ASC AMC ON KILLERS OF THE FLOWER MOON
As soon as Martin Scorsese read David Grann's book, on which his new film is based, the veteran director knew he had to make it into a movie. He called upon frequent collaborator Rodrigo Prieto ASC AMC to bring the story of evil, bribery and exploitation to the screen.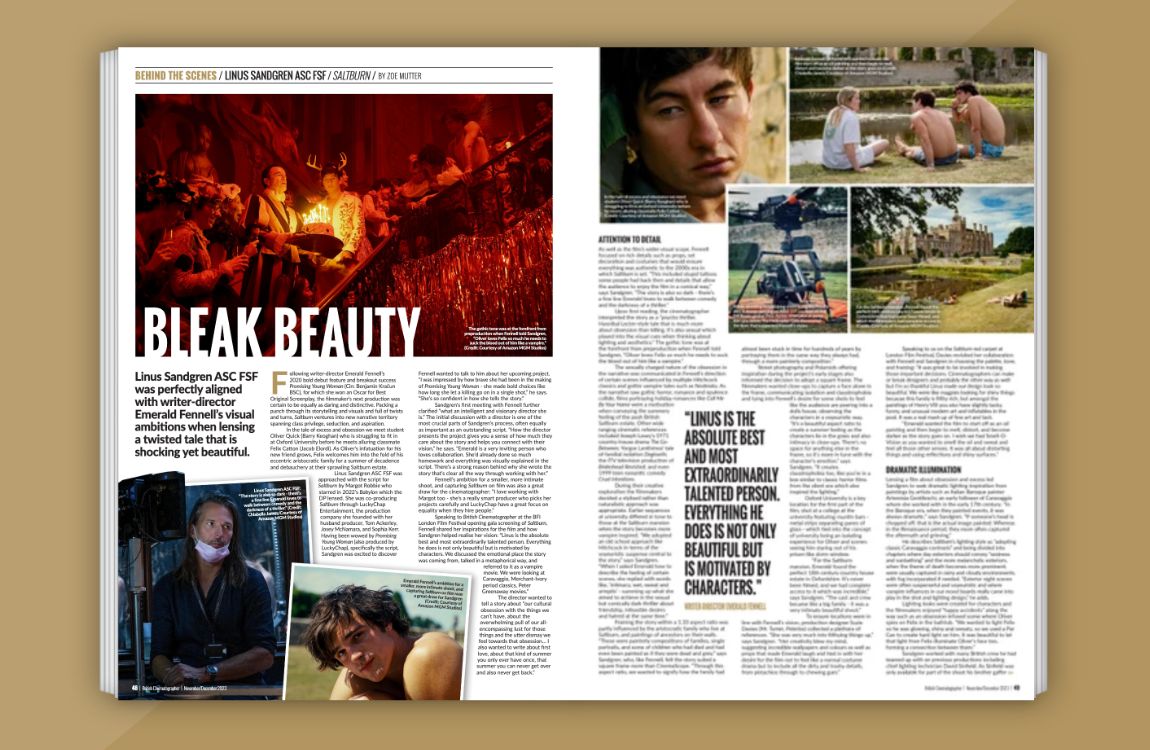 LINUS SANDGREN ASC FSF ON SALTBURN
Emerald Fennell's London Film Festival opener packs a punch through its visual storytelling. Impressed by Fennell's debut, Promising Young Woman, Linus Sandgren ASC FSF was excited to bring his own visual stamp to Saltburn, a tale of excess and obsession within the British aristocracy.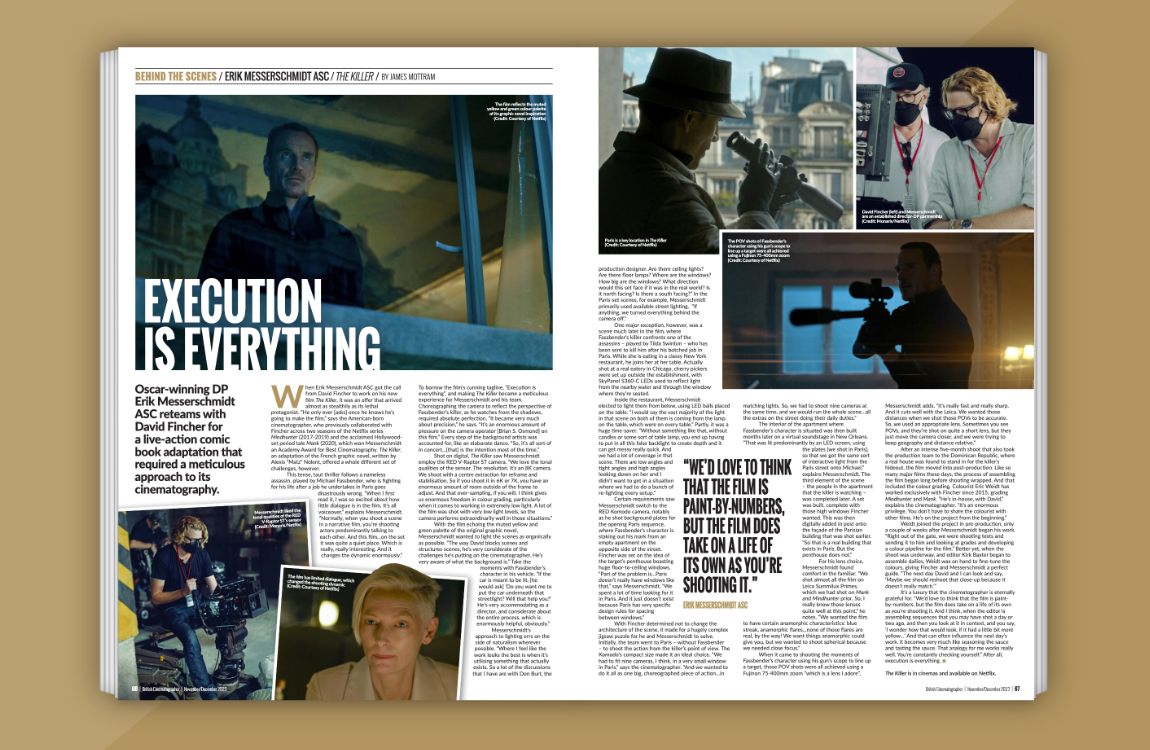 ERIK MESSERSCHMIDT ASC ON THE KILLER
David Fincher and Erik Messerschmidt ASC reunite for a live-action adaptation of a French comic book about a mysterious assassin. The film's tagline, "execution is everything", also applied to The Killer's meticulous cinematography, as Messerschmidt reveals.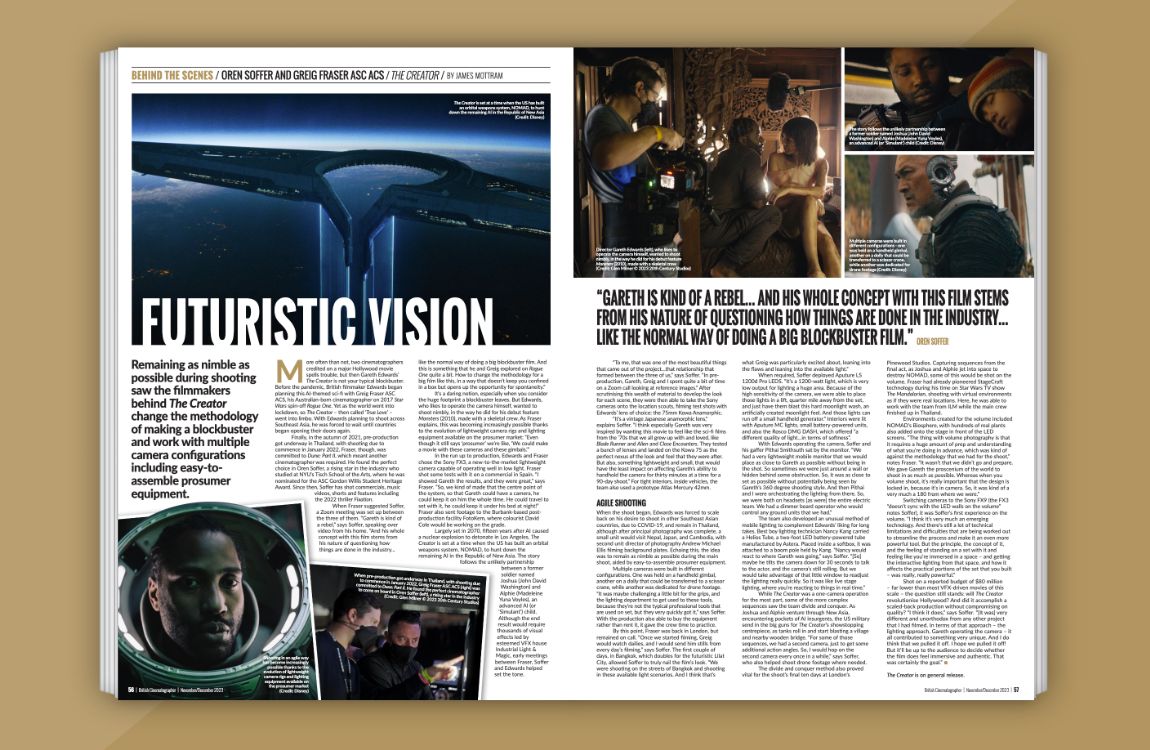 GREIG FRASER ASC ACS AND OREN SOFFER ON THE CREATOR
DP duo Greig Fraser ASC ACS and Oren Soffer adopted a 'prosumer' approach to Gareth Edwards' man-versus-machine drama, which proved key to remaining as flexible as possible during the shoot.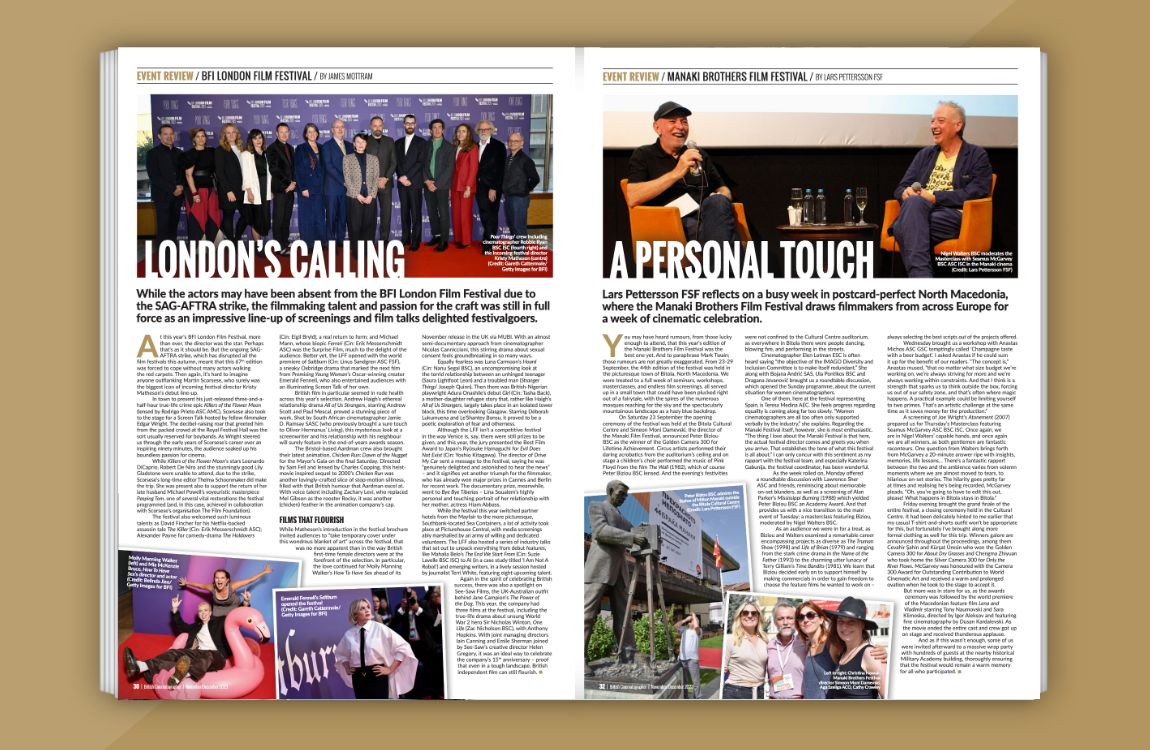 EVENT REVIEWS: BFI LONDON FILM FESTIVAL AND MANAKI BROTHERS FILM FESTIVAL
From London to Bitola, British Cinematographer's roving reporters have the lowdown from two of the highlights of the autumn festival season.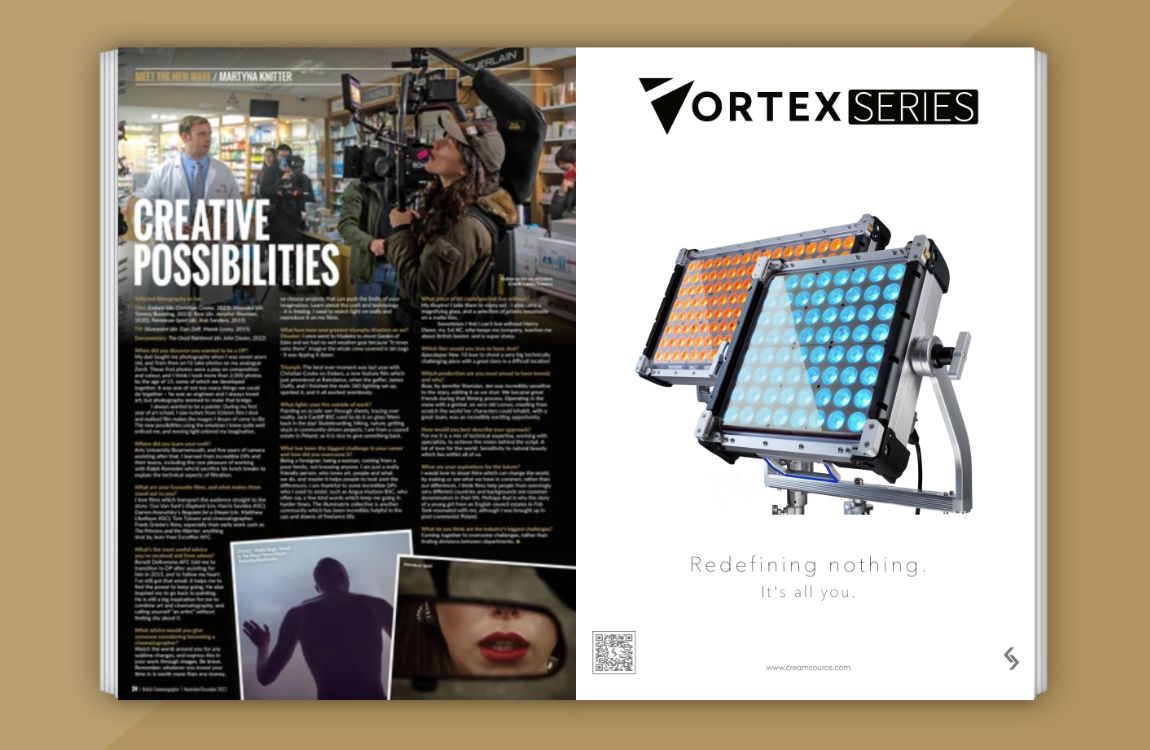 MEET THE NEW WAVE: MARTYNA KNITTER
Martyna Knitter shares her inspiring story through the camera department with us, from learning film photography with her dad as a seven-year-old in Poland to making her mark as a narrative and documentary DP. Don't miss her top tips for up-and-coming DPs!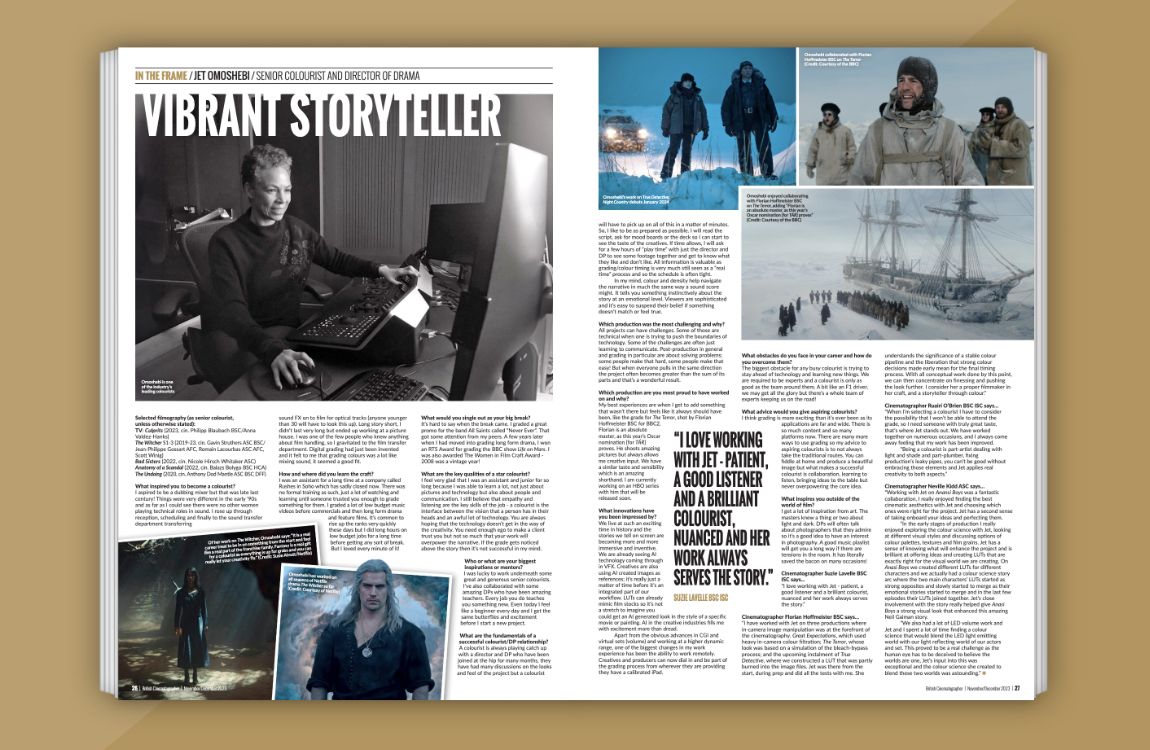 IN THE FRAME: JET OMOSHEBI
Discover how Jet Omoshebi has forged a stellar career in colour, transferring her skills in sound to the grading suite and working with cinematographers like Suzie Lavelle BSC ISC, Florian Hoffmeister BSC, Ruairí O'Brien BSC ISC and Neville Kidd ASC.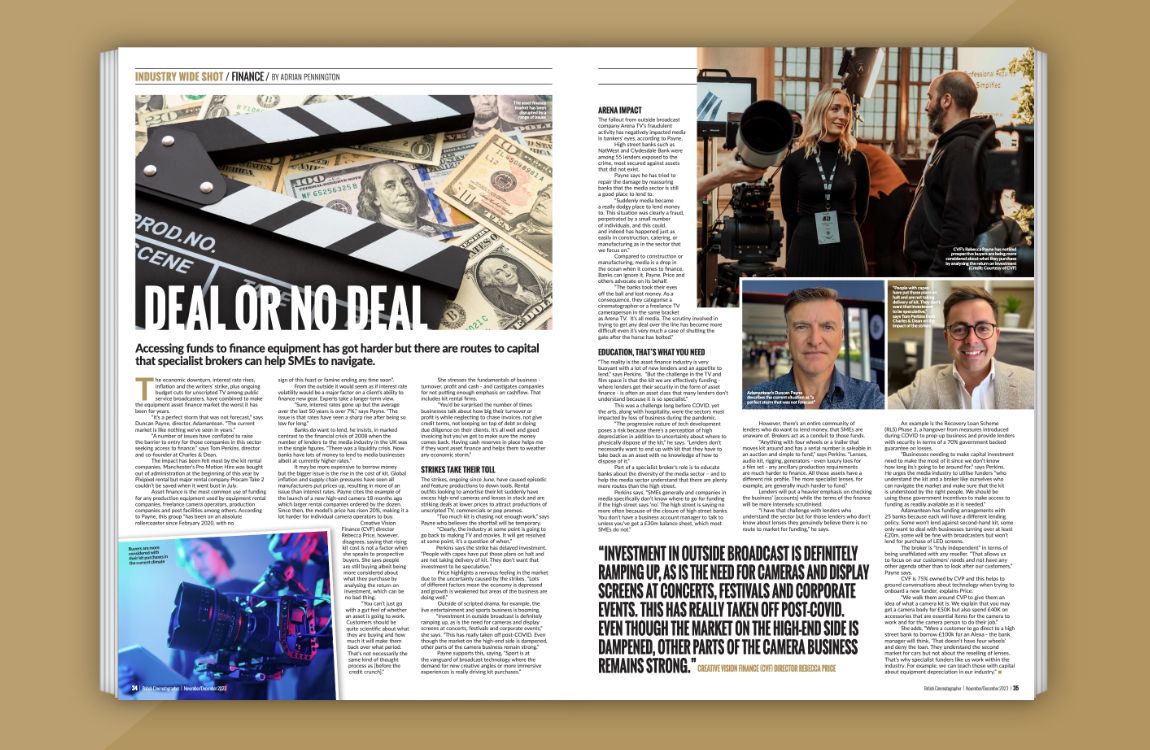 INDUSTRY WIDE SHOT: FINANCE
Three asset finance experts share insight and advice for SMEs hoping to access funds to finance equipment.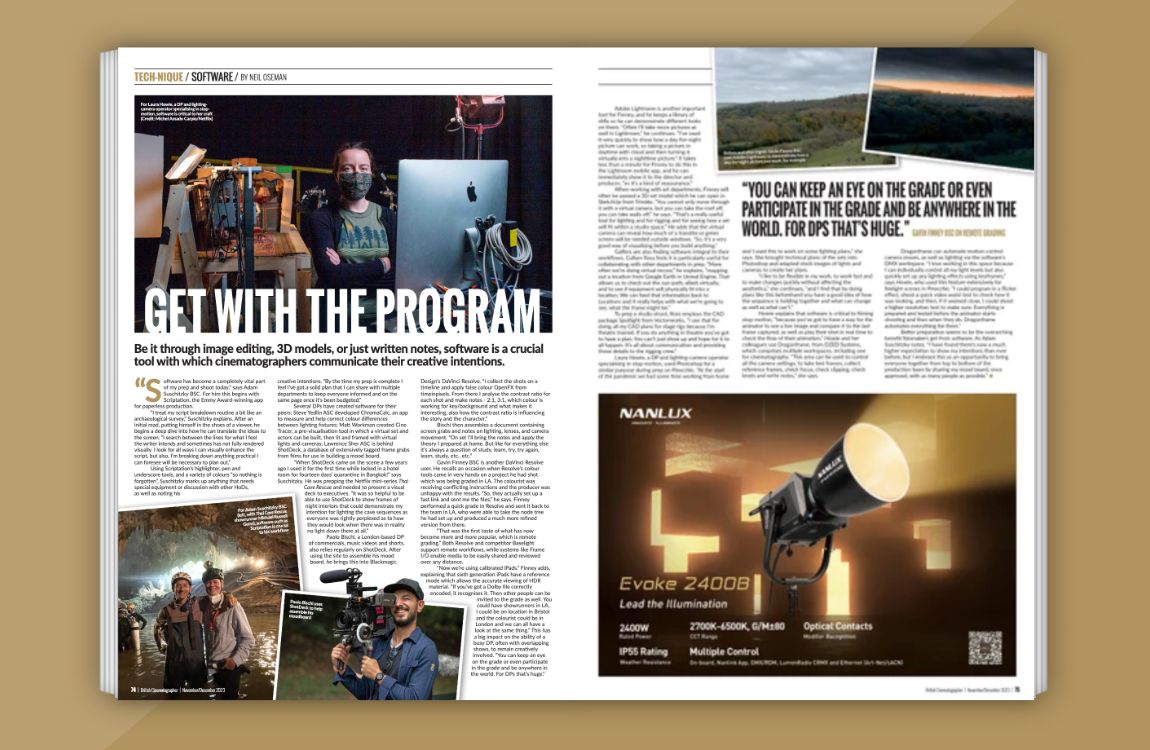 TECH-NIQUE: SOFTWARE
Level up your prep with these cinematographer-approved platforms to help you communicate your creative intentions.
HERE'S WHAT ELSE YOU'LL FIND IN THE LATEST ISSUE…
Hear more from DPs on their latest and greatest productions, including Dariusz Wolski ASC on Napoleon; Ed Lachman ASC on El Conde; Tim Maurice-Jones BSC on Expend4bles; Jomo Fray on All Dirt Roads Taste of Salt; Richard Swingle on Bolan's Shoes; Matthew Lewis on Boiling Point; Tasha Back on Girl; D. Smith on Kokomo City. and Carmen Pellon Brussosa on Does Your Condom Make You Fat?.
Get the lowdown on DPs' latest productions in the Shooting Summary round-up. Can you spot yourself in the image gallery?
The BSC Heritage Series continues in fine form with Adrian Biddle BSC, who made a splash as an underwater cinematographer before making waves lensing a stream of Hollywood pictures.
Amid the ongoing SAG-AFTRA dispute, Christopher Ross BSC reflects on the strength and resilience of the UK film industry at a tricky time in his President's Perspective.
Across the pond in his Letter From America, Steven Poster ASC also tips his hat to crews' hard work as the strike continues. He examines the cinematographer's role as a storyteller and the art of creating a look.
A legend of the industry, Dennis Fraser MBE, comes under the spotlight in this issue's GBCT News, as John Keedwell GBCT takes a gripping look at his career. The freelancer's lot is in the spotlight for Tim Potter, who puts forward an alternative taxation system for intermittent workers.
David Stump ASC BVK, of the IMAGO Technical Committee, breaks down the fascinating Near Real-Time (NRT) workflows used on Venice Film Festival opener Comandante, in IMAGO News.
There are some inspiring examples of post, workflow and VFX wizardry in Set to Post.
You can also read about the latest news and industry happenings and much, much more!
Digital and Print & Digital Subscribers can read the 120th edition now by clicking here.
Print subscribers* will receive their copies in the post within the next fortnight.
Not a subscriber yet? Don't worry - you can get your annual subscription now from just £30 ($39) by clicking here.
*Issue 120 will only be received in printed format by those with an active 'Print' or 'Print & Digital' subscription purchased before 2nd November 2023. Any new 'Print' or 'Print & Digital' subscription purchases made from 2nd November 2023 onwards will NOT receive this issue in print as part of their purchase.